When it comes to airline food, not all options are created equal. Emirates Airlines, based in Dubai, is setting a new standard for in-flight dining. For the culinary enthusiasts who can't stop thinking about their next meal, here's some exciting news – you can now plan your dining experience before you even board your flight.
Emirates has recently unveiled its in-flight meal pre-ordering service, expanding it to a total of 92 routes, including 30 new destinations like Riyadh, Jeddah, Delhi, Mumbai, and Kuala Lumpur. The response has been overwhelming, with over 10,000 pre-orders already fulfilled on more than 3,000 flights, and a remarkable 600 meal pre-orders being placed daily. Passengers are embracing this innovative approach to in-flight dining.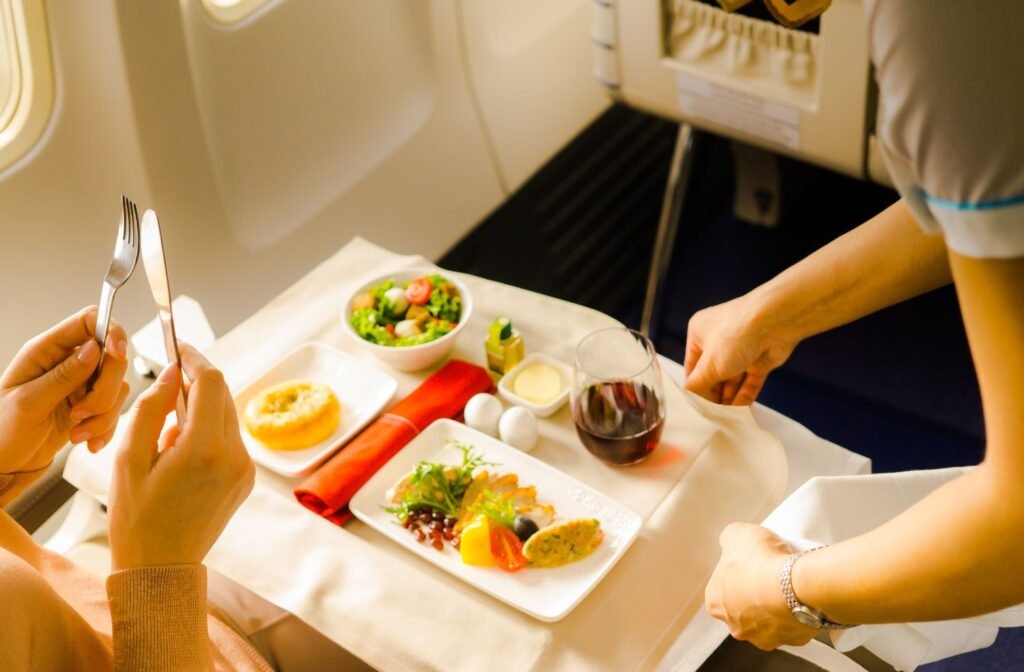 Also read: Ed Sheeran's Exciting Tour Coming In Asia And The Middle East (socialkandura.com)
The primary beneficiaries of this service are business class passengers who can now choose their main course between 14 days and 24 hours before their flight. It's a game-changer for those who value personalization and luxury during their air travel.
How to Pre-Order:
Emirates has made it easy for passengers to pre-order their meals through the Emirates app. The process is straightforward and designed to provide a hassle-free experience for travelers.
Advertisement

Emirates' Delectable Choices:
Emirates presents a tantalizing array of dishes to choose from. Options include pan-fried beef tenderloin with thyme jus, roasted new potato wedges, and steamed asparagus. If grilled beef tenderloin with creamy wild mushroom sauce, Kenya beans, and potato gratin, or Suffolk roasted chicken with black garlic and potato fondant pique your interest, the choices are equally appetizing.
Early risers can enjoy a sumptuous breakfast featuring a cheddar cheese and chive omelette with creamy spinach, sautéed Portobello mushrooms, and roasted herbed tomato.
Diverse Menu:
Before you embark on your journey, you can explore the onboard menu on the official Emirates website or their app. The menu showcases regionally inspired dishes, all crafted from locally sourced ingredients. This emphasis on quality and flavor ensures a remarkable dining experience at cruising altitude.
Business Class Delights:
Business class passengers are in for a treat with options like chocolate hazelnut pancakes with apricot compote and ricotta sour cream for breakfast. Lunch offers Moroccan-style Pacific cod with coriander pesto, moghrabieh with saffron tomato salsa, broccoli, and roasted pumpkin with cardamom. Dinner features pan-fried salmon trout with saffron cream, blanched green beans, braised beetroot, and polenta with spring onions.
Also read: Exciting Vibey Pool Club, Be Beach, Set To Open At Dubai Harbour (socialkandura.com)
In essence, dining in Emirates business class feels like a fine dining experience in one of Dubai's most renowned restaurants.
This new service aligns perfectly with Emirates' commitment to delivering exceptional service, ensuring passengers enjoy every aspect of their flight, from take-off to landing.
If you're someone who believes that an excellent dining experience is an integral part of your journey, you'll undoubtedly appreciate the convenience and luxury of Emirates' in-flight meal pre-order service. Bon appétit!
Advertisement