Tentative Eid dates in UAE are out, and we will get a 4-day Eid weekend from April 20-23, and if you are staying back in the UAE, we have something for you. UAE is home to several record-breaking attractions, and you can experience some of them during the holiday. Here are five attractions that you must check out.
1. Dubai Frame
If you live in Dubai and don't want to do anything too adventurous, then Dubai Frame is for you. Known as the world's tallest standing frame, this architectural marvel lets you experience the best of Old and New Dubai. Entry ticket is only AED50 for adults and AED20 for kids. Located in Zabeel Park, this frame will take you one step closer to Dubai's rich history and culture.
2. World's Largest Indoor Theme Park, Warner Bros.
Planning to spend some extra time with your kids over the EID holidays? Or want to relive your childhood with your friends. In any case, Abu Dhabi's Warner Bros. World is the perfect option for you. It is the world's largest indoor theme park and has all your favourite cartoon characters under one roof. It is best for kids and a great place to spend quality time with your family. They have tons of eateries inside, so you can easily spend an entire day here. Entry ticket starts from AED395.
3. World's Longest Urban Zipline In Dubai
Want to satiate your adventure thirst and feed yourself some adrenaline? If yes, then you have to try XLine. It is the world's longest urban zipline and is 170 metres long. The thrilling ride lets you enjoy a panoramic view of Dubai Marina and is worth all the hype. Tickets for adults cost AED650 and AED499 for kids. It is one of the steepest and fastest ziplines across the globe, making it a must-try during EID weekend.
4. Jais Flight, Ras Al Khaimah
Located in Ras Al Khaimah, Jais Flight is the world's longest zipline travelling at the speed of 120 kmph and 160 kmph. This three minutes of adrenaline-pumping adventure lets you experience deep ravines, canyons and majestic peaks. You cannot miss this one in UAE. The ticket per person is priced at AED360 and definitely worth the amount.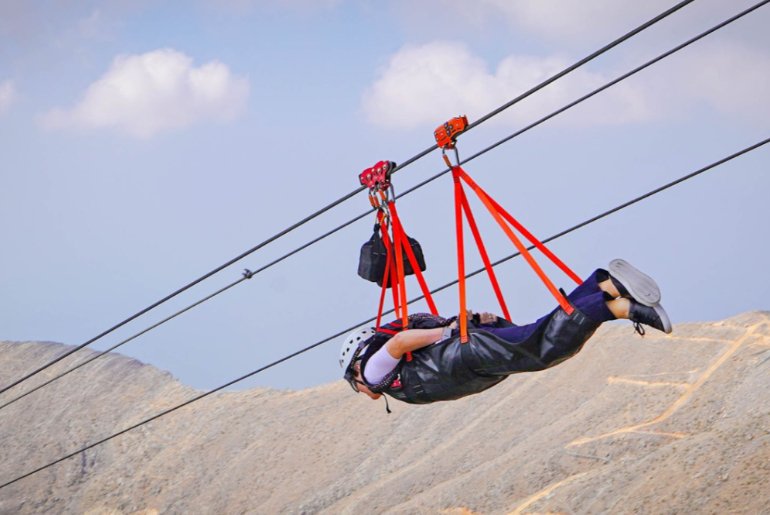 5. Chase Speed At Ferrari World, Abu Dhabi
Whether you live in the UAE or are visiting, Ferrari World Abu Dhabi at Yas Island is a must-visit. The park entry fee is AED295 and lets you experience varied activities. But the must-experience activity there is Formula Rossa, which is also known as the world's fastest rollercoaster. This one is not for the faint-hearted.
Add these activities to your list.