With the onset of summer, it's time to take that much-needed summer break with your friends and family. And while adults can plan a fun summer vacation with their friends, we have just the perfect recommendation for the little ones out there. The famous Summer Camp in the Rainforest experience is back in The Green Planet. Dubai's only indoor rainforest is ready to charm kids with its unique summer camp experience, and here's everything to know.
Also Read: Dubai's Iconic Deira Clocktower To Get Makeover; Here's How It Will Look
The Green Planet Summer Camp Returns On July 10
If you are looking for ways to keep your little ones entertained throughout the summer break, The Green Planet has the perfect solution for you. Home to over 3,000 plants and animals across four levels, head to this indoor tropical rainforest and enrol your kid for summer camp. The camp returns from 10 July to 24 August and will run every Monday to Thursday from 9 AM to 2 PM.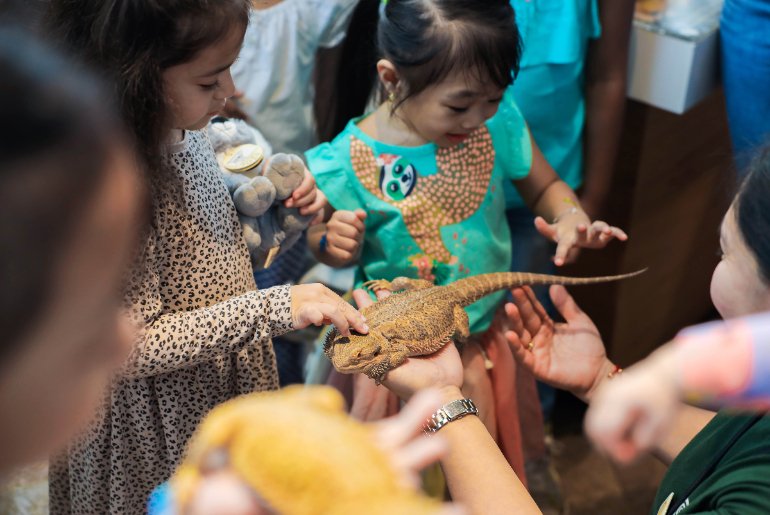 Suitable for kids ages five and 12, this summer camp will take them one step closer to nature. The summer camp can accommodate 100 junior campers weekly, and prices start from AED200. If you want to send your little ones for a day camp, you pay AED220/day. And if you want to send them for a week, the weekly package is for you. Priced at AED650, it's cheap and worth the money.
Register Before June 30 To Avail An Early Bird Discount
Planning to send your child but are a bit tense about their safety? Well, you must know that children will be under the expert care of trained professionals from The Green Planet, with one staff member supervising eight campers at a time.
Also Read: Dubai's Legoland Hotel Launches Its First Ever Bricks Brunch
When it comes to activities, the camp features an exciting line-up of hands-on interactive activities including but not limited to, up-close-and-personal animal meets and greets, behind-the-scenes adventures and sustainability-themed explorations of the bio-dome and other parts of the rainforest.
Advertisement

Junior campers also explore subjects like habitats, extinct animals and conservation through interactive games and arts and crafts, which means there will be more than enough to keep the young ones entertained. And we are sure all this will make the little ones super hungry- The Green Planet has got you covered for that as well.
Campers can enjoy lunch courtesy of The Green Planet Café for an additional AED 40 per day or AED 160 per one-week camp registration. Are you already convinced to send your kids here? Hurry up and register to avail an early bird discount of AED 600 per week.
In fact, not only kids but even adults can go camping at The Green Planet. The camping experience at Green Planet starts from AED700, and you can book now to make the most of it.
The Tent Price Starts From AED700 For Two
Book in advance and enjoy exclusive access to the rainforest's wonders from 7 PM until 8 AM, spending the night in one of The Green Planet's comfortable tents. The regular tent is priced at AED750 and is perfect for two guests. It includes a rainforest tour at night, dinner and breakfast at the Green Planet cafe. Furthermore, the package offers games and family activities, feeding animals breakfast, a behind-the-scenes tour, nature theme movie, story time for kids and family inside the biome, locker, shower and other facilities.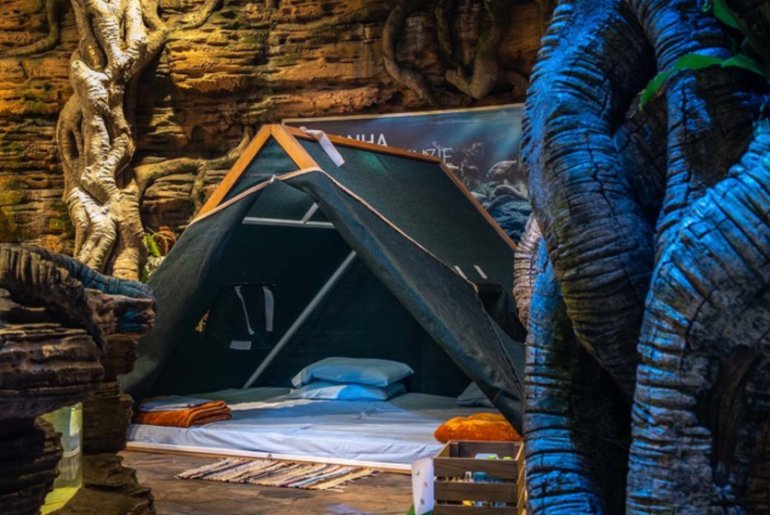 The large tent costs AED1450 and can accommodate up to four guests. Other activities and amenities remain the same, like the regular tent. This once-in-a-lifetime experience comes with an exclusive animal encounter opportunity. You get a chance to meet the rainforest's furry fan favourites. Whether it is playing with the cheeky primates, witnessing the red-bellied piranhas up close, or meeting the region's only Tamandua Anteater – you're sure to be amazed.
Advertisement