Agencies! Ah agencies!
The mad house where awesome stuff happens for spectacular brands – where deadlines and all nighters churn out some of the best campaigns and content out there! At Social Kandura, we love to talk about agencies that are powering Social Media in the region.
This week, we speak with SOCIATE – an agency that's based out of JLT and have been up to some great work lately!

Tell us about SOCIATE, what you guys do and what clicks for you?
SOCIATE's founder, Rosa Bullock, moved to Dubai with a dream of making it big in the city. The agency opened its doors in 2015 but it wasn't all glitz and glamor in the beginning.
A bunch of office orphans, the SOCIATE team improvized and made magic happen while typing away at cafes and shared desk spaces. Over the years, it's branched out and now houses a public relations, marketing, events, and design division. Just like Dubai, SOCIATE is a cultural melting pot, with team members hailing from all over the globe. We now work out of a cozy little office in JLT and follow a floating desk concept – an office version of musical chairs, basically. The desks at our office don't wield corporate power – we know some offices where you wouldn't think of even looking at the CEO's desk; let alone snuggling down in their swivel chair and getting your Snapchat on. We grab whichever desk and chair is available, rub shoulders, and turn up the banter!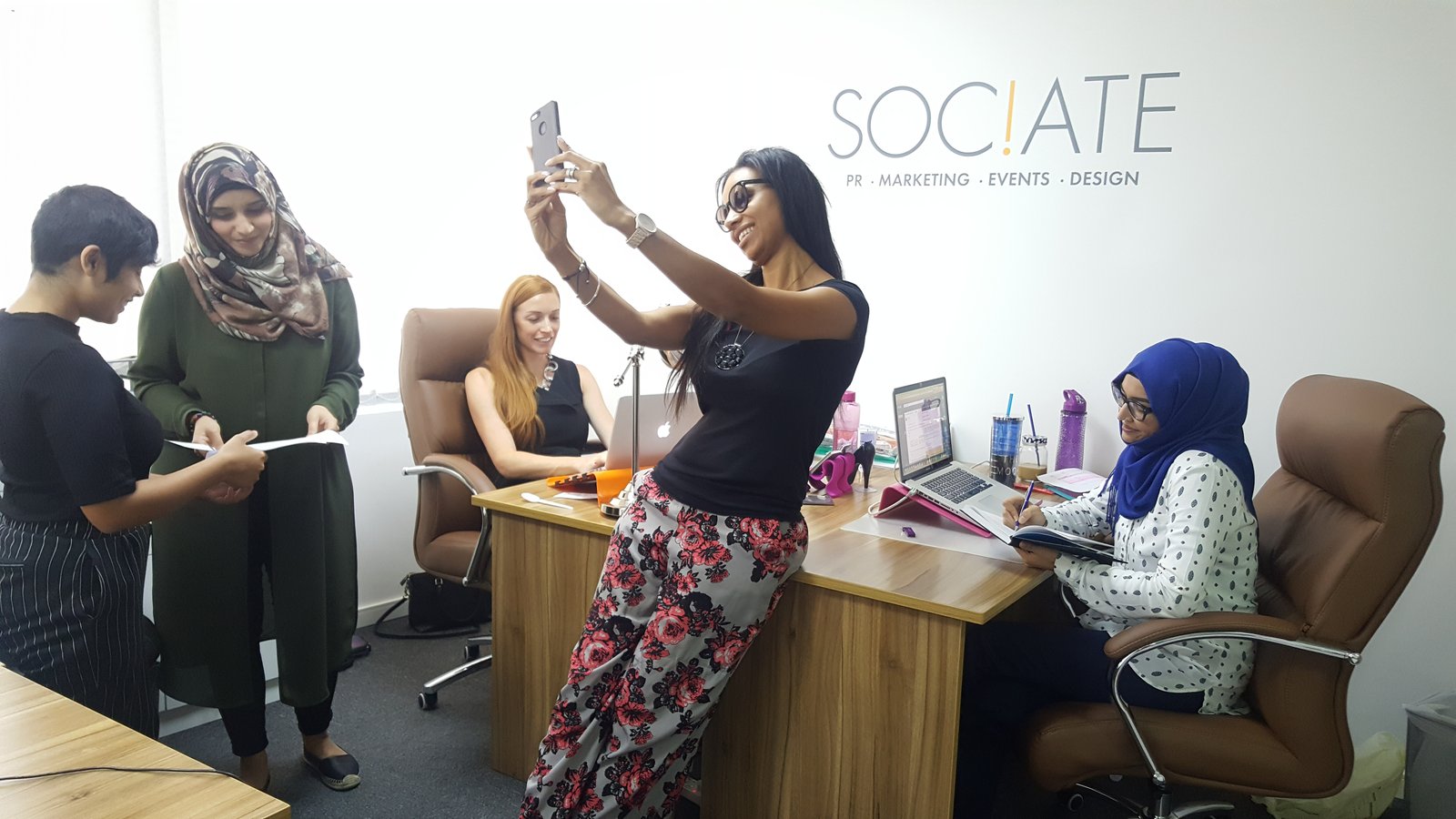 We're willing to try anything once, and our portfolio is solid proof of that. We have worked with a variety of brands – from urban gardening e-retailers and coffee houses to entertainment venues and luxury furniture brands. Our current host of clients include The Coffee Club, Dusty's, My Green Chapter, Selva, Scarlet Cardinal, Arctic Trucks, and HealthBay.
What's the most amazing thing about working in the social media industry here?
What I love about the social media landscape in this region is that it's open to creativity. There are several opportunities to innovatively express your message on social media platforms. With mobile phone penetration so high in the UAE, communicating your brand is an exciting and engaging journey. A great example of how influential social media is in this region is of our client – Halla Walla. A unique product, the first of its kind in the UAE, it's an app devoted to Khaleeji keyboard emojis and virtual stickers. Thanks to the prevalence of social media here, Halla Walla has an arena to flex its muscles while proudly bringing Middle Eastern culture to the world stage.
Advertisement

What makes you different from other agencies out there?
When a client signs a contract, they're instantly part of the family. We handle our projects professionally while also adding a personal touch to them. We've also always got a killer 80s soundtrack playing in the background to get those creative juices flowing!

What's the worst #MyClientSays story that's happened to you guys?
A professional agency doesn't kiss and tell. Wink wink!
What's your take about social media in the region?
Because the UAE's mobile penetration and influencer marketing is so high, it's important to stay on the pulse of things. The various trends and opportunities that come knocking at the door keep us social media marketers busy on our toes. In addition to promoting a brand, we're forging relationships with our audience. One thing that strikes me as unique about the local social media industry is the legal implications you have to keep an eye on. With the legal context of the cyber world rapidly developing, we have to stay aware about following the right approval procedures on social media. The next big splash at SOCIATE is observing the steady growth of online retailing as e-commerce in the region. The role social media plays in this is particularly fascinating!
Are you hiring?
Yes! We're currently on the hunt for an awesome marketing assistant.
Want to be part of #teamSOCIATE?
Polish your skill set and join our dynamic and flexible team! We're all about making a group effort and sharing responsibilities, so come along and become a part of our hands-on family!
Drop us a line at at enquiries@sociate.ae and let's get chatting 🙂
Advertisement