SeaWorld Abu Dhabi is set to open in the capital city this May. Home to the world's largest aquarium, the next generation marine-life facility will share knowledge and awareness of environmental conservation projects in Abu Dhabi and worldwide. And now, the upcoming Marine Life Theme Park has revealed  details about four of its eight immersive realms. Excited? Read on to know more.
Abu Dhabi's SeaWorld has added exciting new themes, ahead of the opening. The theme park has added new realms. These include Abu Dhabi Ocean, One Ocean, Rocky Point, and MicroOcean. Each of these realms aim to tell an inspiring story about the interconnectivity between life on earth and our One Ocean, and the commitment to conserving our planet.
Set on a breathtaking journey from the poles to the tropics, guests can learn about the diverse majestic marine life while wandering across our 8 ocean realms. Here's what we know so far about the new realms at Seaworld.
Also Read: Abu Dhabi Airport Named World's Best For Arrival
The Abu Dhabi Ocean
Upon entry, guests can first enjoy cascading waterfalls, palm trees, desert greenery, Emirati architecture, and regional music at the Abu Dhabi Ocean. The park will also have a guide who will educate guests about the 30 species of marine life native to the UAE, such as sea snakes, sea turtles, and dugongs. Visitors can also engage with crustaceans, sharks, and rays in four touch pools. In addition, the park will also screen two compelling shows at the Al Naham Theater, narrating stories of the UAE's rich history.
In Abu Dhabi Ocean, guests can also enroll in SeaWorld Abu Dhabi's parkwide game – S·E·A Guardian Games. This interactive and free competition brings together science, exploration, and adventure in a series of fun and educational challenges across all realms. Winners are uniquely rewarded for their progress along the way, ultimately becoming S·E·A Guardians themselves and advocates for our One Ocean. 
Next up is a market where you can shop for souvenirs; following which you enjoy a hearty Emirati meal at Matbakh Ummi. Lastly, don't leave without a visit to Dallat Al Bahr for an aromatic Arabic coffee, or snack on freshly fried dough pastries from Lugaima.
Also Read: Abu Dhabi To Get IIT's First-Ever Overseas Campus In 2024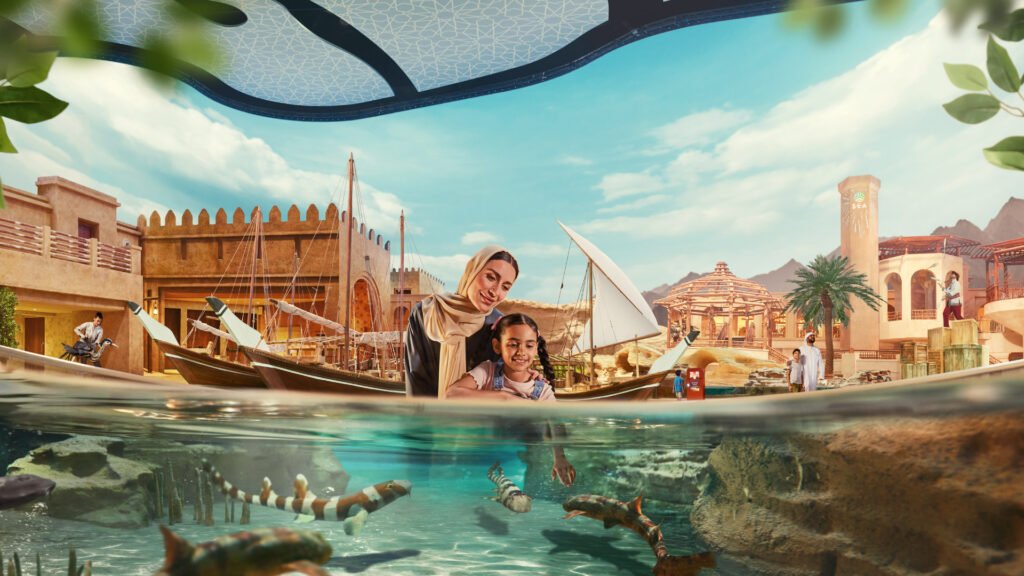 One Ocean
Next stop is One Ocean, the park's portal to explore all other realms at SeaWorld Abu Dhabi. When here, don't miss the 'One Epic Ocean', an epic show that uses immersive multimedia, featuring a fleet of choreographed drones, projected on a 360-degree screen. The show tells the story of a young Emirati woman's adventure with the Arabian Gulf. This realm's iconic One Ocean Globe, situated in its center, represents the ever-changing flow of energy and nutrients around our planet.
Also, part of this realm, guests can visit the beating heart of SeaWorld Abu Dhabi: the Animal Care Center. This state-of-the-art facility featuring cutting-edge veterinary equipment and technology provides the highest standard of animal welfare based on best practices and standards set by internationally recognized animal welfare organizations. The Animal Care Center invites guests to observe the park's expert team of veterinarians and animal care specialists providing dedicated care to animals, ensuring their physical and emotional wellbeing through daily practices, regular check-ups, and routine procedures.
Also Read: Abu Dhabi Gets A New Cave-Themed Restaurant In Al Qana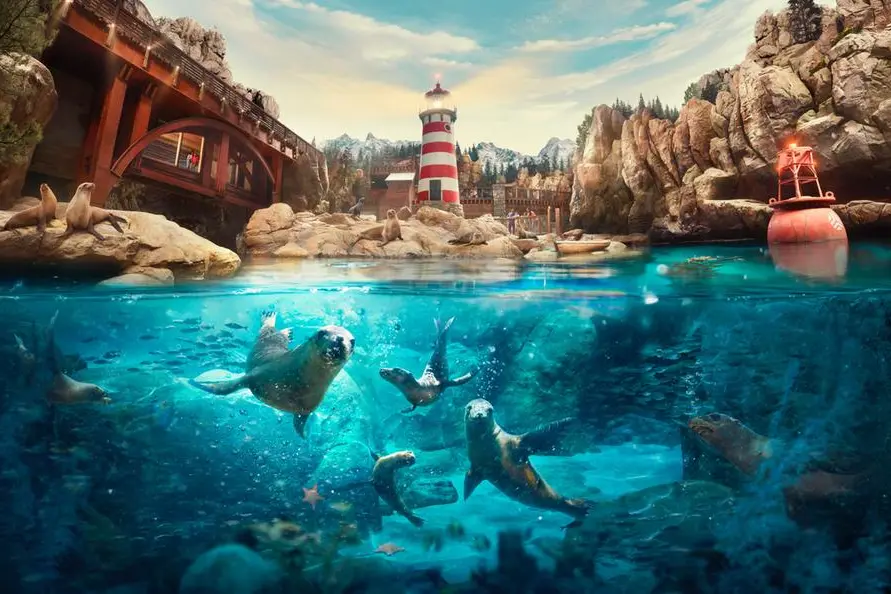 Rocky Point
The Rocky point is the place where most of us might get the shutterbugs flashing. This is where you can spot a beautiful hidden cove, where seals and sea lions can be seen resting on rocks and swimming around their stunning surroundings. The realm uses state-of-the-art technology such as an Advanced Animal Lighting System (AALS) to recreate a dynamic habitat, suitable for the animals. Besides, the Rocky Point also has a Sea-Lion Show at the Rocky Point Amphitheatre as well as eat a variety of freshly baked warm goodies.
MicroOcean
Finally, guests can visit MicroOcean, which is created specifically for children to learn about the importance of some of the ocean's smallest inhabitants. Kids can enjoy engaging and educational interactives, dynamic experiments, and fun play structures like the Kelp Climb and the Explorer's Sea Base.
MicroOcean is home to four family friendly rides: OctoZoom!, Jelly Plunge, Turtle Twist and Eel Racer – each taking guests on an adventure in this microscopic underwater world. Guests should keep a lookout for friendly characters, whether it's Krill Dude and his musical show with clams and barnacles or the quirky Sea Stars that pulse, expand, and shapeshift around the realm. Also, within MicroOcean is Bitsy Bites – a dining outlet perfect for guests to fuel up on their favorite foods between big (or small) adventures, including pizza, chicken fingers and slushies. Additionally, micro-shoppers can enjoy an array of plush animals, fun toy assortments and apparel available at MicroOcean's retail outlet, Squirts.
As of now details about three realms have been revealed. However, the list also includes Tropical Ocean, Arctic, Antartica and Endless ocean. Details about these realms are yet to be revealed. We'll keep you posted as and when we hear more!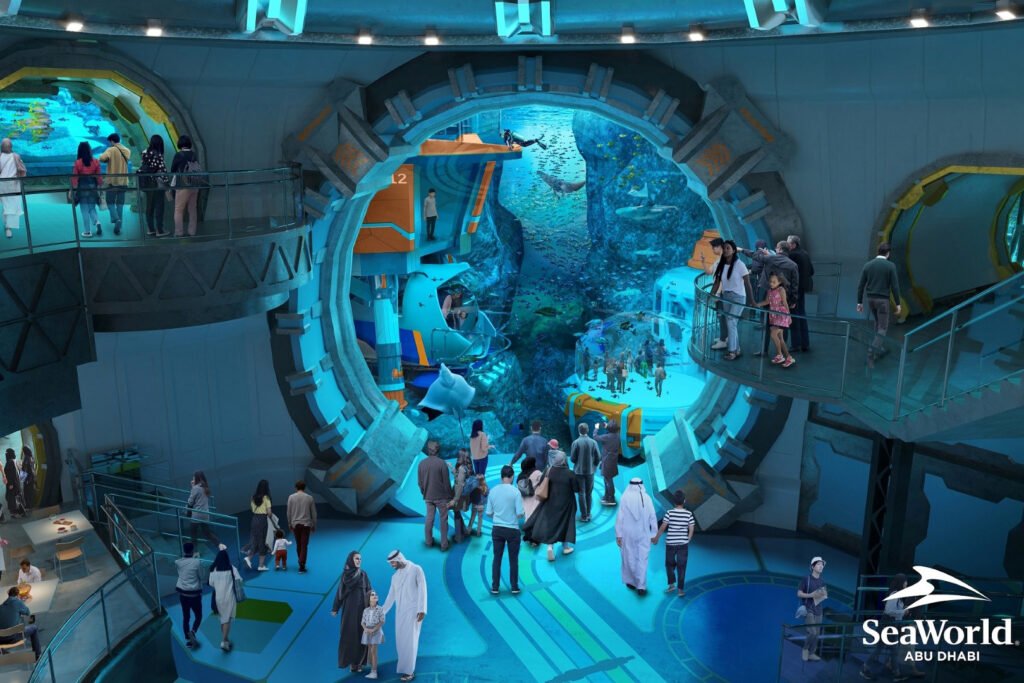 So, get ready to explore the region's first Marine Life Theme Park and discover the immersive realms that take you on an incredible journey from the poles to the tropics. With over 100 animal experiences and presentations, including up-close animal encounters and expeditions, you'll be able to learn about the incredible ocean life.
SeaWorld will be home to over 35 interactive experiences and rides, live characters and performances, 17 dining options, 13 retail outlets, and roaming entertainment across all realms.