In a resounding testament to its economic resilience, the United Arab Emirates (UAE) has achieved an unprecedented surge in non-oil foreign trade during the first half of 2023. The data, unveiled by His Highness Sheikh Mohammed bin Rashid Al Maktoum, underscores the nation's robust performance with a remarkable growth of 14.4 percent, propelling the country's non-oil foreign trade to a record-breaking Dh1.239 trillion. A noteworthy achievement is the 22 percent upswing in non-oil exports with the top 10 global trading partners.
Fostering Economic Resilience through Strategic Alliances
Key Trading Partners Propel Growth
China, India, and the United States have played pivotal roles in this economic ascent, cementing their positions as key trading partners. This triad contributed significantly to the Dh1.239 trillion figure, with their strong economic ties to the UAE. Additionally, Türkiye, a burgeoning partner, emerged as a significant player, boasting a remarkable bilateral trade growth rate of 87.4 percent in the first half of 2023.
Foundations of Success: Investor-Friendly Policies and CEPAs
The remarkable economic strides owe their existence to a combination of factors, prominently including investor-friendly policies that have magnetized global investors. Moreover, the Comprehensive Economic Partnership Agreements (CEPAs) inked with major players like India, Indonesia, and Türkiye have catalyzed a conducive environment for exports, re-exports, and imports. These CEPAs have not only amplified the UAE's economic profile but have also solidified its status as an emerging economic powerhouse.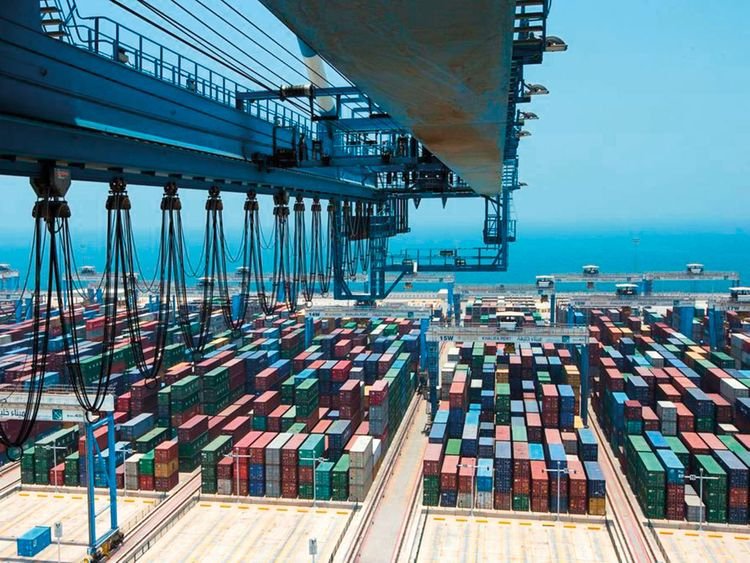 Also read: Dubai Private Schools: Welcoming Growth And Diversity In Education
Confidence in a Prosperous Future
Sheikh Mohammed's resolute belief that 2023 will etch itself as the UAE's most remarkable economic year resounds with confidence. Acknowledging the balanced trading policy pioneered by the nation's leadership, he reaffirms the UAE's role as an integral global trade bridge, seamlessly connecting the East to the West and the North to the South.
CEPAs: A Catalyst for Growth
Thani bin Ahmed Al Zeyoudi, the UAE's Minister of State for Foreign Trade, spotlights the Comprehensive Economic Partnership Agreement program's significance in fortifying relations with major markets such as India and Türkiye. The UAE's ambitious goal of signing 26 CEPAs in the near future reflects its unwavering commitment to further boosting foreign trade and diversifying its economic horizons.
Advertisement

Robust Trade Landscape: Numbers Speak
As evidenced by data released by the Ministry of Economy, the growth is not confined to mere rhetoric. Non-oil exports surged magnificently by 11.9 percent, traversing the Dh205 billion mark during the January-June 2023 window. The upward trajectory extends to re-exports and imports, recording significant gains, reaching Dh341 billion and Dh693 billion respectively, in the same period.
Unveiling the Leading Trade Partners
The Ministry of Economy unveils the UAE's leading global trading partners: China, India, the US, and Saudi Arabia. The recent CEPA with Türkiye propels it to fifth place. The list further encompasses Iraq, Switzerland, Japan, Hong Kong, and Russia, encompassing a well-rounded spectrum of economic alliances.
Also read: UAE Records Lowest Inflation Growth In 17 Months Amid Transportation Cost Dip
Export Dynamics: The Shining Stars
In the realm of exports, gold, aluminum, oils, cigarettes, copper wires, and jewelry emerge as the UAE's eminent offerings. Among these, gold exports shine brightest, boasting an exceptional growth rate of 40.7 percent, culminating at Dh218.3 billion.
A Vision of Continued Prosperity
The UAE's steadfast pursuit of global partnerships, underpinned by its strategic policies and collaborative agreements, foreshadows a future marked by consistent economic growth. As the nation forges ahead, nurturing its international trade alliances, it is poised to retain its indelible role as a beacon of prosperity, stability, and unparalleled economic dynamism in the region and beyond.
Advertisement