In a significant shift, the Dubai property market is revealing signs of stabilizing after enjoying a sustained growth period spanning over two years. This intriguing trend is underscored by the emergence of an uber-luxury apartment listing at an astonishing Dh 750 million, signifying a pivotal change in the market landscape.
Dubai's Property Market: From Growth Surge to Stability
While property prices in the more affordable segments are on the verge of stabilizing, the high-end and luxury sectors are still experiencing a modest uptick in rates. This emphasizes the sustained appeal of affluent investors in the real estate sector, a trend that gained momentum following the initial outbreak of the pandemic.
According to the latest data from Henley & Partners, it is projected that nearly 4,500 high-net-worth individuals will choose the UAE, specifically Dubai, as their new domicile this year. This influx of wealthy individuals has been a driving force behind the establishment of new benchmarks in prime beachfront locations like Palm Jumeirah, Jumeirah Bay Island, Bluewaters, Madinat Jumeirah Living, and even in desert retreats such as Tilal Al Ghaf.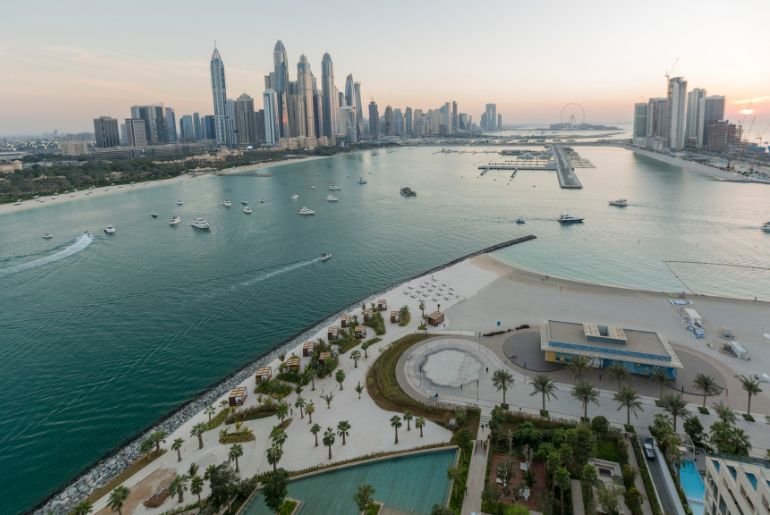 Also read: Aamara's Delectable Tribute To Women On Emirati Women's Day: Indulge In A Free Dessert Delight
Amidst the impressive high-value transactions, the trajectory of sales price growth is displaying signs of moderation, with quarterly increments of 2 percent for apartments and 3 percent for villas. Year-on-year shifts are reported at 14 percent and 15 percent for apartments and villas, respectively.
The second quarter of the year witnessed a flurry of new project launches in Dubai, reminiscent of the pre-global financial crisis era of 2008-09. Notable among these projects are the $20 billion "The Oasis" by Emaar and the multi-billion dollar Palm Jebel Ali, introduced by Al Habtoor, Danube Properties, and various European developers.
Real estate consultancy firm Asteco highlights that over the second quarter of 2023, approximately 11,000 residential units were successfully completed, with a substantial portion constituting apartments (9,400 units). While villa supply temporarily slowed down, a rebound is anticipated in the latter half of the year, with projections indicating around 20,000 completions during the 2024-25 period.
Advertisement

Asteco's insight indicates that several developers are contemplating the acceleration of their construction timelines, aiming to expedite handovers by 3 to 6 months, a potential game-changer in market dynamics.
In terms of specific property categories, the high-to-luxury-end and mid-to-high-end areas are continuing to experience price increments, albeit at a moderated pace of about three to four percent. Key locations such as Dubai International Financial Centre, Palm Jumeirah, The Greens, The Views, and Jumeirah Lake Towers are maintaining a quarter-on-quarter average increase of around four percent.
Also read: Empowerment In Action: Emirati Women's Day At The Smash Room – A Triumph Of Celebration
Villa prices have also demonstrated variations. While areas like the Meadows experienced a substantial six percent increase in the second quarter, locations such as Dubai Hills Estate, Jumeirah Park, and Arabian Ranches saw a five percent rise. Meanwhile, areas like Damac Hills 2, Jumeirah Village, and The Springs reported a more modest three percent increase.
While destinations like Palm Jumeirah, Business Bay, and Downtown have outperformed during the post-pandemic period, the recent deceleration in price growth signifies a shift toward market stability. This shift underscores the maturity of the market, offering investors more consistent and steady returns. Mid-to-high-end properties are anticipated to deliver favorable returns, whereas the affordable segment appears to have peaked, with the luxury segment offering more promising investment prospects.
Dubai's property market is undergoing a transformation from a phase of relentless growth to a more stable and mature state. This evolution presents new opportunities for investors seeking long-term gains in a more balanced real estate environment.
Advertisement