In the vibrant city of Dubai, a delightful celebration awaits this coming August 28th, 2023 – the eighth annual Emirati Women's Day. This special occasion pays homage to the remarkable women of the nation, acknowledging their exceptional contributions and achievements. Adding an extra layer of sweetness to this momentous event is Aamara, a captivating culinary haven nestled in VOCO Hotel. Aamara, an enchanting concept inspired by the Silk Route and brought to life by the creative minds behind the esteemed Trèsind restaurant, has prepared a truly tantalizing treat to honor this day.
An Exquisite Dessert Tribute on Emirati Women's Day
Savoring the Flavors of Aamara's Tribute Aamara's fusion of Indian and Arabic cuisine, entwined with the essence of the ancient Silk Route, beckons food enthusiasts to embark on an unforgettable gastronomic journey. And what better way to celebrate Emirati Women's Day than with a complimentary dessert? The delectable Dulce Pannacotta takes center stage, accompanied by the enchanting allure of Katafi Pastry, elegantly crowned with velvety Cream Cheese Ice Cream. This exquisite dessert, with an original price of AED 65, serves as a delightful finale to a sumptuous meal.
A Culinary Oasis of Elegance and Excellence Aamara, nestled within the lavish VOCO Hotel, stands as a beacon of fine dining and culinary artistry. Merging Mediterranean and Indian flavors, this licensed restaurant embodies luxury and magnificence. The name 'Aamara' holds profound meanings across languages – 'forever Beautiful' in Arabic, 'immortal' in Sanskrit, 'everlasting' in Latin, and 'grace' in numerous parts of Africa. The dishes served are true works of art, meticulously crafted to reflect patience, richness, quality, and masterful blending.
Advertisement

A Journey Along the Historic Silk Route Drawing inspiration from the ancient trading routes, Aamara's menu is a celebration of the diverse flavors and techniques that once traversed the Silk Route. Guests are treated to an array of flavors that intertwine the Mediterranean and Indian culinary traditions. This captivating cultural fiesta unfolds within a moody yet contemporary interior, offering a visual feast that perfectly complements the culinary delights.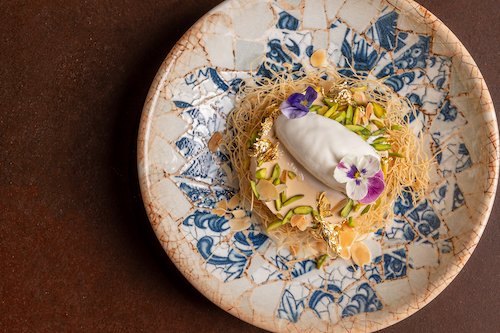 Also read: Empowerment In Action: Emirati Women's Day At The Smash Room – A Triumph Of Celebration
Details for the Sweet Celebration As the sun rises on August 28th, 2023, Aamara invites all women to partake in this delightful homage. The celebration extends throughout the day, welcoming women from all walks of life to savor the complimentary dessert in honor of Emirati Women's Day.
Aamara's address: Nestled within the VOCO Hotel on Sheikh Zayed Road, Trade Centre 1.
For inquiries and reservations, dial +971 52 573 5723.
Explore more about Aamara's offerings by visiting their website: http://www.aamara.ae/
As the anticipation for Emirati Women's Day builds, Aamara stands ready to shower the exceptional women of the nation with a symphony of flavors and an exquisite dessert. This homage, rendered through the lens of culinary artistry, promises a memorable experience that beautifully marries the heritage of the Silk Route with modern fine dining.
Aamara invites you to join in this celebration – to honor the women who inspire and to treat oneself to a sumptuous feast that encapsulates elegance, flavor, and grace.
Advertisement