As the summer sun begins to set, it's time for youngsters in Dubai to shift gears and prepare for an exciting Back-to-School event that combines education, business, and a whole lot of fun. Bookends, the beloved homegrown bookstore meet marketplace of pre-loved books, is back with a bang for its second Summer 2023 event. This time, it's all about empowering children to shine as entrepreneurs while decluttering their shelves and giving a fresh spin to old textbooks. So, young minds, mark your calendars for Saturday, August 26, 2023, from 11 am to 1 pm, and head over to Bookends Store at Dubai Digital Park, Silicon Oasis, Dubai, for a day filled with swapping, selling, and embracing your inner business enthusiast at this unique Back-to-School extravaganza!
A Fun-Filled Back-to-School Entrepreneurial Experience
The stage is set for an unforgettable day of camaraderie, commerce, and creativity. Bookends invite young learners to become part of a distinctive and free-to-attend event where they can step into the shoes of entrepreneurs for a day. Boys and girls, get ready to exchange your used and old school textbooks, as well as pocket some pocket money in the process, giving a whole new meaning to the term Back-to-School.
How It Works: Textbook Swap, Price, and Pockets
The rules of engagement are simple yet exhilarating. Children are given the freedom to determine the price for their books, with each volume priced between Dh1 and Dh15. A quick pencil scribble on the first page of the book is all it takes to make it official. As textbooks find new owners, the money earned becomes the sellers' very own pocket money, ready to fund more bookish adventures and perhaps a little Back-to-School shopping spree.
But wait, there's more – every aspiring young entrepreneur will be awarded a prestigious certificate of participation, personally signed by the esteemed Dubai-based author and Bookends' Brand Ambassador, Purva Grover. Her signature on the certificate serves as a testament to your budding business acumen and your commitment to fostering a lifelong love for reading, even as you gear up for Back-to-School.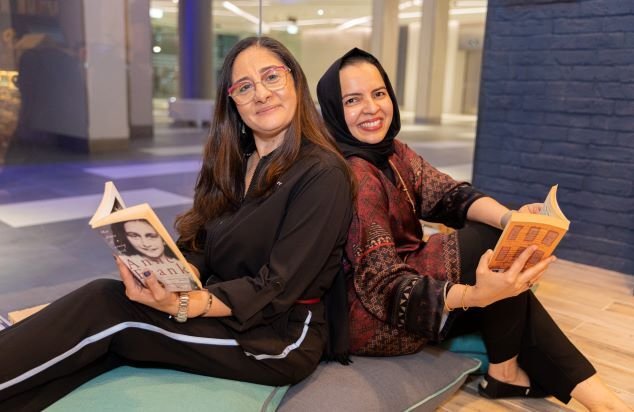 Also read: Celebrate National Mai Tai Day At Trader Vic's On The Palm: Sip, Sway, And Indulge
Enriching Minds, One Book at a Time
This event is about more than just financial gain; it's about nurturing a spirit of entrepreneurship, kindling a passion for reading, and spreading acts of kindness. Purva Grover, in collaboration with Bookends' dynamic duo, Grace and Somia, envisions a day filled with meaningful connections, where children learn essential life skills while embracing the joy of sharing books with others. As Purva eloquently puts it, "There's nothing better than children working together to find a new home for their old, used school textbooks, especially during this special Back-to-School season."
Advertisement

Preparation and Participation: Getting Ready for the Big Day
To seize this exciting entrepreneurial opportunity, take the first step by pre-registering. Simply send an email to hello@purvagrover.com. On August 26th, between 10 and 10:30 am, set up your own mini-store and maybe even create a captivating poster to attract fellow book enthusiasts. Remember, each child must be accompanied by an adult, ensuring a safe and enjoyable experience for everyone involved during this remarkable Back-to-School initiative.
A Bookish Haven Awaits: Post-Event Exploration
As the event concludes, don't rush off too quickly. Take your time to explore Bookends' treasure trove of books, each priced from Dh2 onwards. It's an opportunity to discover your next literary obsession, uncover hidden gems, and continue your reading journey even beyond the excitement of Back-to-School.
Bookends: Nurturing Literary Dreams
Behind the scenes of Bookends lies an inspiring story of determination and passion. Driven by the insatiable hunger for reading material displayed by their own children, Grace and Somia embarked on a mission to make affordable and diverse books accessible throughout the UAE. Their brainchild, Bookends, emerged in 2020 as the ultimate marketplace for pre-loved books. Fast forward to July 2023, and Bookends proudly unveiled its first physical store at Dubai Silicon Oasis, marking a significant milestone in its journey.
Also read: Emirati Women's Day Extravaganza: 5-Star Offers Await At FORM Hotel's Exclusive Luxury Celebration
A Literary Alliance: Joining Hands for Reading
Dubai-based author Purva Grover, a prominent figure in the literary realm, joined forces with Bookends in July 2023 as the Brand Ambassador. Together, they advocate for the power of reading as a habit, a pastime, and a lifelong adventure. Their collective mission is to transform this Back-to-School event into a celebration of literacy and entrepreneurship.

As summer break draws to a close, a thrilling chapter awaits young participants at the Back-to-School Textbook Swap and Sell Event hosted by Bookends. It's a golden opportunity to embrace entrepreneurship, cultivate a love for books, and create cherished memories. So, young entrepreneurs, gather your used textbooks, ignite your passion for business, and dive into a day of camaraderie, commerce, and the magic of books. Get ready to embark on a memorable Back-to-School journey that promises to shape young minds for years to come.
Advertisement