Cinema Akil is back with a bang as it proudly presents Arab Cinema Week Volume 2. This highly-anticipated sequel to the 2022 hit festival is set to captivate audiences from October 6th to 15th, 2023, in Dubai, United Arab Emirates.
Diverse Selection from the Arab World
This year's Arab Cinema Week Volume 2 promises to be an annual journey celebrating the rich tapestry of stories and talent emerging from the Arab world. Curated for the second time by Rabih El-Khoury, the event kicks off with Egypt's trailblazing director, Ahmad Abdalla's, 19B—a compelling film set in the 1960s that explores personal transformation. Viewers will have the exclusive opportunity to engage in an insightful Q&A session with the director himself.
Also read: RuPay To Debut In UAE In 2024, Revolutionizing Payment Systems
A Cinematic Journey Across Borders
Arab Cinema Week Volume 2 will showcase a diverse array of productions from 10 different Arab countries, including Lebanon, Sudan, the UAE, Egypt, Tunisia, Morocco, Syria, Somalia, Iraq, and Palestine. With Cinema Akil screening select films in the presence of their directors, attendees can look forward to engaging Q&A sessions. The festival promises a special up-close encounter with acclaimed filmmakers such as Ahmad Abdalla, Mohamed Soueid, and Mariam Al Serkal, among others.
Arab Cinema Week: Exploring "Human Bonds"
The festival's theme this year is "Human Bonds," exploring the various connections that bind us together. From crime-thrillers like Tunisian director Youssef Chebbi's "Ashkal" to heartwarming stories like "Life Suits Me Well," a film centered around a Moroccan family, there's something for every cinephile. The shorts program, "We Are Family," further delves into the concept of social bonds through four distinct stories from the UAE, Egypt, Somalia, and Lebanon.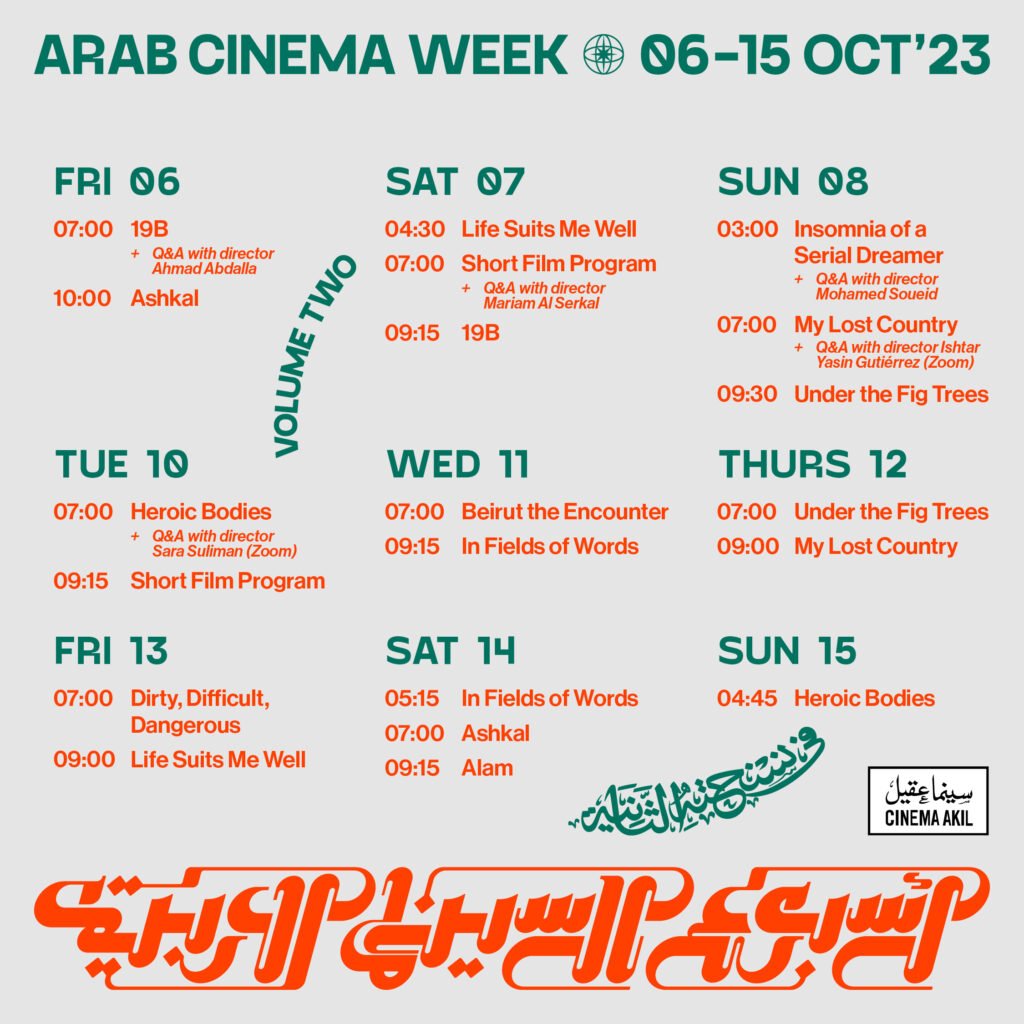 Rare Glimpses into Filmmaker Journeys
Audiences will also be treated to the rare screening of "The Insomnia Of A Serial Dreamer," a personal documentary by Director Mohamed Soueid, offering a unique perspective on his 15-year cinematic journey. Other noteworthy films include "My Lost Country"
Advertisement

by Iraqi filmmaker Ishtar Yasin Gutiérrez and
"Under The Fig Trees"
by Erige Sehiri. The Sudanese documentary
"Heroic Bodies"
celebrates the strength and multifaceted roles of women in Sudanese society.
Homage to Lebanon
To pay homage to Lebanon, the festival will screen Borhane Alaouié's classic "Beirut The Encounter," offering a glimpse into the Lebanese Civil War era. Additionally, the festival brings back filmmaker Firas Khoury's "Alam," a moving exploration of life and love under occupation, after sold-out screenings during Reel Palestine.
Cinema Akil's Commitment
Cinema Akil's founder, Butheina Kazim, expressed her excitement for this edition, highlighting the festival's dedication to showcasing the burgeoning film industries of the region in the absence of a national film festival.
Uniting Through Art
Program Curator, Rabih El-Khoury, emphasized the festival's role in transcending borders and cultures through this year's theme of "Human Bonds." He sees Arab Cinema Week as a platform that brings together diverse communities in Dubai, fostering dialogue and unity through the shared love of cinema.
Also read: Global Village Dubai Season 28: Exciting New Attractions And Discounts Await Visitors
Mark Your Calendar
Arab Cinema Week Volume 2 promises to be an unforgettable cultural experience, showcasing the exceptional talent within the Arab region. The event runs from October 6th to 15th at Cinema Akil, offering a cinematic journey that's not to be missed.
For more information about the movies and screening times, visit the official website or contact Mila Beyrouti at mila.beyrouti@soulcommunications.ae or +971 50 398 1800. Join Cinema Akil and celebrate the power of storytelling in the heart of Dubai.
Advertisement