UAE is a tolerant and liberal country- from churches to gurudwaras and temples, there's a space for every religion. And when we speak about temples, the UAE capital Abu Dhabi has finally revealed the opening date of its much-awaited Hindu Temple. Built with marble and sandstone, this Hindu Temple will be off the main E11 Sheikh Zayed motorway connecting Abu Dhabi and Dubai. And the temple is all set to open for worshippers and visitors in February 2024. Read on for all the deets.
Also read: Saudi Arabia To Launch A High-End Luxury Cruise For Ultra-Rich
The Hindu Temple's First Prayer Will Be On February 10th
Abu Dhabi Hindu Temple will open on February 10th, after four years of work by artisans in India and the UAE. The temple will be inaugurated with a series of prayer ceremonies on February 10th, and it will be open to the public for worship on February 18th. Made with white marble, pink sandstone and intricate carvings, this Hindu Temple has been built by over 2,000 artisans in India's Rajasthan state for the last four years. Being the first hand-sculpted Hindu temple, it will have a ground, first, second level and main prayer hall.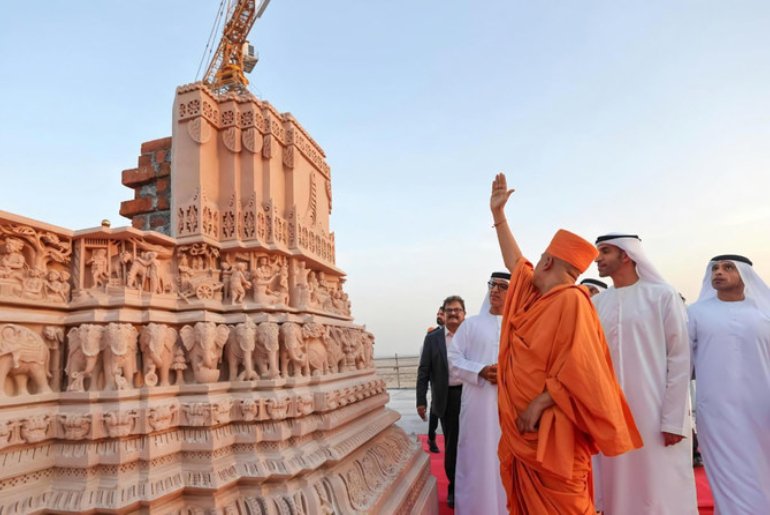 The second level of the Hindu temple will have spires representing every emirate of the UAE. For timings and prayers, the first prayer will take place on February 10th at 6 PM and will be for the contributors to the temple's construction. Whereas on February 11th, prayers will start at 10 AM and will be for couples who have contributed to the building of the temple.
Advertisement

The Hindu temple will also hold prayers for Hindu deities statues on February 14- between 8 AM to noon. This prayer will be for invite-only guests. And then, February 15th will have a grand two-hour opening ceremony, and finally, it will be open to the public for worship.
The Hindu Temple Is Constructed On 5.4 Hectares
Also Read: 5 Things To Know & Keep In Mind Before Shifting To Dubai
The temple is constructed on 5.4 hectares, and everyone, irrespective of their caste and religion will be welcome at the temple built by Baps Swaminarayan Sanstha. The 32-metre-high structure will have over 200 elaborate pillars and is made without any steel, iron or reinforced concrete. Over 20,000 tonnes of stone, 5,500 tonnes of white marble and 14,500 tonnes of pink sandstone are used to build the Hindu Temple.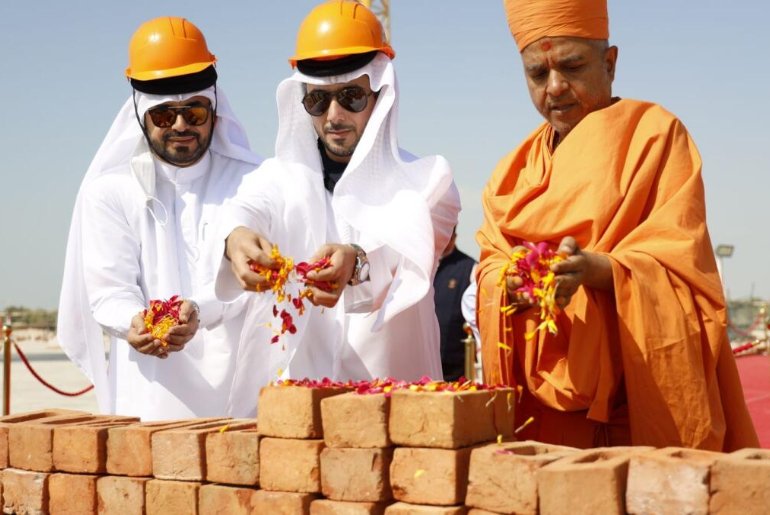 From parks to a community hall, a theatre, a food court, majlis and welcome areas, the Hindu temple has much to offer its visitors. We cannot wait for this one to open next year. Stay tuned for all the updates.
Advertisement