Abu Dhabi, UAE – In a major splash for water enthusiasts, Miral, the creative force steering Yas Island's immersive attractions, has revealed plans for a colossal 16,900 sqm expansion at the much-celebrated Yas Waterworld. This expansion, slated for completion in 2025, is set to redefine the water park experience, introducing a thrilling array of 18 new rides and attractions geared towards boosting guest capacity by an impressive 20%.
Yas Waterworld's Visionary Expansion Blueprint
The expansion is not just about size; it's about reaching new heights. The thrilling 3.3 km of slide sections will include the UAE's tallest water slide, offering an unparalleled experience. However, the pièce de résistance is the GCC's inaugural amusement ride integrated within a waterslide complex. Imagine a heart-pounding 15-meter-high drop, uniting 20 guests in a shared adrenaline rush – an adventure like never before.
A Visionary Leap
Mohamed Abdalla Al Zaabi, Group CEO, expressed, "This expansion marks another stride in our commitment to world-class attractions on Yas Island, contributing significantly to Abu Dhabi's economic diversification. Our vision is to position Yas Island as a global destination for premier entertainment and leisure."
From Pearls to a 'Lost City'
For a decade, Yas Waterworld has woven 'The Legend of the Lost Pearl' into its guest experience, reflecting the UAE's rich pearl-diving heritage. Now, a new chapter unfolds with the introduction of the 'Lost City.' This promises an exciting journey, blending seamlessly with the park's existing architecture, rockwork features, and iconic characters.
Advertisement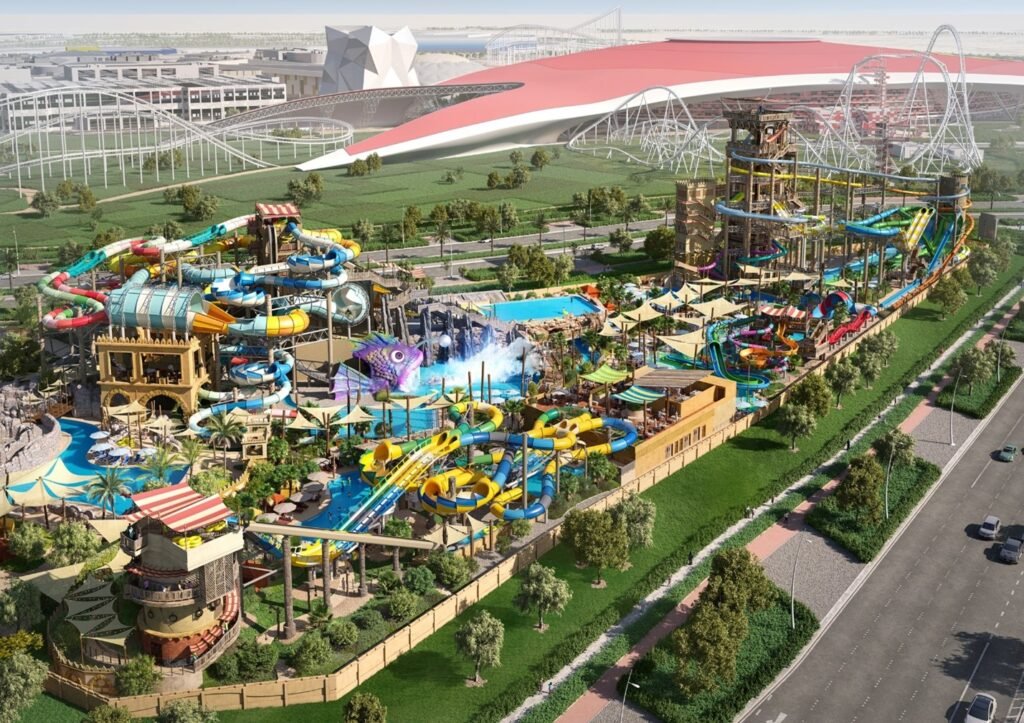 Also read: Things To Do This Weekend: Unmissable Events And Offers At These 7 Places! (socialkandura.com)
Expanded Experiences
The expansion introduces a myriad of features, including a swim-up bar, a high-thrill boat ride, racing and tube slides, family raft rides, and a dueling master blaster. Catering to the younger thrill-seekers, scaled-down versions of Yas Waterworld's iconic rides, such as the mini-Dawwama and mini-Boomerango, ensure an unforgettable experience for all ages.
Yas Island's Grand Tapestry
Yas Waterworld stands as a cornerstone in Yas Island's diverse entertainment offerings, standing alongside Ferrari World Yas Island, Warner Bros. World™ Abu Dhabi, CLYMB Abu Dhabi, Yas Bay Waterfront, Etihad Arena, the world's first Warner Bros. themed hotel, and the recently opened SeaWorld Yas Island, Abu Dhabi.
Towards a Diversified Future
As Miral stays committed to customer-centric, progressive, and efficient development, Yas Island solidifies its standing as a global destination for premier entertainment and leisure. This expansion not only enhances the island's appeal but also contributes significantly to the diversification of Abu Dhabi's economy.
Also read: Emirates Airline Festival Of Literature Returns With Star-Studded Line-Up! All You Need To Know!
Experience the Future
For water enthusiasts and thrill-seekers, the countdown to 2025 has never been more exhilarating. Yas Waterworld promises an unforgettable aquatic adventure in the heart of Abu Dhabi, where the story continues, and excitement knows no bounds.
Advertisement