In what promises to be a celestial treat, the last long weekend of 2023 in the UAE will be graced by the year's final supermoon, the 'Harvest Moon.' On Friday, September 29, the skies over the UAE and around the world will light up with the brilliance of this remarkable lunar event.
This special long weekend comes as a gift to both public and private sector employees in the UAE, who will enjoy a day off on Friday to commemorate Prophet Muhammad's (Peace be upon him) birthday. Combined with the standard Saturday-Sunday weekend, this results in a delightful three-day holiday experience. It's worth noting that this marks the last extended break of the year, as the National Day holidays conveniently fall on the regular Saturday-Sunday weekend.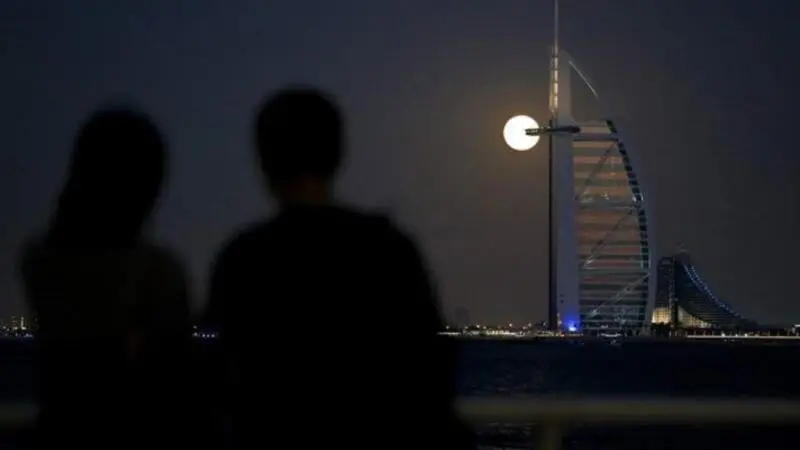 Also read: Dubai's Inaugural Electric Scooter Race Revs Up For December Debut
The Dubai Astronomy Group (DAG), experts in stargazing and celestial events, describes a supermoon as a full Moon that nearly coincides with perigee—the point when the Moon is closest to Earth in its elliptical orbit. This alignment results in the Moon appearing slightly larger than usual when viewed from Earth. DAG assures us that this year's final supermo on will be nothing short of a breathtaking visual delight.
Advertisement

The Harvest Moon Connection
This particular lunar spectacle is referred to as the Harvest Moon because it graces our skies closest to the beginning of the autumn season. In a fascinating historical context, before the widespread availability of electricity, farmers relied on the Moon's radiant light to assist in harvesting their crops during the nighttime. This lunar illumination was especially crucial during the fall season when crops were at their peak.
No special equipment is required for those eager to witness this celestial marvel. Simply look up to the night sky, and you'll be greeted by the captivating sight of the Harvest Moon.
Supermoon Display
If you wish to enhance your lunar experience, the Dubai Astronomy Group is hosting a paid event at the Al Thuraya Astronomy Centre in Dubai's Mushrif Park. This event promises lectures on celestial wonders, telescope observations, and opportunities for lunar photography, making it an ideal opportunity for both astronomy enthusiasts and curious onlookers.
To put the year in an astronomical perspective, August 2023 treated us to not one but two supermoons. The first, on August 1, illuminated the night sky, and at the end of the month, Earth's nearest celestial neighbor rose as a Super Blue Moon, showcasing its brightest glow of the year.
Also read: Roxy Cinemas Introduces 'After School Club' For Kids And Teens, All You Need To Know!
As we anticipate the last supermoon of 2023, let's prepare to be spellbound by the celestial grandeur of the Harvest Moon. It's a reminder of the wonders that our night skies have to offer, all ready to be explored with a simple glance upward.
Advertisement