UAE heat can get worse, and it's worst for delivery riders who need to deliver things throughout the day. Hence to increase road safety for delivery riders, Abu Dhabi Gas teamed up with mega delivery giant- Talabat to launch a new summer initiative. The initiative is called 'Summer Together' and aims at ensuring that delivery riders in Abu Dhabi are comfortable doing their work during the summer. Read on to know more.
Also Read: Emirates Announces Massive Hiring Of Cabin Crew, Pilots, IT Professionals & More
Delivery Riders Will Get An AC Space To Relax In Between Deliveries
Abu Dhabi and Talabat will launch the region's first solar-powered rest areas dedicated to all delivery riders. These solar-powered rest areas will let the riders rest and relax in between their work during the summer. The shelters are equipped with rechargeable batteries and have the ability to function around the clock.
They are built locally and have graffiti art decorations with decked seats, air-conditioning, a water refill facility, mobile recharge stations, and other things. Besides this, the locations will also have a parking space for bikes and an air pump to check tyre pressure.
The orange-coloured resting areas for delivery riders will run on renewable energy, completely eliminating fuel consumption. It will also be connected with a data dashboard to track positive sustainability impacts on the environment. Open 24/7 to all delivery riders (not just Talabat) across all three solar-power rest areas.
Advertisement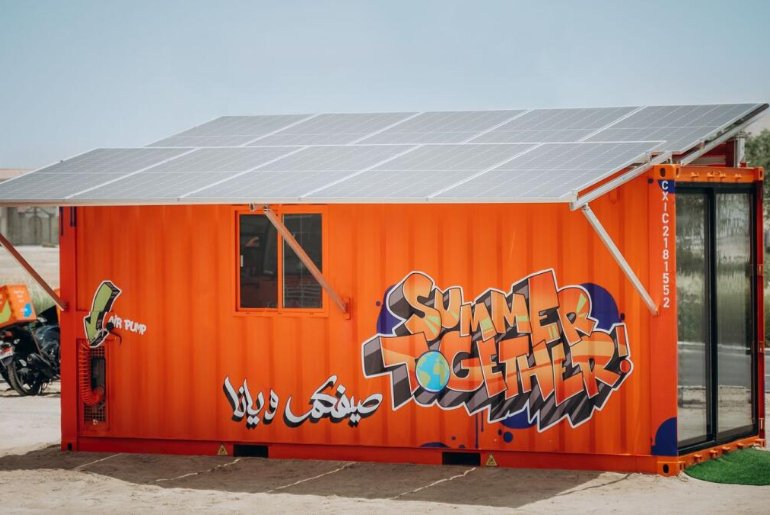 Also Read: 5 'Kids Go Free' Offers To Avail In Dubai This Summer 2023
Besides this, the initiative will also relaunch its mobile air-conditioned buses located across key rider locations in the capital. Well, we must say, this is a great initiative, and we are sure it will help the delivery riders to deal with tormentous heat.
Besides this, the Integrated Transport Centre (ITC) of the Department of Municipalities and Transport in Abu Dhabi has launched several Tesla electric vehicles to support the fleet of environmentally friendly taxis in the emirate. According to WAM, this new move is in place to establish an integrated, clean and sustainable transport environment and support the sustainable development goals in Abu Dhabi. However, as of now, the count of Tesla taxis hasn't been revealed.
Speaking about the emirate's vision, Abdullah Al Marzouqi, Director-General of the ITC, said this initiative would enhance energy efficiency, reduce carbon emissions and increase customer happiness. Furthermore, it will also make Abu Dhabi an environmentally friendly transport model.
Not only Abu Dhabi but Dubai's RTA is also aiming to convert its entire taxi fleet to green vehicles by 2027. We can't wait to see the Tesla cabs running on the streets soon.
Advertisement