Mondrian Singapore Duxton, the Lion City's newest luxury hotel, made an unforgettable debut on September 1, 2023, with a grand opening party that left guests in awe. The theme, "WHAT A PARTY," set the tone for an evening of sensory delights, artistry, and world-class culinary experiences.
Mondrian Singapore Duxton: Art Collection
The night's highlight was the revealing of a monumental 6-meter, 4,114-kilogram bronze sculpture by renowned artist KAWS. Titled "WHAT PARTY," the sculpture features KAWS' iconic character, CHUM, and will remain on permanent public display outside the hotel, becoming a new landmark in Duxton and Chinatown.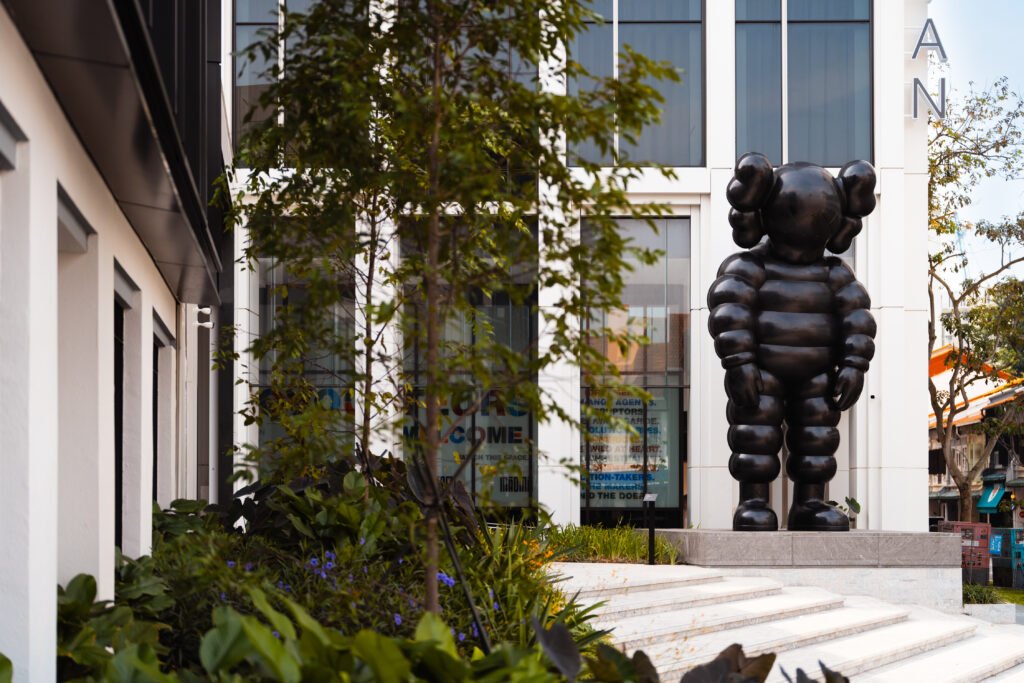 Also read: COVE BEACH's Luxury Renewal: Seaside Powerhouse Of Excellence (socialkandura.com)
Mondrian Singapore Duxton's commitment to fusing performance, art, architecture, and design was evident in this impressive installation, serving as a symbol of community, creativity, and possibility.
After the dramatic reveal of the KAWS sculpture, guests were treated to an array of experiences within the hotel. The evening began with Minuty Prestige Rose, Bombay Sapphire, and Grey Goose cocktails at the Canyon Club, offering breathtaking views of the city's bustling canyons of commerce from its Duxton Hill perch.
Also read: Dubai's Inaugural Electric Scooter Race Revs Up For December Debut
The Food
The culinary journey continued at Bottega di Carna, where guests savored a feast prepared by the world's greatest butcher and philosopher-king, Dario Cecchini. This modern Italian eatery added an element of rebellion and Tuscan charm to the evening, emphasizing ethical eating and dining as a form of theater.
Celebrity bartender Lorenzo Antinori, known for his Italian flair, delighted guests with 'low-intervention' cocktails at the Campari bar, offering a unique twist on classics like the Negroni. Veuve Clicquot's pop-up bar in Mondrian's garden kept the party going under the starry night sky.
Advertisement

Musical Extravaganza
The festivities continued in the Jungle Ballroom, a glamorous sanctuary where guest DJs Stephen Day, Farah Farz, and Japanese electro DJ and fashion maven Mademoiselle Yulia provided an eclectic musical backdrop. Guests danced the night away to the beats, with an array of premium spirits including Don Julio 1942 tequila, Bacardi aged rums, Hennessy, and Johnnie Walker.
night to remember
General Manager of Mondrian Singapore Duxton, Robert C. Hauck, described the grand opening as a night to remember and the perfect introduction to the hotel's unique offerings. The hotel, guided by a team of hospitality, cuisine, design, nightlife, and art experts, aspires to become the heartbeat of the vibrant Duxton community and a haven for those seeking a distinctive experience.
Hauck enthusiastically remarked, "What a party! I'm confident we delivered on our promise and left people with no doubt about what we're all about. It was a night to remember, and the first step in a beautiful journey. What a party, and what amazing possibilities are in store."
Mondrian Singapore Duxton's grand opening event truly marked the birth of a new era in hospitality, art, and community, leaving guests excited about the future of this exceptional establishment.
Advertisement