In a momentous development announced at the G20 summit in Delhi, the Middle East Corridor is set to redefine trade and connectivity between the Middle East, South Asia, and India. This ambitious initiative, backed by global heavyweights including the United States, Saudi Arabia, the European Union, and the UAE, promises to reshape regional dynamics. Here, we delve deeper into the Middle East Corridor and its profound implications for India.
The Middle East Corridor's Expansion to India:
The Middle East Corridor is not merely about seaports; it's a comprehensive vision for regional development. Key to this vision is the integration of train links to India. India will be seamlessly connected by railroads, unlocking unparalleled opportunities for trade and cooperation.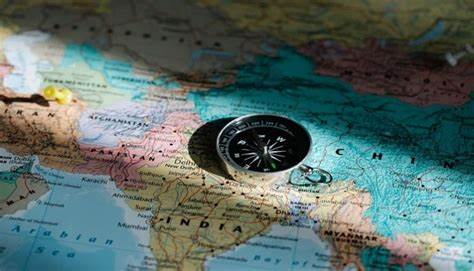 Also read: 8 Key Takeaways From Apple's iPhone 15 Launch
A Response to China's Belt and Road Initiative:
The Middle East Corridor is more than just a transportation network; it's a strategic response to China's expansive Belt and Road Initiative. By fostering stronger ties among participating nations, it aims to bolster economic cooperation and diminish reliance on alternative routes.
Saudi Arabia's Perspective:
Saudi Investment Minister Khalid Al Falih emphasized the significance of the Middle East Corridor. He likened it to the historic Silk Route and Spice Road, foreseeing it as a catalyst for greater energy connectivity and the exchange of green materials, processed goods, and finished products. This, he believes, will rebalance global trade dynamics.
Strengthening India-Saudi Arabia Relations:
During the state visit of Saudi Crown Prince Mohammed bin Salman to India, the two nations explored avenues to deepen economic ties. Discussions included trading in local currencies and expediting negotiations for a free trade agreement with the Gulf Cooperation Council. These developments underscore the pivotal role India plays in the Middle East Corridor
Advertisement

.
Also read: UAE Launches Happiness SIM Card For Blue-Collar Workers
Bilateral Agreements:
India and Saudi Arabia signed eight agreements during the visit. Among them, a pact to elevate their hydrocarbon energy partnership to a comprehensive energy partnership, encompassing renewables, petroleum, and strategic reserves, promises to enhance India's energy security.
Investment Opportunities:
The Middle East Corridor is not just about transportation; it's an economic powerhouse. India and Saudi Arabia established a joint task force to explore $100 billion in Saudi investments, with half earmarked for a long-awaited refinery project on India's western coast.
Holistic Development:
Beyond ports and railways, the Middle East Corridor encompasses improved road infrastructure, power grids, gas networks, and an optical fiber network. This comprehensive approach aims to drive regional development and connectivity, transcending mere trade.
Diverse Collaborations:
Discussions between India and Saudi Arabia also explored cooperation in fields like space exploration, semiconductors, and defense manufacturing. These partnerships will complement the Middle East Corridor, fostering innovation and technology exchange.
The introduction of the Middle East Corridor, with its train links to India, signifies a transformative step towards enhanced regional connectivity and trade. India's pivotal role in this initiative is set to drive economic growth and cooperation in the region. As the Middle East Corridor unfolds, it promises to usher in a new era of prosperity and collaboration.
Advertisement