In an exclusive event held in Abu Dhabi, Lamborghini Abu Dhabi and Dubai unveiled the future of supersports cars with the highly anticipated launch of the Revuelto. This groundbreaking model, touted as the world's first super sports V12 hybrid High-Performance Electrified Vehicle (HPEV), is set to redefine the standards of performance and driving pleasure.
Power Packed: The Revuelto's 1015 CV and Innovative Powertrain
At the heart of the Revuelto lies a powerhouse combination—an awe-inspiring naturally aspirated V12 engine, an eight-speed double-clutch transverse gearbox, and not one, but three electric motors. The result? A staggering 1015 CV output, showcasing Lamborghini's commitment to pushing the boundaries of automotive engineering.
Versatility Unleashed: 13 Drive Modes and Fully-Electric Experience
Boasting an impressive 13 drive modes, including a fully-electric option, the Revuelto promises an unparalleled driving experience. Its all-wheel-drive system ensures control and precision, whether on the track or the open road, making it a true embodiment of versatility in the world of super sports cars.
Aerodynamic Mastery: Efficiency, Functionality, and Style
The Revuelto isn't just a powerhouse; it's a work of art. The aerodynamics and design of this marvel strike a perfect synergy between efficiency, functionality, and style. The extensive use of carbon fiber in its structure contributes to a weight-to-power ratio of 1.75 kg/CV, setting a new benchmark in Lamborghini's history.
Immersive Driving: New Infotainment System

Advertisement
Step inside the Revuelto, and you're in for a fully immersive driving experience. The new Lamborghini Infotainment System caters to both the driver and passenger, adding a technological edge to the unparalleled thrill that comes with its legacy.
Also read: Ethara Presents Sustainable Initiatives For The 15th Edition Of The Abu Dhabi Grand Prix
Performance Redefined: Acceleration and Top Speed
When it comes to performance, the Revuelto doesn't hold back. Accelerating from 0-100 km/h in a mere 2.5 seconds and reaching a top speed of over 350 km/h, this model is a true testament to Lamborghini's pursuit of excellence on both the track and the streets.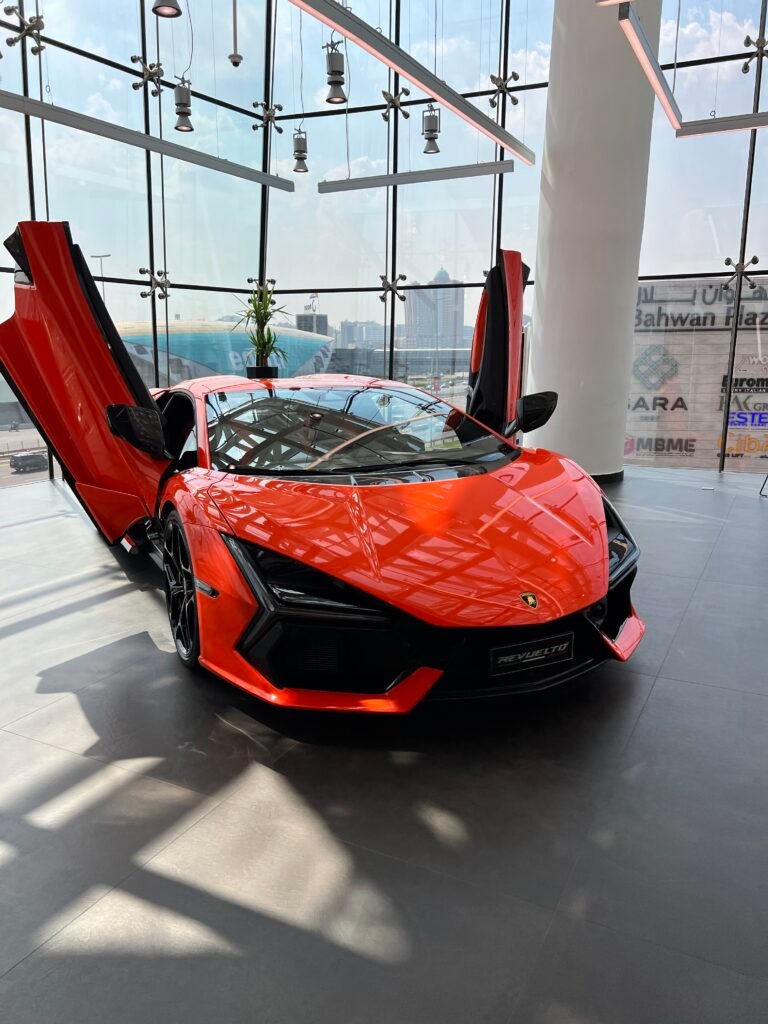 The UAE Debut: Revuelto Marks a New Era in Automotive Excellence
Mr. Rakan Turki, CEO of Lamborghini Abu Dhabi and Dubai, expressed his excitement about the Revuelto's debut in the UAE, considering it a remarkable step in providing automotive excellence through iconic design and performance.
Ultimate Motors and the Lamborghini Experience in Abu Dhabi and Dubai
Ultimate Motors, the sole authorized distributor of Automobili Lamborghini in Abu Dhabi and Dubai continues to set the standard for automotive excellence.
For more information on the Lamborghini Revuelto and Ultimate Motors, enthusiasts can contact 800 Ultimate (800 858 46283) or visit https://theultimatemotors.com/ and https://www.lamborghini.com/en-en/models/revuelto.
Advertisement