KashKan: A Culinary Odyssey from Kashmir to Kanyakumari
Renowned Indian celebrity chef Ranveer Brar is gearing up to launch his latest gastronomic venture, KashKan, in Dubai on September 2nd. This marks Brar's debut in the Middle East culinary scene, and he aims to redefine dining with a focus on genuine, flavorsome, and unpretentious food. The term "KashKan" is a fusion of "Kashmir," representing the northernmost region of India, and "Kanyakumari," denoting the southernmost tip, symbolizing the comprehensive range of Indian cuisine that the restaurant will showcase.
A Back-to-Basics Approach
KashKan promises to break away from the extravagant glamour often associated with high-end eateries and instead offer diners an unfiltered experience of Indian flavors. With a logo resembling a compass, the restaurant's vision is to capture the vast spectrum of Indian culinary traditions, echoing Brar's commitment to authenticity.
Also read: Experience A Blissful Summer Getaway At Hilton Ras Al Khaimah Beach Resort
Brar's Culinary Journey
With a culinary journey spanning over two decades, Brar boasts a plethora of accomplishments, including cookbook authorship, restaurant ownership, and a prominent presence on Indian television. Despite the challenges posed by the COVID-19 pandemic, Brar is optimistic about the restaurant industry's resurgence and its ability to bounce back.
Capturing India's Culinary Diversity
Acknowledging the immense diversity of Indian cuisine, Brar humbly acknowledges that no single restaurant can fully encompass its breadth and depth. He envisions KashKan as a platform to initiate meaningful conversations about the rich tapestry of Indian culinary culture, encouraging patrons to delve into its myriad flavors and traditions.
A Candid Approach to Food
Brar's approach to food is refreshingly candid. He acknowledges the subjectivity of taste, recognizing that each diner's experience is unique. While his dishes may evoke memories for some, he remains open to the possibility that they might not resonate with everyone, underscoring his continuous journey of culinary discovery.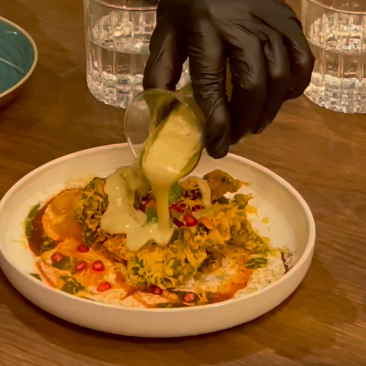 Also read: Burro Blanco's Back To School Fiesta: Elevate Your Back-To-School Dining With BOGO Delights
The Culinary Experience
KashKan's menu offers an innovative twist on Indian cuisine, focusing on authentic flavors while avoiding stereotypical offerings commonly found in restaurants. Brar's creations include a warm hibiscus rasam soup, crispy kale chaat, and inventive tandoori platters as starters. Departing from the predictable, the main course features rich and flavorful dishes such as Nagaland black sesame chicken, paneer makhani, and Nizami tarkari biryani. The meal culminates with a delightful gulab jamun cheesecake.
Advertisement

The Ambiance
Situated on the first level of the Festival City Mall, KashKan accommodates up to 210 guests and features an outdoor section with waterfront views. The vibrant decor and furnishings pay homage to India's cultural vibrancy, with an open kitchen separated by a glass window. The central bar serves as a hub for crafting desserts and beverages. Five private dining rooms, or "cabanas," each reflecting a distinct Indian region, offer a personalized touch. Adorning the walls are photographs, some taken by Brar himself, contributing to the intimate atmosphere.
Embracing Dubai's Culinary Scene
Brar joins the ranks of globally acclaimed chefs flocking to Dubai's burgeoning food scene. For Brar, Dubai's allure lies not only in its sophistication but also in its embracing of diverse culinary influences. He draws parallels between Dubai and Melbourne, both cities fostering multicultural communities and a spirit of culinary adventure.
Celebrity Indian chef Ranveer Brar's KashKan restaurant represents an exciting addition to Dubai's diverse gastronomic landscape. With its promise of authentic and honest culinary experiences, KashKan is poised to captivate Dubai's food enthusiasts and contribute to the city's vibrant dining culture for years to come.
To get a sneak peek of the culinary journey that awaits, you can watch Ranveer Brar's exclusive pre-launch interview and get a firsthand look at his vision for the restaurant only at Social Kandura.
Advertisement