Experience Entertainment Without Regrets with the "No More FOMO" Campaign
OSN+, the premier hub for top-tier entertainment, has enlisted the comedic prowess of Egyptian power couple Amy Samir Ghanem and Hassan El Raddad to headline its innovative "No More FOMO" campaign. The pair infuses a dose of humor into the universal fear of missing out (FOMO) through a captivating viral video, while also introducing an accessible "Standard Plan" for audiences in Egypt, ensuring uninterrupted access to OSN+'s exclusive premium content.
Celebrity Duo Champions Unmissable Entertainment Renowned as Egypt's leading young comedienne, Amy Samir Ghanem captivates audiences with her blend of shyness, quick wit, and charm. Her comedic journey took off with Ahmed Helmy's film, "Assal Eswed," where just two scenes spotlighted her undeniable talent, marking the inception of her successful acting career.
Hassan El Raddad, celebrated Egyptian actor and former professional footballer, lends his charismatic presence and versatility to the "No More FOMO" campaign. With a diverse repertoire spanning film and television, including standout roles in "Zana'et Settat," "My Spiritual Twin," "At Gunpoint," and "Meet Haq," Hassan's knack for excelling across genres solidifies his status as a sought-after entertainment icon.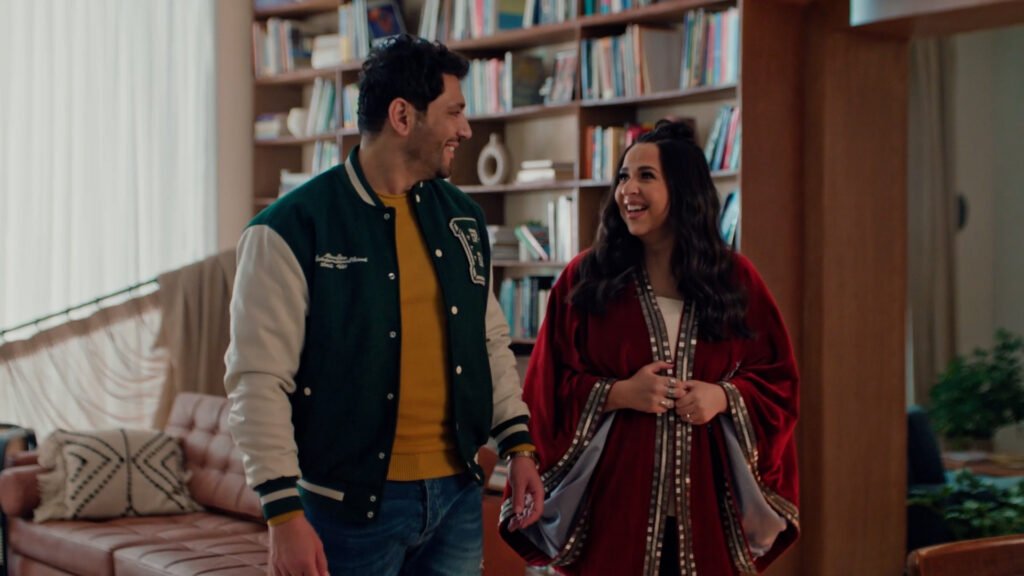 Also read: Cultivating Advancement and Cooperation: Commemorating Emirati Women's Day for a Promising Future – Social Kandura
Embracing the "Standard Plan" for Accessible Entertainment Amy and Hassan, avid OSN+ enthusiasts, expressed their excitement about the campaign. "As fans of OSN+ and its incredible content library, we were ecstatic to be part of the 'No More FOMO' campaign. With the newly introduced subscription plan in Egypt, offering a wealth of content from HBO exclusives and classics to the latest Turkish series and Arabic dramas, the remote control is practically a hot commodity in our house," Samir Ghanem quipped.
Advertisement

Tailored Options for Every Viewer Residents in Egypt can now opt for the more accessible "Standard Plan," expanding choices in terms of pricing and commitment. The plan encompasses OSN+'s premium features and content, including downloads and multiple profiles, catering to a diverse array of preferences. Additionally, the plan comes with a reduced price point and Standard Definition (SD) quality, catering to those with slower internet connections.
Humorous Campaign, A Stellar Director, and Star-Studded Ensemble The "No More FOMO" campaign, under the guidance of renowned Egyptian director Omar El Zohairy, boasts original songs that humorously capture the essence of FOMO. The initiative also assembles a constellation of esteemed Arab celebrities, such as Aseel Omran, Bader Alshuaibi, Ascia Alshammiri, and Taha Desouky, collectively bringing the FOMO phenomenon to life.
Also read: Increased Traffic On UAE Roads As Schools Reopen After Summer Break
Unleash Unlimited Entertainment The collaboration between Amy Samir Ghanem, Hassan El Raddad, and OSN+ is a lighthearted yet impactful reminder that premium entertainment is within reach, with no need to miss out on the latest and greatest content. Whether through their comedic chemistry or the introduction of the accessible "Standard Plan," the campaign echoes OSN+'s commitment to delivering unparalleled entertainment experiences to viewers across Egypt.
Join the Revolution of Entertainment For those eager to embark on a limitless entertainment journey, the "No More FOMO" campaign offers the perfect ticket. Join Amy Samir Ghanem, Hassan El Raddad, and a host of Arab celebrities as they alleviate the fear of missing out, ensuring every moment is a reel delight.
Advertisement