The anticipation and curiosity surrounding 'Project K' have been put to rest as the grand revelation took place at San Diego Comic-Con 2023. The star-studded movie, featuring Prabhas and Deepika Padukone in the lead roles, has finally been titled 'Kalki 2898 AD.' As fans and enthusiasts eagerly waited for a glimpse of what this sci-fi extravaganza had in store for them, they were treated to more than just a sneak peek!
The event witnessed a memorable panel discussion where the legendary Kamal Haasan, who shares a strong camaraderie with co-star Amitabh Bachchan, made an unexpected revelation. Kamal delved into his past, recounting his time as an assistant director on the iconic sets of Amitabh's classic film 'Sholay.' It turns out that the celebrated actor didn't have the warmest reaction upon seeing the movie for the first time.
Kamal Haasan reveals he hates Amitabh Bachchan's sholay
Kamal said, ""For those who remember Sholay with nostalgia, I was an assistant director. And, I couldn't sleep that night when I saw Sholay. First, I hated the film so much, I hated the filmmaker (Ramesh Sippy) even more. And I had the opportunity of working with that great filmmaker and I told him that that was my reaction when I saw the film."
He continued, "As a technician, I couldn't sleep that night and that's the kind of movies. Many such movies Amit ji has done, and to hear him say nice things about my films is something I had not imagine. When I was an assistant director and watching Sholay on the big screen. Thank you, Amit ji."
Amitabh Bachchan, though not physically present in San Diego, connected with the event via video conference and indulged in friendly banter with Kamal.
Advertisement

As we eagerly await the release of 'Kalki 2898 AD,' it's worth reminiscing about the cinematic masterpiece 'Sholay,' directed by Ramesh Sippy, that left a profound impact on Indian cinema history. Released in 1975, 'Sholay' not only starred Amitabh Bachchan but also featured Dharmendra and Hema Malini in iconic roles that are etched in the hearts of Bollywood fans even today.
For the unversed, Kamal Haasan and Amitabh Bachchan have indeed worked together in a film titled Geraftaar, which was released in 1985. Geraftaar is an action-packed Bollywood movie directed by Prayag Raj, and it features both these iconic actors in prominent roles.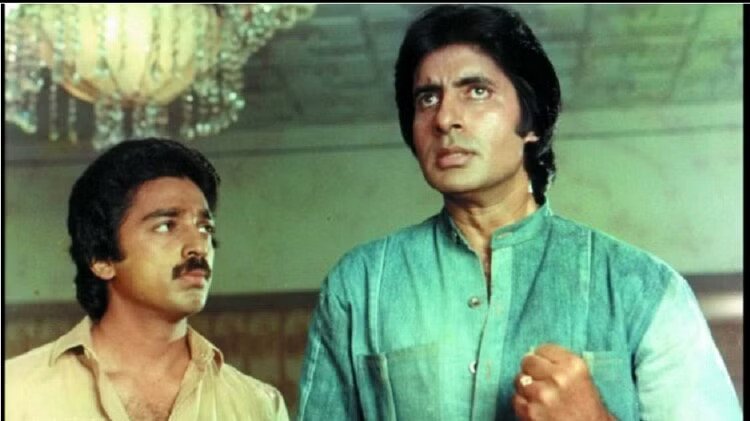 The two will be now seen together in Kalki 2898 AD, helmed by the talented Nag Ashwin, promising to deliver a sci-fi spectacle like never before. With Prabhas and Deepika Padukone leading the charge and Amitabh Bachchan playing a pivotal role. Not to forget, Kamal Haasan's portrayal of the antagonist is already the talk of the town.
Adding to the excitement, reports suggest that the stunning Disha Patani will be making a special appearance, leaving us all the more intrigued. Mark your calendars for January 12, 2024, as that's when 'Kalki 2898 AD' is slated to hit the silver screen and take us on an otherworldly journey of action, drama, and a whole lot of entertainment.
Also Read: Project K Is Now Kalki 2898 AD, Prabhas And Deepika Padukone Are Ready To Take Over Darkness
Advertisement