In a heartwarming announcement that sent waves of joy through social media, Arjun Rampal and his girlfriend Gabriella Demetriades welcomed their second son on a glorious Thursday. The proud father couldn't contain his excitement and took to his Instagram to share the wonderful news with his legion of fans and followers.
Arjun Rampal and Gabriella Demetriades blessed with a baby boy
The picture he posted was truly captivating – a soft towel adorned with the words "Hello World" and an endearing Winnie-the-Pooh, symbolizing the start of an enchanting new chapter in their lives.
With pride in his voice, Arjun wrote in the caption, "My family and I are blessed with a beautiful baby boy today. Mother and son are both doing well. Thank you to the wonderful team of doctors and nurses. We are over the moon. Thank you for all your love and support. #helloworld #20.07.2023."
Yes, you read that right – this adorable addition makes Arjun Rampal a father for the fourth time! He and Gabriella are already proud parents to their firstborn, Arik, who has been bringing immense happiness into their lives.
Meanwhile, Gabriella shared an utterly charming snapshot of Arjun cradling their little munchkin, perfectly capturing the euphoric moment.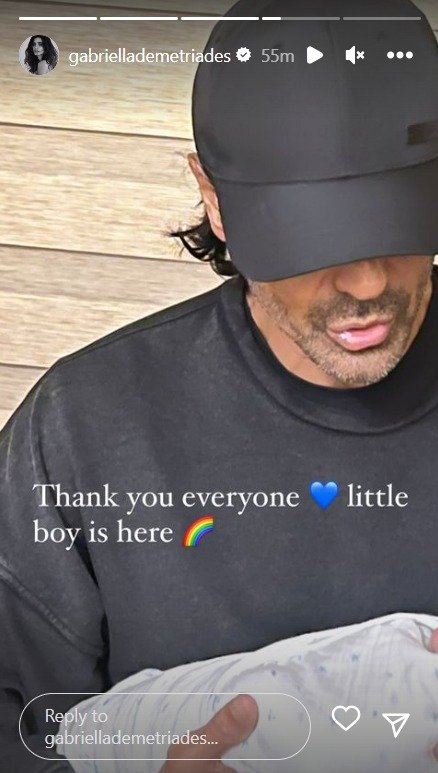 For those unfamiliar with Arjun Rampal's personal life, the actor has been on a remarkable journey of love and co-parenting. Before his relationship with Gabriella, he was married to the beautiful Mehr Jesia for 21 years. Although they parted ways in 2018, they continued to amicably co-parent their daughters, Mahikaa and Myra, demonstrating that family bonds can be nurtured even after separation.
On the work front, Arjun Rampal has a string of promising projects lined up, including The Battle of Bhima Karegan, Crakk, Nastik, and 3 Monkeys.
Also Read: Arjun Rampal To Make His South Debut With Nandamuri Balakrishna In NBK108
Advertisement