In a captivating World Cup final clash in Ahmedabad, Australia clinched their sixth title with an impressive six-wicket victory over India. Travis Head's outstanding performance with a magnificent knock of 137 runs in 120 balls played a pivotal role in securing the championship.
Also read: Etihad Airways Presents Cutting-Edge Boeing 787-9 Dreamliners At Dubai Airshow
A Stellar Comeback: Head's Dominance on Display
Despite early challenges that saw Australia at 47-3, Travis Head's exceptional century, his second in the tournament, proved to be a game-changer. His resilience and aggressive playstyle guided Australia to successfully chase down the target of 241, creating a memorable moment in the World Cup final.
Partnering for Glory: Head and Labuschagne's Record-breaking Stand
The left-handed opener's marathon partnership with Marnus Labuschagne, who remained unbeaten at 58, reached an impressive 192 runs. This partnership not only dismantled India's hopes but also marked a record-breaking collaboration that contributed significantly to Australia's victory.
Maxwell's Finishing Touch:
As Head's innings concluded after a remarkable 120-ball display featuring 15 fours and four sixes, Glenn Maxwell stepped in to hit the winning runs. The victory set off wild celebrations in the Australian camp, underlining the team's collective effort and determination.
Also read: Dubai Airports Plans Vision For Futuristic Mega Airport To Meet Soaring Passenger Demand
Bowlers Set the Stage: Starc and Cummins Shine
Australia's bowlers, led by Mitchell Starc (3-55) and Pat Cummins (2-34), laid the foundation for victory by efficiently restricting India to 240 runs. The disciplined bowling and strategic fielding complemented Cummins' leadership, setting the tone for Australia's triumph.
Advertisement

Head's Journey: From Injury to World Cup Triumph
Travis Head's journey to the World Cup victory was marked by resilience and determination. Overcoming a fractured hand earlier in the year, Head played a crucial role in Australia's success, contributing match-winning performances throughout the tournament.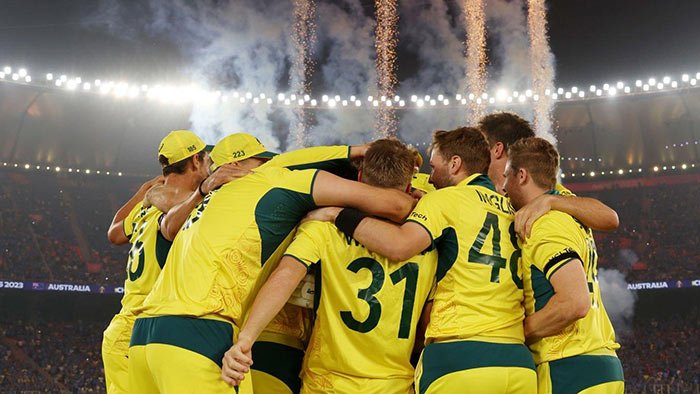 Also read: Dubai Secures Its Place Among The Most Scenic Christmas Destinations Worldwide
Dominance in the Field: Cummins Dismisses Kohli
Australia's decision to field first proved strategic, with Cummins dismissing Virat Kohli, the tournament's leading batsman with 765 runs. This pivotal moment further solidified Australia's control over the final and showcased the team's all-around excellence.
Also read: Real Madrid World: Dubai Parks™ And Resorts Announced Groundbreaking Football Theme Park
Celebrating Australia's Cricket Triumph
In conclusion, Australia's World Cup victory was a testament to their skill, teamwork, and determination. Travis Head's heroic century, the record-breaking partnership with Labuschagne, and the stellar performance of the bowlers collectively led to the team's sixth World Cup title. The celebrations in the Aussie camp echoed the culmination of a remarkable journey in the world of cricket
Advertisement