Dubai is renowned for its extravagant achievements, and the latest feather in its cap is the Guinness World Record for 'The Tallest Landmark Sign,' awarded to the Hatta sign. Nestled amidst the awe-inspiring Hajar Mountains, Hatta is a haven for adventure enthusiasts and nature lovers alike. With its soaring natural beauty, an array of thrilling outdoor activities, and mesmerizing evening illumination, this place offers an exceptional adventure paradise.

Here are five points that shed light on why it deserved this award.
1. Hatta: Majestic Mountain Setting
Hatta's strategic location amidst the rugged Hajar mountain range is nothing short of spectacular. Standing tall at an elevation of 450 meters, the sign not only offers breathtaking views but also perfectly complements the natural beauty of its surroundings. The towering mountains, deep valleys, and serene water bodies make it a picturesque spot for adventurers and nature enthusiasts.
ALSO READ: Historic Return: Abu Dhabi Bridges Illuminate to Welcome Emirati Astronaut Sultan AlNeyadi – Social Kandura
2. Impressive Height
The Hatta sign stands tall at an impressive 19.28 meters, dwarfing even iconic landmarks like the Hollywood sign, which is just 13 meters high. This remarkable height showcases the dedication and precision that went into creating this landmark. It has rightfully earned its place as the tallest landmark sign globally, adding to Dubai's ever-growing list of world records.
3. Thrilling Adventure Activities
Hatta is not just about the sign; it's a haven for adventure seekers. Visitors can partake in an array of outdoor activities that cater to all levels of thrill-seekers. From heart-pounding zip-lining and mountain biking to the daring pursuits of rock climbing, zorbing, archery, and axe-throwing, this place offers an adrenaline rush like no other. These activities make it an ideal destination for those who seek adventure amidst nature's beauty.
Advertisement

4. Enchanting Evening Illumination
As the sun sets over the Hajar mountains, the Hatta sign transforms into a mesmerizing beacon of light. The sign's evening illumination adds an enchanting touch to the experience, creating a captivating ambiance for visitors. Whether you're an avid hiker or simply seeking a serene moment in nature, witnessing the sign's radiant glow is an unforgettable experience.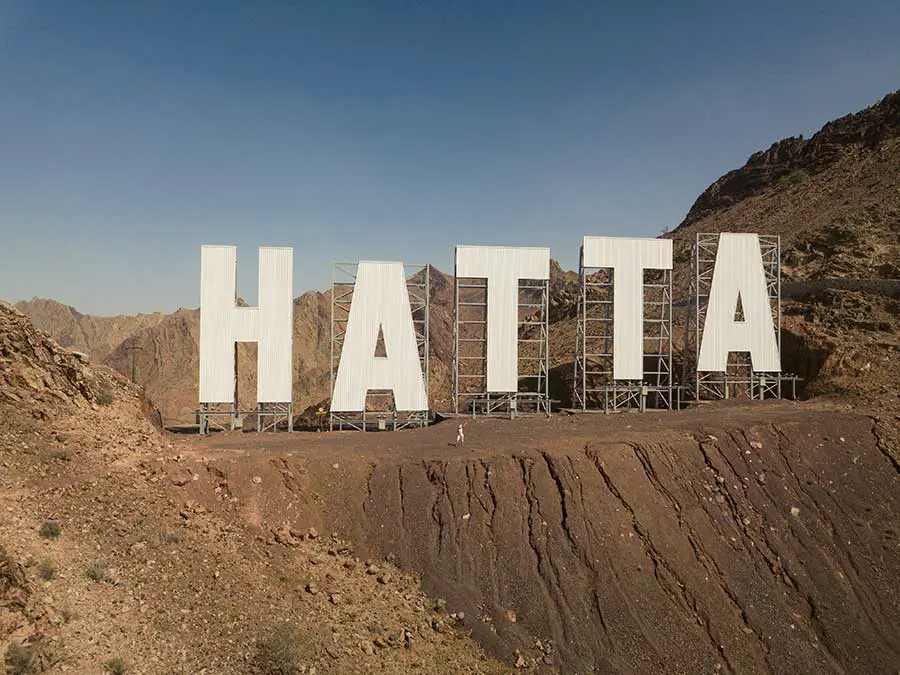 ALSO READ: Celebrate National Beer Lovers Day With AED 1 Pint At The Cheeky Camel In Dubai
5. Unique Glamping Options
For those who prefer a touch of luxury with their outdoor adventure, Hatta offers unique glamping experiences. Visitors can choose from a variety of accommodations, including trailers, lodges, domes, and caravans. These cozy and stylish options allow you to connect with nature without sacrificing comfort, making Hatta a versatile destination for all types of travelers.
Hatta's Guinness World Record for 'The Tallest Landmark Sign' is proof of its natural beauty, adventurous spirit, and dedication to offering unique experiences to residents and tourists alike. With its stunning mountain setting, impressive height, thrilling activities, enchanting illumination, and diverse accommodations, Hatta has rightfully earned its place as a must-visit destination in Dubai. As it gears up for its sixth season, Hatta continues to win the hearts of adventure enthusiasts from around the world.
Advertisement