Dubai is known for a lot of things, from stellar skyscrapers to record-breaking attractions, you name it, and Dubai has it. And while the emirate is known as the melting pot of culture, it also offers one of the cheapest public transport in the world. Dubai Metro is one of the most efficient modes of transport, and over two billion passengers have used it since its inauguration on 9-9-2009. With 129 trains, 53 stations, and impeccable punctuality of 99.7 per cent, Dubai Metro makes travel easier in and around the emirate. And if you are new in Dubai or visiting the city soon, this is your ultimate metro guide. Read on for the deets.
Also Read: UAE Citizens Can Now Park For FREE Near Their Homes; Here's How
How To Travel In Dubai Metro?
You can buy single, return and day-pass tickets or a cashless smart card known as Nol to travel on Dubai Metro. Your fare is calculated based on the place you want to visit, and you can buy the ticket from the vending machines at the metro station; besides, you can also do a one-time recharge on your Nol Card and use that till the amount exhausts.
You can buy Nol Cards from Dubai Metro stations, bus stations, and at supermarkets such as Carrefour, Spinneys and Waitrose. In terms of airport and luggage, there are two stops on the Red Line at Dubai International Airport (DXB) Terminal 1, and Terminal 3. Collect your bag, head to the station and pay for a ticket directly at the station. You can carry two pieces of luggage on a Dubai Metro train – one large suitcase (no bigger than 81cm x 58cm x 30cm) and one carry-on bag (no bigger than 55cm x 38 cm x 20cm).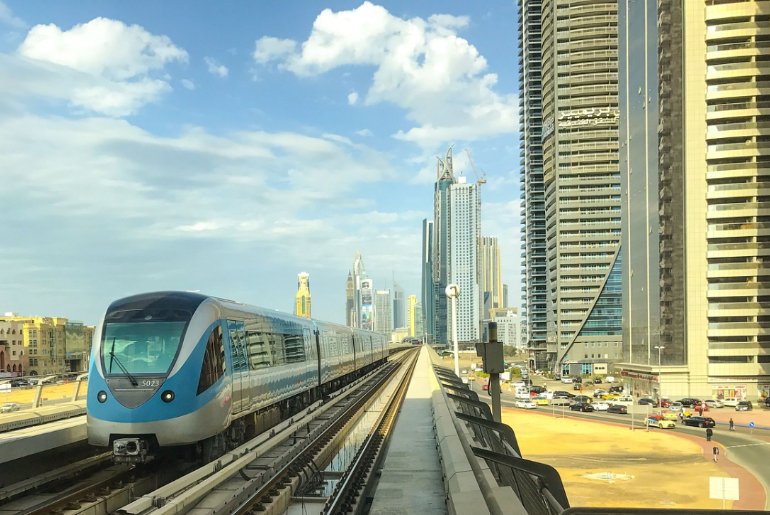 Main Dubai Metro Statins And Zones
Dubai Metro has 129 trains and 53 stations running on two lines- Red and Green.
The red line starts from Centrepoint (formerly Rashidiya) station, close to Dubai International Airport. And using this line, you can head to places like Burj Khalifa, The Dubai Mall, the Museum Of The Future, the Mall Of Emirates, Dubai Marina, Business Bay and more. At Jabal Ali station, the Red Line gets divided into two branches- the Centrepoint train goes up to Expo City Dubai, and if you want to go towards Ibn Battuta Mall, you need to switch trains.
Advertisement

When it comes to the green line, it travels from the Etisalat station in the Al Twar area to the historic Dubai Creek. Spice and gold souks come on this line.
Also Read: Sheikh Mohammed Bin Rashid Opens Largest Heritage Museum In The UAE
Timings Of Dubai Metro
The metro operates all days of the week; however, the timing slightly differs over the weekends. Monday to Thursday, metro stations are open from 5 AM to Midnight, Friday- from 5 AM to 1 AM, Saturday- from 5 AM to 12 AM and Sunday- from 8 AM to 12 AM.
Types Of Cabins Inside Dubai Metro
There are three types of cabins inside the Dubai Metro – Silver, Gold and Women's and Children's cabins. Silver class is your general class, Gold Class is like first class, and it is spacious with plush leather seats and panoramic views. Women and Children cabins are restricted only to them. The ticket price for Silver and Gold Class differ, so make sure to check that before making the purchase.
Tips For First-Time Commuters
If you are a tourist or are using the metro for the first time, do note that trains and stations will be crowded during peak hours. So try and avoid- 6 AM to 8 30 AM and 5 PM to 7 PM.
If you are travelling during peak hours, consider taking Gold Class cabins for longer journeys, it will make your travel comfortable.
Eating and drinking inside the cabins is strictly prohibited.
Dubai Metro provides free Wi-Fi, so make the most of it.
Dubai Metro For People Of Determination
People of Determination now have designated seating areas on the Dubai Metro in addition to the tactile paths, and visual and audible warnings at stations. RTA recently announced this news on Twitter. This new update will make the journey comfortable for the passengers and help them commute safely. Besides, there is lift access available on all metro station levels and dedicated spaces for wheelchair users on all trains.
Advertisement