As a Social Media Manager who runs fair amount of ads on these networks – you must have come across an option which says 'Facebook Audience Network' common approach is to just tick this and hope your adds show up in places apart from Facebook.
But what exactly is the Facebook Audience Network? Here's the excerpt from Facebook's Blog that explains what the Facebook Audience Network really is.
Audience Network helps publishers monetize and create engaging ad experiences that are right for their audience. Through a combination of access to Facebook advertisers and people-based marketing, publishers can drive ad revenue and sustainable value for their business while driving better results for advertisers.
Featuring real-time optimization capabilities, Audience Network supports engaging and valuable formats, like custom native units for display and video, as well as standard interstitial and banner formats.
How To Leverage Instagram For Your Business
Monetization improved
Improving monetization with Audience Network is quick and easy. Here's how it works:
Access Facebook advertisers
Big brands and local businesses want to reach more of the people they care about. We give you access to global Facebook advertisers who want to scale their campaigns and extend their reach beyond Facebook.
Advertisement

Higher quality ads drive better results
Ads that people care about drive better results for advertisers, which means more ad revenue for publishers. With powerful people-based marketing you can deliver high quality ads that match the interests of your audience, preserving the consumer's experience and improving monetization.
Integrate native ads that increase engagement and revenue
Native ads
 can be integrated quicker than you think. Easily integrate native ads that work with your user flow and match the look and feel of your mobile property. Native ads can also deliver more engagement, greater retention and higher CPMs.
Facebook makes it simple to start getting paid
Once your ad placements are ready, simply publish your mobile property, setup your payment info and you're all set. 
Get paid
 in a matter of weeks.
Monetize your mobile and video inventory
By adding just a few lines of code to your website or app, you can start monetizing and get paid monthly.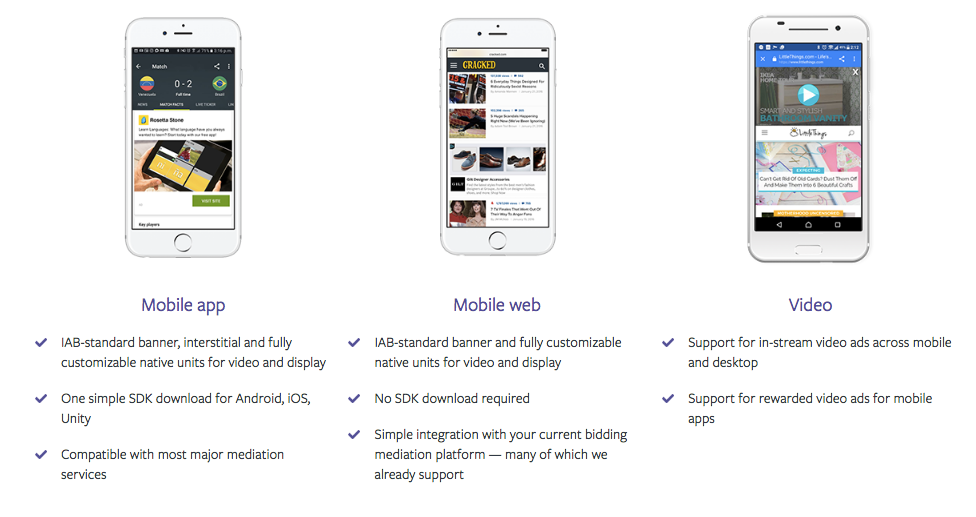 Advertisement