Emirates, the world's largest international airline, is basking in the success of one of its busiest summers to date. Between June and August 2023, the airline achieved a remarkable milestone by ferrying more than 14 million passengers across its global network, with an impressive average seat load factor of over 80%.
Emirates' Unprecedented Summer Achievement
Dubai's Irresistible Allure: Two Million Travelers Flock to Dubai, Making It a Summer Hotspot Throughout this bustling season, Emirates observed an unwavering demand for international travel spanning its extensive network. Even during the scorching summer months, Dubai maintained its allure as a favored destination for travelers. An astounding two million customers converged on Emirates' hub to partake in the city's year-round attractions and events.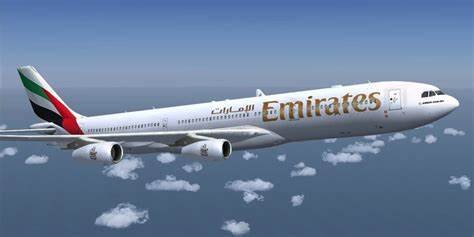 Also read: Fog Alert in UAE: Red Alert Issued for Abu Dhabi's Al Ain Region – Social Kandura
Top Inbound Markets: UK, India, Germany, and More – Dubai's International Appeal Among the top inbound markets were the UK, India, Germany, Pakistan, Saudi Arabia, China, Egypt, and Kuwait. A remarkable revelation was that over 35% of visitors to Dubai, who chose Emirates as their carrier, were families. These families extended their stays by an average of more than two weeks, immersing themselves in the city's captivating sites and myriad attractions.
Family-Friendly Dubai: Over 35% of Visitors Are Families, Enjoying Extended Stays: As the winter season approaches, Emirates is gearing up for yet another surge in travel demand bound for Dubai. The city's bustling calendar, adorned with global conferences and world-class sporting events, promises an enticing draw. Notably, Dubai has already witnessed the arrival of over 8.5 million international visitors in the first half of 2023, outpacing the figures from the previous year by more than a million visitors during the same period.
Anticipating Winter Demand:

Advertisement

Dubai's Packed Calendar Set to Drive Travel Spike: Adnan Kazim, Emirates' Chief Commercial Officer, emphasized the enduring robustness of travel demand across their network, defying the challenges posed by escalating living costs in various markets. This resilience underscores the profound value people attach to travel – be it for business, leisure, education, or reconnecting with loved ones.
Dubai's Tourism Triumph: Over 8.5 Million Visitors in First Half of 2023, Outpacing Last Year: Kazim highlighted Emirates' collaborative efforts with industry partners to swiftly reinstate flight schedules. This proactive approach facilitated the catering of customer demand and enhanced Dubai's allure as a pivotal hub. He further emphasized the resounding customer preference for Emirates' product offerings across all cabin classes, with a notable emphasis on premium cabins.
Also read: Bollywood Celebrities Cheer Chandrayaan 3 Landing On The Moon
Emirates' Resilient Network: Chief Commercial Officer Adnan Kazim's Perspective on Travel Demand: During the summer span from June to August, Emirates operated an impressive tally of almost 50,000 flights to and from 140 cities, culminating in the seamless transportation of over 14 million passengers.
Collaborative Restoration: Emirates and Industry Partners Work Together to Meet Rising Demand: An extensive network benefits from partnerships with 157 airlines and rail companies, extending travelers' access beyond its own routes to over 800 cities spanning 100 countries.
Premium Cabin Preference: Customer Attraction Towards Emirates' Premium Offerings: In a nutshell, Emirates' soaring summer performance not only underscores the enduring appeal of Dubai but also highlights the airlines' resolute commitment to providing exceptional service across all fronts. As the year progresses, Emirates is set to further elevate its position as a global aviation leader, poised to cater to diverse travel needs while ensuring optimal value and connectivity for passengers worldwide.
Advertisement