The legendary actor, Amitabh Bachchan was in the midst of filming his upcoming movie 'Project K' alongside the talented Prabhas when fate dealt him a harsh blow. In his latest blog entry, the iconic star bared all, recounting the calamitous event in vivid detail. His narration revealed that his rib cartilage had been shattered, leaving him writhing in agony.
As admirers around the world held their breath, waiting for an update on his condition, Big B took to Twitter to offer a message of hope, assuring his fans that their prayers were the ultimate cure for his recovery.
Read the tweet here!
Big B Updated his blog giving a health update
Renowned for his regular blogging, Amitabh Bachchan has once again taken to his virtual diary to share an update on his health following the accident on the set of Project K. In his latest post, the beloved actor expressed his heartfelt appreciation for the outpouring of concern and love from his fans, stating that their prayers have been a source of comfort during his recovery. Despite the setback, Big B remains resolute in his determination to heal, assuring his followers that he is adhering to the medical advice and taking the necessary time to rest and recuperate. He also provided a glimpse into the festive atmosphere at his home, Jalsa, where Holika was lit a day earlier due to confusion over the date for Holi celebrations. Despite the confusion, he wished his fans a joyous celebration, urging them to embrace the colorful facets of life that the festival embodies. As ever, his gratitude towards his fans was palpable in his words.
Read here: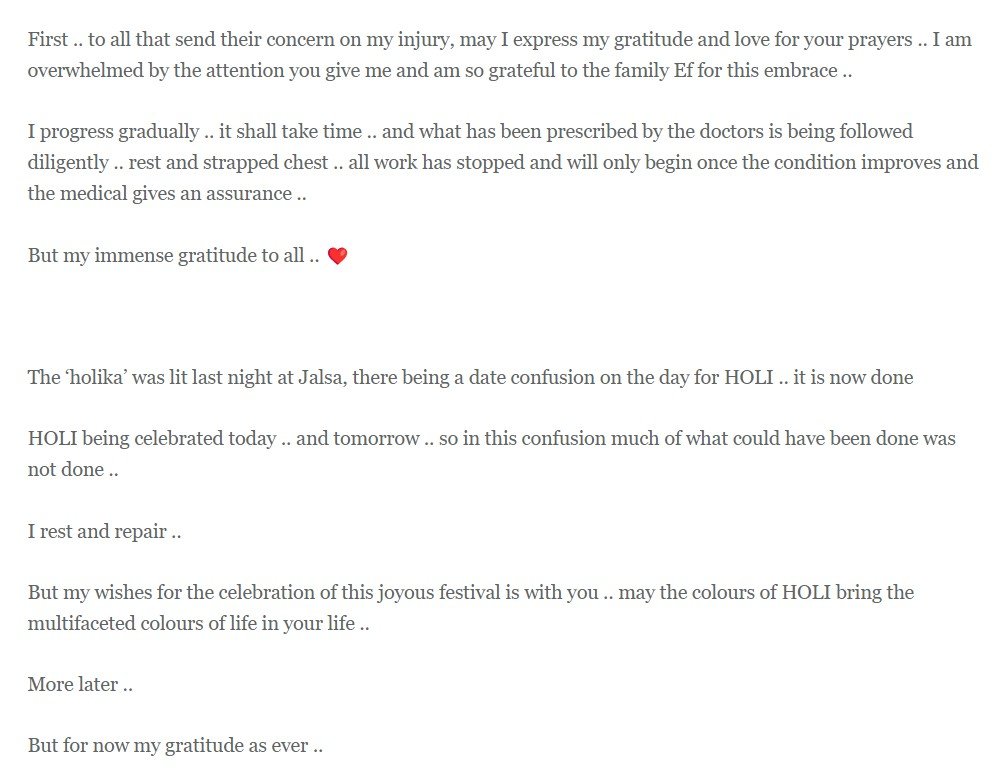 We're sure that Big B is going to be back soon to the sets as all love and prayers are directioned towards his recovery.
Also read: Amitabh Bachchan Suffers Rib Injury While Filming 'Project K' In Hyderabad