Umm Yifeenah Bridge in Abu Dhabi, a new 11-kilometre bridge connecting Al Reem Island, Umm Yifeenah Island and Sheikh Zayed bin Sultan Street was launched by HH Sheikh Khaled bin Mohamed bin Zayed Al Nahyan, member of the Abu Dhabi Executive Council and Chairman of the Abu Dhabi Executive Office. The newly launched bridge aims to reduce traffic in the capital and improve the quality of life of the residents. Here's everything you must know about it.
Built by Aldar and in partnership with the Department of Municipalities and Transport (DMT), this new six-lane highway can accommodate 6,000 journeys per hour in each direction. The newly launched Umm Yifeenah Bridge is the first phase of the Mid-Island Parkway project that is currently under design. Once ready, it will link Al Reem Island, Saadiyat Island, Al Raha Beach and Khalifa City.
Advertisement

The project also includes walking and cycling paths, and bike rental facilities and aims to provide healthy alternatives to the residents.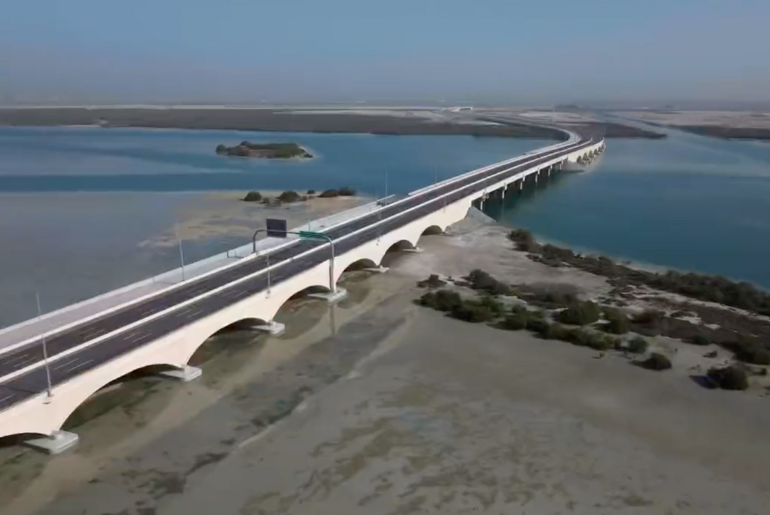 The opening ceremony was attended by Mohamed Ali Al Shorafa, chairman of the Department of Municipalities and Transport; Mohamed Khalifa Al Mubarak, chairman of the Department of Culture and Tourism – Abu Dhabi and chairman of Aldar; Saif Saeed Ghobash, secretary general of the Executive Council; and Talal Al Dhiyebi, group chief executive of Aldar.
According to Abu Dhabi Media Office, the network is planned for completion by 2028 and will incorporate sustainable landscapes. In terms of construction, the bridge is built keeping all the environmental and sustainable factors in mind. Precast concrete elements and arch-shaped causeways ensure water flow and minimise adverse impact on mangrove wetlands.
We can't wait for this project to get over soon.
Advertisement