In a delightful surprise, Prajakta Koli, the popular YouTuber and actress, had an unexpected encounter with the billionaire philanthropist and Microsoft co-founder, Bill Gates. The Mismatched starlet couldn't contain her excitement and promptly shared a picture of herself with the tech titan on social media. Along with the photo, she wrote, "#RealTalkTuesday Coming up soon," leaving her fans in suspense about what could be brewing between the two. Although Prajakta didn't reveal the specifics of the meeting, she teased that all would be revealed in due time.
Prajakta Koli is no stranger to hobnobbing with high-profile individuals. Earlier this year, the talented YouTuber and content creator had the privilege of attending the prestigious World Economic Forum's annual meeting at Davos. Prajakta was part of a delegation of YouTube stars who covered the event and shared her experiences with her avid followers. With her camera in hand, she snapped some pictures from her time at Davos, giving her fans an exclusive peek into the glitzy world of global leaders and influencers.
The fact that Bill Gates himself shared Prajakta's story on his official Instagram handle speaks volumes about the impact she's making. Gates, who is also known for his philanthropic efforts, acknowledged Prajakta's work in driving social impact through her online presence. In his post, he referred to her as the "Goalkeeper" of the Gates Foundation, a clear indication of the level of respect and admiration he has for her. It's no wonder that Prajakta's hard work and dedication are gaining recognition from influential figures like Bill Gates.
Check the repost here!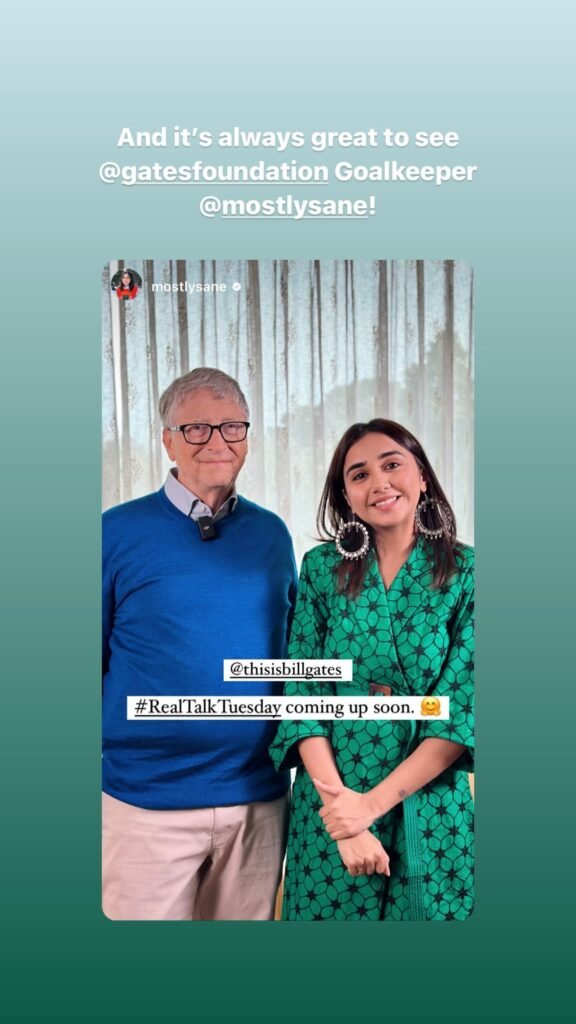 On the work front, Prajakta Koli is a multi-talented personality who has successfully made a mark in the entertainment industry. She is not only a content creator and YouTuber but her acting skills have been recognized with her debut in the hit Bollywood movie 'Jug Jugg Jeeyo', produced by Dharma Productions. She is also known for her role as Dimple Ahuja in Netflix's 'Mismatched' series which appeared in its second season.