The UAE Vice-President, Sheikhs and other leaders have been filmed boarding a swanky Etihad passenger train as the country announced the launch of its national railway network.
His Highness Sheikh Mohammed bin Rashid Al Maktoum, Vice-President and Prime Minister of the UAE and Ruler of Dubai, on Thursday, 23 February tweeted a series of photos. In one of the photos he was seen inside a train. A video showed him boarding the passenger train at the main centre for control and maintenance in Al Fayah, Abu Dhabi. He is seen listening to a briefing about the project inside the train.
Sheikh Mohammed said: "UAE today successfully launched the national railway network. It connects four major ports in the country and seven logistical areas, and transports 60 million tonnes of goods annually. Our train network enhances our economy."
The UAE national railway network will contribute to supporting the national economy at a value of AED200 billion, and saving AED8 billion in the cost of road maintenance. The network's tourism benefits are estimated at AED23 billion.
The project has contributed to supporting the local industry by assigning 215 companies and local entities. also, 70 percent of the building materials used in the project are produced by the local industry.
Advertisement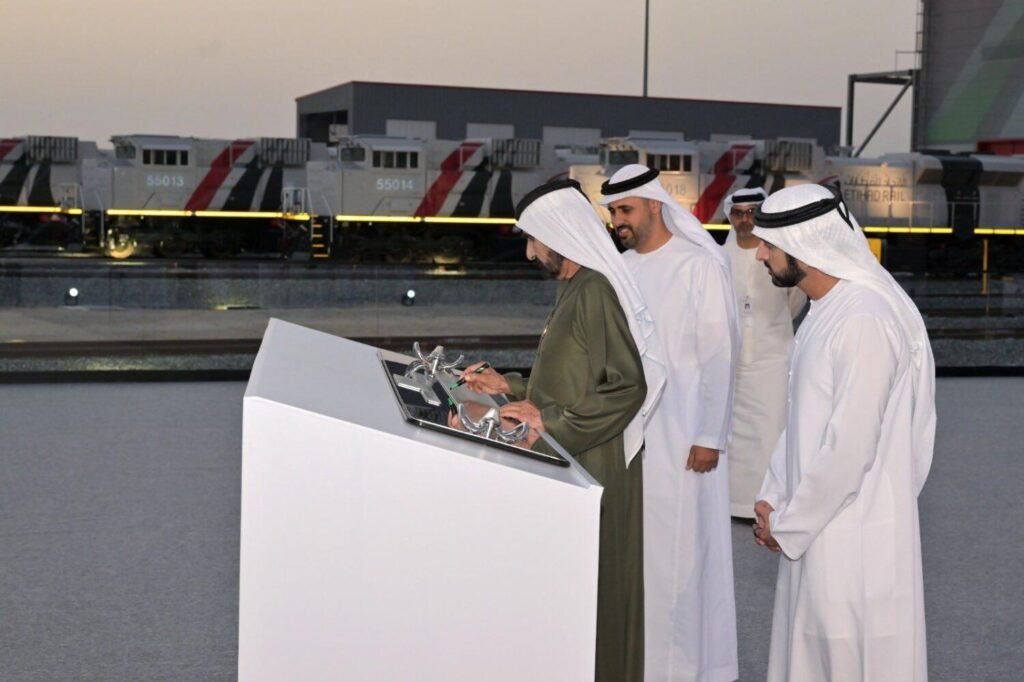 The project also supports the UAE's sustainable development goals and contributes to achieving the UAE Net Zero by 2050, through reducing carbon emissions in the road transport sector by 21 percent, and reducing road transportation emissions per capita by 40 percent, by 2050.
The UAE national railway network passes through a variety of geographical terrains, within a large-scale engineering plan that includes the construction of 593 bridges and crossings of all types, and 9 tunnels with a length of 6.5 km. It took 120 million cubic metres of excavation work to complete, to ensure the highest levels of vehicular traffic flow under the tracks of the railway network.
Eleven cities in the UAE will be connected by Etihad Rail's passenger services. Passengers can travel from Abu Dhabi to Fujairah in 100 minutes and from Abu Dhabi to Dubai in 50 minutes at top speeds of 200kmph. Up to a 40% commute time reduction is anticipated with the trains. Although a precise opening date has not been announced, it is anticipated that by 2030, there would be more than 36.5 million passengers yearly.
Advertisement