Bollywood's one of the best, Vicky Kaushal has played a diverse set of roles. His versatility as an actor is prominently showcased in his portrayal of military roles, particularly in "URI: The Surgical Strike" and "Raazi." His ability to embody the essence of army officers on the big screen is a testament to his dedication and talent.
Whether he's playing Major Vihaan Shergill in "URI" or the Pakistani army man Iqbal in "Raazi," his attention to detail and impressive physical transformation bring an unparalleled sense of authenticity to his characters. Audiences and critics alike have lauded him for delivering compelling performances as uniformed officers.
Movies in which Vicky Kaushal played an army official
1) URI
In "URI: The Surgical Strike," Vicky Kaushal steps into the role of Major Vihaan Shergill, a character that demands both physical and emotional commitment. He masterfully portrays the resilience and determination of an army officer leading a critical mission. His rigorous training and preparation for this role shine through in every frame, making the character of Major Vihaan Shergill a standout and earning him accolades.
2) Raazi
In "Raazi," Vicky Kaushal takes on the character of Iqbal, a Pakistani army officer. His portrayal in this film adds depth and complexity to the story, showcasing his ability to portray multifaceted characters. He effortlessly captures the nuances of his character, adding to the intrigue of the film.
Advertisement

3) Sam Bahadur (upcoming)
Now, the anticipation among fans is palpable as Vicky Kaushal is set to return to the military uniform in Meghna Gulzar's upcoming directorial, "Sam Bahadur." In this film, he steps into the shoes of a legendary army officer, Field Marshal Sam Manekshaw. By choosing to once again don the army uniform onscreen, Vicky Kaushal demonstrates his profound respect for the armed forces and a commitment to portraying military characters with authenticity and dedication.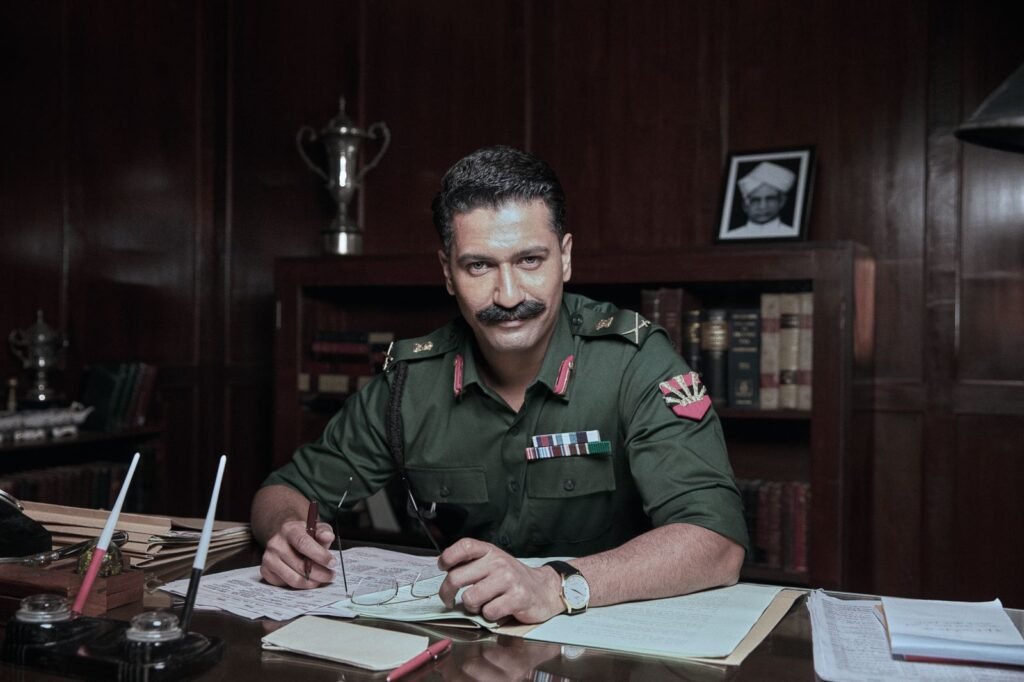 About Vicky's upcoming movie Sam Bahadur
"Sam Bahadur" is a biography based on the life of Sam Manekshaw, the Chief of the Army Staff of the Indian Army during the Indo-Pakistani War of 1971. He holds the distinction of being the first Indian Army officer to be promoted to the rank of field marshal. Vicky Kaushal's portrayal of Sam Manekshaw is highly anticipated, with audiences eagerly looking forward to another remarkable performance that promises to captivate and inspire.
Produced by RSVP Movies, the teaser for "Sam Bahadur" is scheduled to release on 13th October, 2023, and the film is set to hit theaters on 1st December, 2023.
Also Read: Vicky Kaushal Believes Wife Katrina Kaif Created An 'Era' Of Her Own
Advertisement