Khalid Al Bustani, director general of the Federal Tax Authority said: "The new solution is integrated electronically between retail outlets and the tax refund scheme, ensuring a seamless digital process of issuing, sending, modifying and saving invoices for tourists." He also added, "We worked with our partner Planet Tax to ensure that data is ready before a tourist arrives at the airport and can collect the refund."
The system has been linked with the retailers, hence all the receipts will be generated electronically, says FTA official. As per the reports, the UAE introduced a VAT of 5 percent in 2018, and all tourists who spend $68 on purchases can claim VAT refunds at the outlets while leaving the country.
During the press conference on Wednesday, Eyad Al Kourdi, General Manager of Planet Tax Free said, "We have seen tourists missing or forgetting to carry receipts to the airport in the la few years. An older woman once bought all her stuff to the airport but she forgot the receipt at the hotel. This motivated us how to improve the tourist VAT refund experience and eliminate the need to carry receipts. The UAE is the first country to go paperless."
Advertisement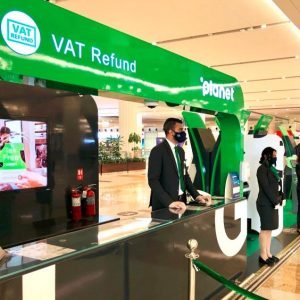 Al Kourdi also added that this initiative will help save 16,000 trees. "Safa Park in Dubai is home to 16,000 trees. That is saving not only for the environment but also give a decent amount of saving for retailers in terms of papers, printers and cartridges as major groups operate hundreds of outlets in the UAE."
Planet is also operating about 100 kiosks for VAT refunds in the country.
As per local media, Abdul Salam, treasurer at Dubai Gold and Jewellery Group, said the process of linking the electronic systems is underway at many gold and jewellery stores which will ease the collection of VAT refunds for a lot tourists. "Even customers will also prefer to have an electronic receipt rather than a print receipt," he added.
Thanks to this efforts taken by the government bodies, the UAE is the first nation in the world to achieve this milestone.
Advertisement