UAE is the epitome of beauty, luxury and offers top-notch Emirati hospitality. Not only the seven Emirates, but UAE-based airlines also define luxury and aim at making the flying experience luxurious, comfortable and best for their customers. And now, to take opulence and comfort to the next level, UAE Airlines are all set to introduce new comfy seat options. At their stands in the Arabian Travel Market, UAE airlines- Emirates, Etihad & FlyDubai have announced new seats and other offerings. Read on for all the deets.
Also read: Abu Dhabi Targets To Welcome More Than 24 Million Visitors By The End Of 2023
Abu Dhabi's national carrier- Etihad Airways, has revealed the plush new interiors for its Boeing 787 Dreamliners that will join the fleet in the third quarter of 2023. The new 787 Dreamliner cabin interior will take the premium flying experience to the next level. The airline will introduce the Elements seat manufactured by Collins on the Boeing 787.
Etihad Airways To Launch Business Suites & Lighter Seats In Economy Class With Its New Boeing 787 Dreamliners
The new seats will let the travellers enjoy additional privacy, whereas the increased height of the suite will give them privacy and make them feel at home. The cabins will have a 1-2-1 configuration, and the seats will recline to a fully lie-flat bed 78" in length. Besides this, the cabins will have a 17.3" 4K TV screen, Bluetooth headphone pairing, multiple charging ports, wireless charging and storage.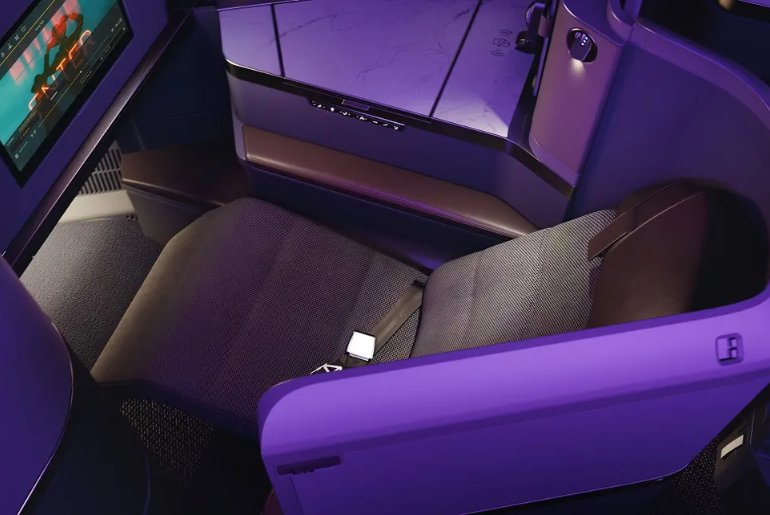 While the business class passengers will have the time of their life, the airline also wants to ensure that Economy class passengers make the most of their time flying with Etihad Airways. The newest 787 will have 271 seats and will be lighter in weight, and boast "an increased feeling of space" which is created by the smart design and adjustments.
FlyDubai To Launch 10 Premium Business Class Seats
Meanwhile, Dubai's budget carrier-FlyDubai also unveiled its latest premium business class seat, designed exclusively for single-aisle aircraft. The ten suites will offer all business class passengers direct aisle access. The first aircraft featuring the new Business Suite is expected to join the Flydubai fleet in November. The new premium Business Class experience will be available on up to six aircraft by the first quarter of 2024 and will be scheduled on select longer flights around the Flydubai network.
Also read: You Can Now Apply For Remote Working Visa From Abroad, Announces UAE
Now, when it comes to Dubai's flagship airline- Emirates Airlines, the airline is showcasing its premium Economy seats in the Arabian Travel Market. The premium economy seats are a game changer and offer legroom of up to 40 inches and wide seats that span 19.5 inches with an 8-inch recline.