Bur Dubai has long been known as the heart of affordable dining and vibrant culture in Dubai. However, a game-changer has arrived in the form of Pahadi, a North Indian resto lounge that promises to redefine your culinary and entertainment experiences.
Open Around the Clock: Always Ready to Welcome You
One of the most striking features of Pahadi is its around-the-clock operation. Open 24 hours a day, seven days a week, this establishment provides a level of convenience and warmth that's hard to match. You can find Pahadi nestled within the Majestic Premier Hotel on Khaled Bin Al Waleed Street in Bur Dubai, where the magic unfolds.
Pahadi: Where the Mountains Meet Modern Comfort
The name 'Pahadi' translates to "dwellers of mountains," and it's not just a name; it's an experience. Step inside, and you're instantly transported to a modern mountain cottage. The interior, adorned with wooden furnishings, effortlessly creates the ambiance of a rustic alpine chalet.
Also read: Perform Sharjah's Second Season: A Cultural Feast Returns To Sharjah
A Place for All: Family-Friendly Atmosphere
Pahadi isn't just a haven for adults; it's a destination the whole family can enjoy. With special children's menus and play areas, it ensures that every member of the family can indulge in its offerings. But what truly sets this establishment apart is its live entertainment, perfectly complementing the mountain theme.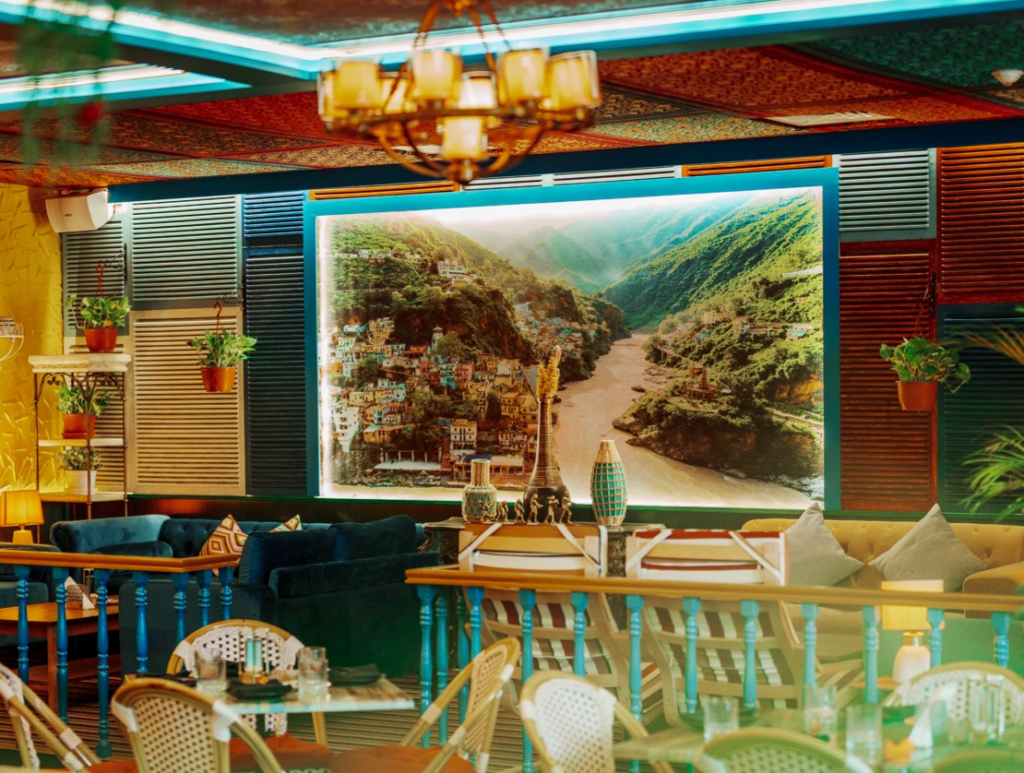 Entertainment that Resonates: Alpines Tunes and Cultural Enrichment
The live entertainment at this place is a highlight. Traditional alpine music and captivating yodeling performances create an unforgettable experience suitable for all age groups. Beyond that, it's commitment to cultural enrichment sets it apart. It plans to host a variety of cultural engagement activities, art exhibitions, and cultural exchange programs, all designed to celebrate the heritage and traditions of mountain regions in North India.
Advertisement

Also read: Lunar Eclipse In UAE: Witness Earth's Shadow Fall On The Moon This Month
A Taste of the Himalayas: The Pahadi Culinary Journey
Food enthusiasts are in for a treat as Pahadi offers a delectable menu with rustic and earthy flavors. With saffron-infused rice, aromatic spices, quality meats, and fresh produce, it captures the essence of Kashmiri cuisine. The culinary journey at Pahadi is enriched with seasonal menus and specials that change with the seasons. In the cooler months, expect winter-themed dishes and beverages, while summer promises fresh and lighter options.
Where Mountains Meet the Metropolis
Pahadi, the Himalayan-inspired lounge in Bur Dubai, isn't just a dining establishment; it's an experience. Its rustic charm, 24/7 operation, family-friendly atmosphere, live entertainment, and commitment to cultural enrichment make it a must-visit destination. And, of course, the delectable Kashmiri cuisine is the cherry on top.
Don't miss out on this unique culinary and cultural journey at Pahadi, where the mountains meet the metropolis.
Contact Information:
Address: Majestic Premier Hotel, Khaled Bin Al Waleed Street, Bur Dubai
Phone: +971 4 397 7444
Website: @pahadidxb
Advertisement