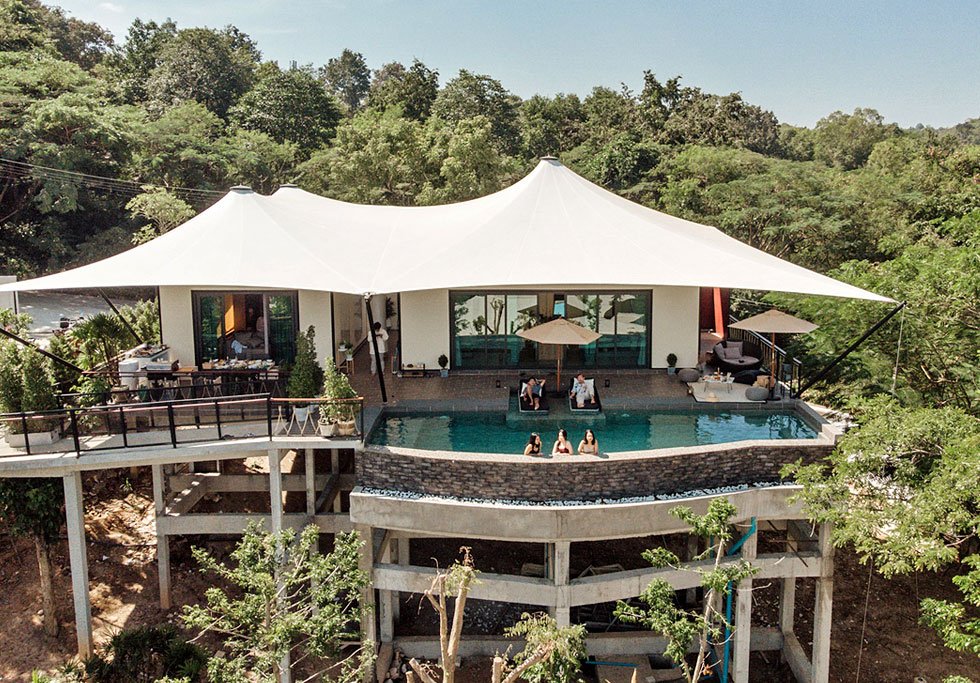 Te Mata Glamping, a haven where luxury meets nature, beckons discerning travelers from the Middle East to embark on an unforgettable retreat in the heart of Khao Yai, Thailand. Surrounded by pristine landscapes and offering a curated selection of activities, Te Mata Glamping promises an extraordinary experience that seamlessly combines opulence, privacy, and captivating adventures.
A Harmonious Fusion of Luxury and Natural Beauty
Nestled amidst the captivating landscapes of Khao Yai, Te Mata Glamping sets the stage for an unparalleled fusion of luxury and natural beauty. Each meticulously designed luxury tent embodies a harmonious blend of elegance, comfort, and exclusivity, providing an unparalleled retreat for those with refined tastes. From carefully selected furnishings to exceptional en-suite facilities, no detail has been overlooked in creating an atmosphere of unmatched indulgence.
Indulge in Life's Finer Moments
At Te Mata Glamping, life's finer moments are meant to be savored. Guests can start their day with a leisurely breakfast served at their convenience, take enchanting midnight strolls through undisturbed grounds, or simply relax under a starlit sky in a private heated pool. The dedicated team of personal glamp hosts ensures that every need is met with seamless precision, offering sumptuous in-glamp breakfasts, enchanting bonfire experiences with marshmallow roasting, and thrilling ATV rides for the adventurous souls. The exclusive Sunset Ride, available only once per day, offers a breathtaking journey into the twilight hours. For water enthusiasts, private kayaking and paddleboarding at the lakeside glamp provide a serene and refreshing experience.
Discover the Beauty of Khao Yai National Park
Te Mata Glamping is ideally situated in proximity to Khao Yai National Park, a UNESCO World Heritage site renowned for its awe-inspiring landscapes. Guests can immerse themselves in the beauty of lush jungles, tranquil streams, majestic waterfalls, and a diverse array of flora as they explore the park's scenic trails, perfect for leisurely walks and embracing nature's wonders.
Advertisement

Tailored Experiences for Every Taste
For those seeking more exhilarating pursuits, the Khao Yai area offers an array of thrilling activities such as horse and elephant riding, go-karting, and golf. Alternatively, guests can choose to indulge in serene experiences at the private villas, where they can enjoy a rejuvenating Thai massage overlooking the majestic mountains, savor a delightful afternoon tea by the pool, or practice morning yoga amidst nature's embrace.
A Bespoke Vacation to Treasure
Embark on an extraordinary journey to Te Mata Glamping, a premier luxury destination conveniently located just two hours from Bangkok. Leave an indelible mark on the expansive scenic land as you create cherished memories with your loved ones. Experience a bespoke vacation where every moment is tailored to your desires, and allow the magic of Te Mata Glamping to transport you into a world of unparalleled beauty and serenity.
Experience the Epitome of Luxury and Nature in Khao Yai
Te Mata Glamping awaits, offering a unique escape for travelers seeking luxury redefined. Embrace the splendor of nature while indulging in opulent comforts, creating memories that will linger for a lifetime. For discerning travelers from the Middle East and beyond, Te Mata Glamping promises an exquisite retreat unlike any other. Experience the epitome of luxury and nature at Te Mata Glamping in Khao Yai, Thailand.
Advertisement