Lapita, Dubai Parks™ and Resorts, proudly introduces Tiki House, an enchanting Polynesian cultural playground tailor-made for children aged 4-12. Nestled within the UAE's first and only Polynesian resort, Tiki House invites young explorers to embark on a one-of-a-kind island adventure, immersing themselves in the vibrant tapestry of Polynesian culture.
Aloha, Keikis!
Tiki House promises a world of excitement, inviting children to experience the rich heritage, traditional dances, and vivid artwork that define Polynesia. Under the guidance of Lapita's Chief on Board, kids can master the art of hip-shaking hula, learn the captivating meke (Fijian traditional dance), and discover the soul-stirring drau ni uto bota toka, a traditional song and dance style. Each step unveils a story, connecting them to the heart of Polynesian dance.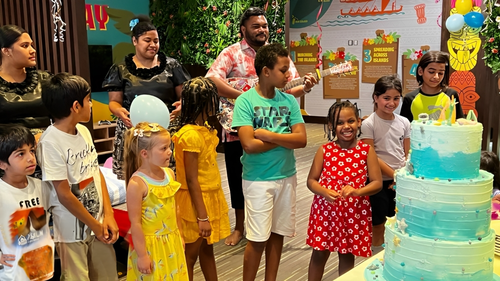 Also read: KCON Riyadh 2023: Ignite The Epic K-Pop Extravaganza!
Let loose Your Creativity
But Tiki House is not just about dance; it's a haven of creativity. Children can unleash their artistic flair through activities like tali Ibe (mat-making) and arts and crafts. They can transform into little artists with flag and tiki face painting and enjoy movie nights where their imaginations can run wild, creating their very own Polynesian-inspired masterpieces.
Hours of Fun
Tiki House is open daily from 1.30 PM to 5.30 PM, except on Mondays. In-house junior guests enjoy one-hour complimentary access, while additional access can be purchased for AED 50 per hour, available for both in-house and external guests. So, gather the keikis and make your way to Lapita, Dubai Parks™ and Resorts for an immersive Polynesian experience that will leave them saying "aloha" from the very first moment.
Advertisement

Birthday Bliss at Tiki House
But the excitement doesn't stop there! Tiki House offers exclusive Birthday Celebration packages, designed to create unforgettable memories. Whether it's the Tiki Package, the Mahalo Package, or the Lei Package, each promises hours of fun, including face painting, balloon twisting, and a dance class. With balloon decorations, personalized birthday messages, delicious food and beverages, and the iconic Lapita cake, these packages ensure cherished memories for up to 20 kids. Guests can choose from a variety of activities, from Polynesian arts and crafts to outdoor challenges like the giant Jenga challenge.
Also read: 8 Key Takeaways From Apple's IPhone 15 Launch
Book Your Polynesian Adventure
For bookings, inquiries, and session timings, visit Experience Polynesia at experiencelapita.com or call +971 4-810 9999. Discover the magic of Polynesia at Lapita Dubai's Tiki House and let your young explorers embark on a journey they'll treasure forever.
Experience the essence of Polynesia, only at Lapita Dubai's Tiki House.
Advertisement