Bollywood's beloved divas never fail to make a fashion statement on their wedding day with exquisite and personalized Choodas and Kalire. These accessories hold immense sentimental and personal value, elevating the already grand Indian weddings to new heights of glamour and elegance. Choodas, a unique accessory worn by brides across the country, add a touch of beauty to the already stunning wedding attire. Meanwhile, the golden Kalire adorned on the wrists of Punjabi brides during the Chooda Ceremony, have become a staple of the traditional pre-wedding celebration. Let's take a look at the new bride, Kiara Advani's Kalire to Sonam Kapoor's style.
Kiara Advani
On the 8th of february, Kiara Advani and Sidharth Malhotra exchanged vows in a fairy tale wedding at Suryagrah Palace, Jaisalmer. Their dreamy nuptials were a vision in Manish Malhotra couture, from their breathtaking lehenga to their sparkling jewels. However, what truly stole the show was Kiara's customized Kalire. These special accessories were a touching tribute to Sidharth's beloved pet, Oscar, featuring the couple's initials and showcasing their love for each other and their furry friend. This special gesture by Kiara is just one of many examples of how Indian brides are making a statement with their wedding Choodas and Kaliras, adding a personal touch to this cherished tradition.
Athiya Shetty
Athiya Shetty and KL Rahul exchanged vows in a beautiful ceremony at Suniel Shetty's Khandala farmhouse in January and it was the first Bollywood wedding of the year 2023. The actress exuded elegance with her wedding look, and her Kalire were a standout feature, deserving of special recognition. The couple's eternal vows were inscribed on these charming accessories, making them a meaningful symbol of their love and commitment to each other. Athiya's Kalire were a touching representation of the love and devotion that the couple shares, and a beautiful addition to an already stunning wedding day.
Alia Bhatt
Like Kiara, Alia Bhatt also made a statement with her stunning Kalire designed by the talented Mrinalini Chandra. These intricate accessories were a true work of art, featuring celestial motifs like stars, the sun, clouds, and an infinity sign. They were a breathtaking addition to Alia's wedding look and left a lasting impression on all who saw them.
Advertisement

Katrina Kaif
Katrina Kaif made a bold fashion statement on her special day with her choice of a red Chooda and golden Kalire. Her Kaliras were a perfect blend of simplicity and elegance, featuring delicate gold-plated messenger doves that added a touch of grace to her wedding look. The actress had 6-7 doves attached to each bangle with her kaleeras which had words from Bible like Cleo and Elysian engraved on it. These classic and understated accessories showcased Katrina's timeless sense of style and her appreciation for classic beauty. With her choice of Chooda and Kalire, Katrina proved that sometimes, the simplest things can make the biggest impact.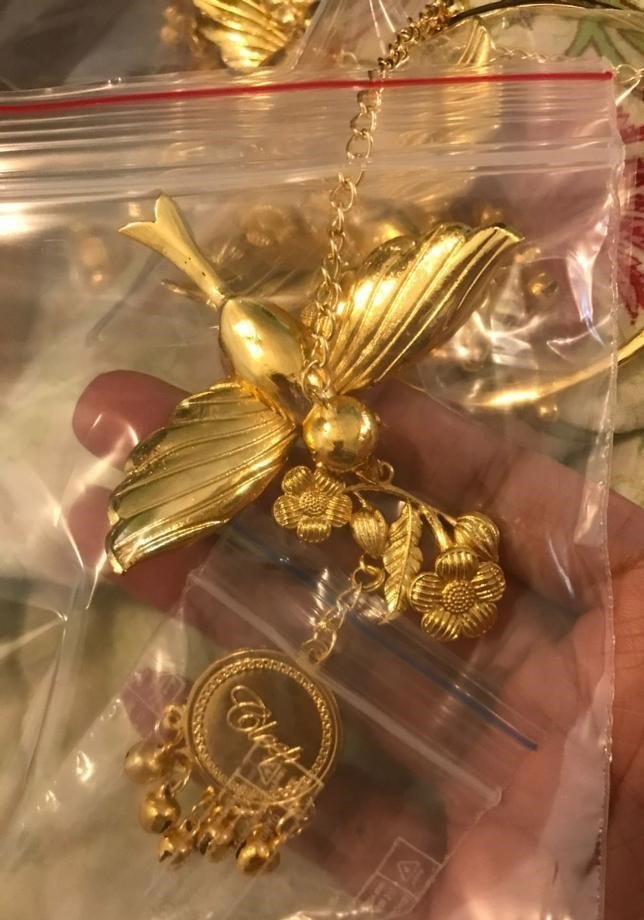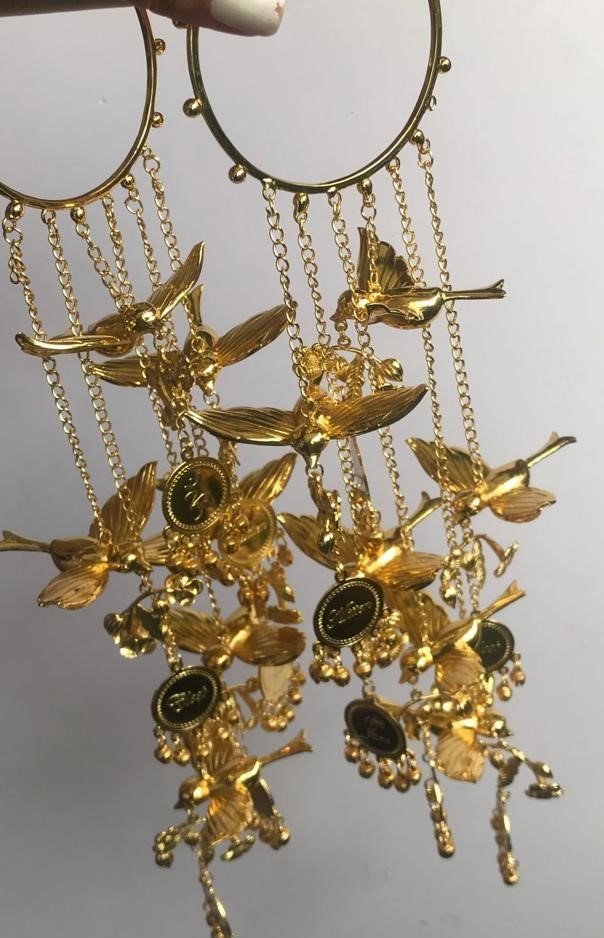 Priyanka Chopra Jonas
Priyanka Chopra added the perfect finishing touch to her stunning red wedding lehenga with her beautifully customized golden Kalire. These charming accessories were a personal tribute to her love story with Nick Jonas, featuring intricate details of their journey together. With her choice of Kalire, Priyanka added a sentimental touch to her special day, making it a memorable and meaningful celebration of love.
Sonam Kapoor
The fashionista of Bollywood, Sonam Kapoor added a touch of creativity to her traditional Kalire with a custom design that perfectly complemented her wedding lehenga. The unique peacock shape of these charming accessories added a touch of beauty and whimsy to this timeless accessory. Sonam's custom Kalire were a playful yet sophisticated addition to her bridal look, showcasing her individuality and her appreciation for both tradition and innovation. With her choice of Kalire, Sonam made a lasting impression and set a new standard for contemporary bridal style.
Advertisement