In a groundbreaking move, Swiss electric seaplane manufacturer Jekta introduces the PHA-ZE 100, a cutting-edge 19-seat commuter seaplane, at the Dubai Airshow. This fully electric amphibious aircraft, scheduled for market release in 2028, promises a sustainable and cost-effective solution for transportation in mega-cities and coastal regions like the UAE.
Electric Seaplane Innovation at Dubai Airshow
The PHA-ZE 100, or Passenger Hydro Aircraft with Zero Emissions, stands out with its innovative design. Departing from traditional seaplanes, it's a flying boat, uniquely landing on its entire body rather than floats. This distinctive feature enhances stability and operational capacity, facilitating landings on various water bodies such as lakes, seas, or rivers.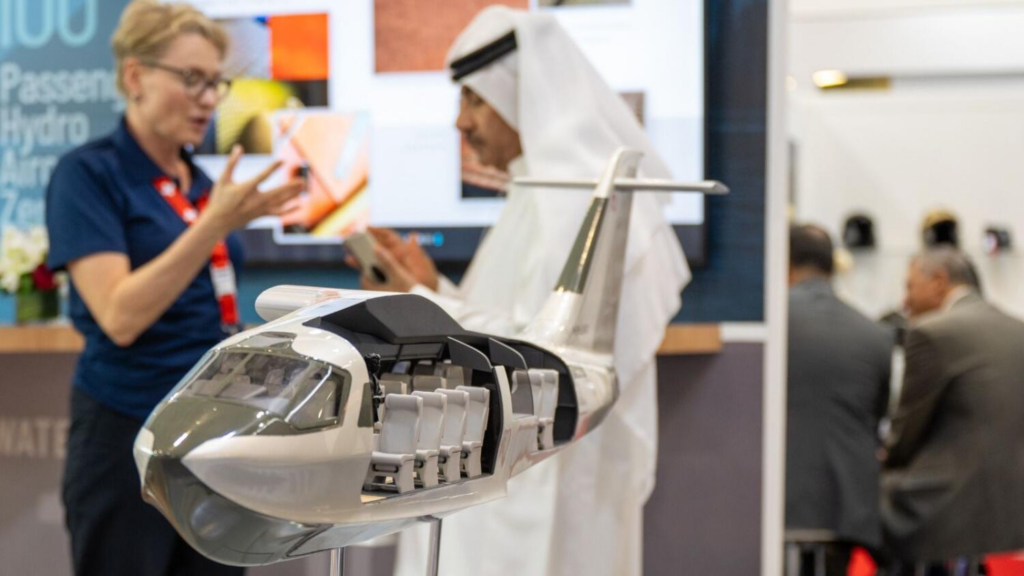 Also read: 7 Essential Steps For A Seamless Umrah Journey From The UAE (socialkandura.com)
Sustainability at the Core: Zero Emissions Travel
A key advantage of this electric seaplane is its commitment to environmental sustainability. With zero emissions, it ensures safe, cost-effective, and eco-friendly travel for passengers. Jane Stanbury, Head of Communications at Jetka, emphasizes the aircraft's potential to reduce operating costs by up to 70%, resulting in lower passenger fares while ensuring profitability for operators.
Game-Changing Technology: Redefining Post-Pandemic Travel
The simplicity of maintenance, attributed to its carbon fiber construction and the absence of a regular engine, significantly contributes to cost reduction. Stanbury highlights that this electric seaplane is a game-changer, addressing growing concerns about carbon dioxide emissions from transportation, particularly in a post-pandemic world.
Towards Net Zero Emissions: A Sustainable Vision
Aligning with the Net Zero Emissions (NZE) goal by 2050, the PHA-ZE 100 aims for a yearly reduction of over 3% in carbon dioxide emissions from the transport sector until 2030. This forward-looking approach positions the electric seaplane as a frontrunner in sustainable air travel solutions.
Advertisement

Also read: The Tap House Invites Dubai To A Spectacular Festive Season With 4 Exclusive Offers!
Strategic Partnership: Dubai-Based Company Acquires 10 Aircraft
In a significant move towards integrating innovative transportation solutions, Jetka has already signed a letter of intent (LOI) with a Dubai-based company for the acquisition of 10 PHA-ZE 100 aircraft. This marks a crucial step in shaping the future of transportation in the region.
Exploring Applications: Beyond Conventional Travel
Stanbury envisions broad applications for the electric seaplane, especially in connecting regions separated by large bodies of water. Island nations like Malaysia, the Philippines, and Thailand, as well as the Middle East, hold vast potential for this transformative technology.
Experiential Travel Possibilities: A Flexible Multifunctional Vehicle
The PHA-ZE 100 opens up possibilities for experiential travel, with the ability to carry kayaks or scuba gear. Stanbury paints a vivid picture of taking off from Dubai, diving into the sea, and then flying back—a flexible, multifunctional, and multi-service operational vehicle.
A Promising Future for Eco-Friendly Air Travel
As the world seeks sustainable alternatives amid climate challenges, the PHA-ZE 100 emerges as a promising solution, symbolizing the future of eco-friendly air travel in the UAE and beyond. The electric seaplane represents a transformative force, paving the way for greener skies and a more sustainable future.
Advertisement