Street Food Lovers! Get ready for a feast of visual treats, served with a side of quirk! The Bhukkad Cafe, renowned for its eccentric ambiance and meals inspired by street food, is making a leap into Web3 with the introduction of the world's first vada pav NFTs. These NFTs will debut exclusively in OneRare Kitchen in conjunction with the opening of The Bhukkad Cafe's fourth physical location in Sharjah, United Arab Emirates.
OneRare is thrilled to welcome UAE's beloved — The Bhukkad Cafe into the Foodverse.
The Bhukkad Cafe is deeply inspired by the street food of India. While most similar restaurants only concentrate on a few popular cities and its cuisine, The Bhukkad Cafe's menu was drawn by its founders, Reshmi Mukherjee and Parth Kapur love for food and vibrant aesthetics. After over a year of research, scouting small towns and cities, tasting local cuisines and finding out what most people eat on the streets of India on a daily basis, they developed The Bhukkad Cafe franchise model, a lively hub of food, finance, art and entrepreneurship enthusiasts.
The relaxed, cozy atmosphere along with tongue-in-cheek placements of wall art is the key Bhukkad Ambiance that customers fall in love with.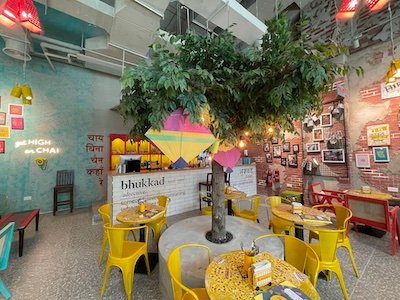 The cafe has since grown to have three outlets in Dubai and a new one launching in Zahia City Centre soon. The Bhukkad Cafe aims to bring together like-minded people hungry for growth, and hopes to empower and raise strong, inspired and informed bhukkads.
This exciting partnership between The Bhukkad Cafe and OneRare embark with the release of three unique Vada Pav NFTs — Cheeseburst, Schezwan, and Classic — which will be available to mint in the OneRare Kitchen.
Launching the world's first Vada Pav NFT is not just iconic & cool, but it will also help the brand align its digital goals with growing adaptation of crypto. Both the teams will work closely to launch the The Bhukkad Cafe experience centre later in the Foodverse, immersing foodies in the cafe's unique ambiance and culture.
Advertisement

"We're extremely excited to announce our collaboration with OneRare on developing the world's FIRST EVER VADA PAV NFT!
When OneRare reached out to us with the idea of developing our own series of NFTs, we were excited because we're a very crypto friendly brand & have always supported our growing Bhukkad community with all things crypto, from hosting free crypto workshops to accepting payments in crypto.
Our vision with this collaboration is to educate our followers & customers on use cases of crypto & ease them into adoption with fun, unique solutions & features. We look forward to engaging with our food community to create even more fun experiences in the Metaverse with the expert help of OneRare", said  Reshmi Mukherjee, co-founder, The Bhukkad Cafe.
The Bhukkad Cafe have always been on the forefront of adaption of technology accepting crypto as payments and using innovative methods to enhance their customer experience. Now, by launching the world's first Vada Pav NFTs, they are definitely set out to create history.
"We are pumped to welcome The Bhukkad Cafe to the Foodverse. The Bhukkad Cafe's street-inspired dishes have captured the hearts of many, and we can't wait to bring Foodverse's first UAE Brand along with the first ever Vada Pav NFTs in the global NFT market", said Supreet Raju, co-founder, OneRare
Foodies! Put on your Chef's hat and get cooking alongside The Bhukkads! This is your chance to grab the World's First Vada Pav NFTs.
Advertisement