Emphasizing Back-to-School Health as School Resumes
The Ministry of Health and Prevention (MoHAP) has embarked on an impactful Back-to-School Health Awareness Campaign, running from August 17 to 31. With a keen focus on preparing parents and students for the school routine, the campaign underscores the significance of physical activity, balanced diets, regulated sleep patterns, and controlled screen time.
Community Engagement for Holistic Health As part of this initiative, six engaging community events have been hosted at prominent Lulu Hypermarkets across the UAE. These events create a vibrant platform for parents and students to dive into Back-to-School Health discussions. From workshops led by expert chefs demonstrating healthy cooking techniques to sessions with nutritionists offering insights into preserving nutrition during extended school hours, these events cater to a holistic health approach.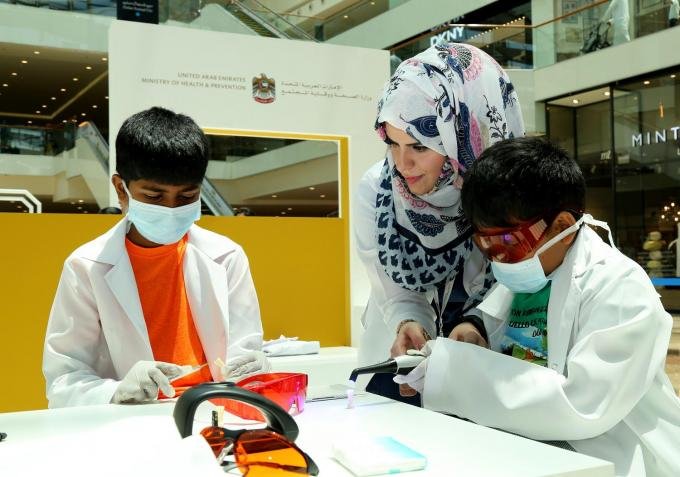 Also read: Burro Blanco's Back To School Fiesta: Elevate Your Back-To-School Dining With BOGO Delights
Introducing the '5210' Interactive Activity Corner A noteworthy feature of this campaign is the introduction of the '5210' Interactive Activity Corner for Children. This creative corner serves as an educational hub where young learners can explore interactive activities that promote healthy habits. This initiative aims to empower children with the knowledge needed to make health-conscious choices from an early age.
Guiding Parents through Virtual Engagements Understanding the importance of parental involvement in the 'Back-to-School Health Campaign'. The campaign includes virtual engagements tailored for parents. These informative sessions, conducted at workplaces and educational institutions, provide parents with essential insights into fostering healthy habits among their children. The focus here is on the '5210' concept, which emphasizes daily servings of fruits and vegetables, adequate physical activity, limited screen time, and avoiding sugary drinks.
Advertisement

Nurturing Healthy Eating Habits In line with its objectives, the campaign also equips parents with guidelines on preparing nutritious school lunch bags. These guidelines ensure that students receive the right nutrition to fuel their academic pursuits. Through expert advice and practical tips, parents are empowered to provide their children with balanced and nourishing meals.
Promoting a Health-Conscious School Environment HE Dr. Hussain Abdul Rahman Al Rand, Assistant Undersecretary for the Public Health Sector, expressed the campaign's alignment with the 'Health-Promoting Schools' initiative, emphasizing holistic student well-being. Al Rand highlighted that a nutritious diet not only influences physical growth but also plays a vital role in cognitive development and academic performance.
Also read: Energize Young Minds With Back-To-School Recipes: Abu Dhabi 360'S Nutritious Guide
A Multifaceted Approach to Holistic Health Nouf Khamis, Director of the Health Promotion Department at the Ministry, elucidated the multifaceted approach of the campaign. Beyond introducing students to diverse food groups, it emphasizes consistent physical activity, offers tailored interactive sessions for children, and provides BMI assessments for parents. The campaign also prioritizes healthy recipes featuring locally sourced and sustainable ingredients.
Towards a Healthier Future As students embrace another academic year, the Ministry's commitment to cultivating a health-oriented environment stands resolute. Through collaboration, education, and innovative programming, the Back-to-School Health Awareness Campaign sets the stage for a healthier, more vibrant future for UAE's youth.
Advertisement