A number of studies have shown that ice baths, or cold water immersion, have increased in popularity in recent years since they were once reserved only for professional athletes seeking to push their bodies to the limit. People have become increasingly willing to try them out as we have been learning about how they improve performance and how they can be beneficial to your health (by releasing stress hormones and helping reduce tension). With ice baths popping up in gyms, padel courts and even backyards, the trend has been particularly prevalent in Dubai. And now, Longevity Sports in Dubai has taken the experience to a whole new level by launching mobile ice baths. Here's what its all about.
We spoke to Longevity Sports and got a full low-down on what one can expect at this unique experience in Dubai. Firstly, ice baths work great for mind and body recovery. So, if you're stressed and want to relax, this could be a great option.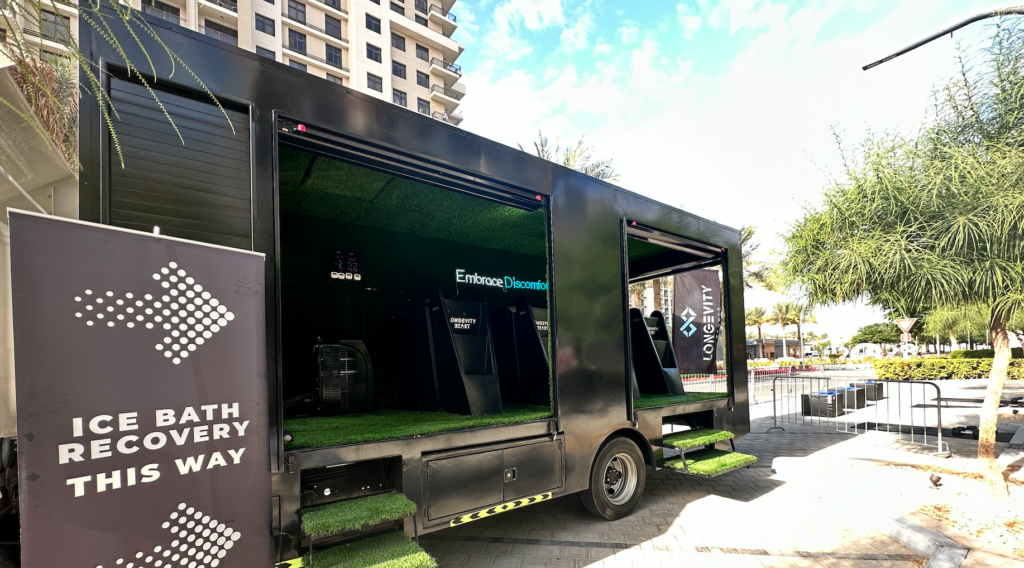 The mobile bath trucks can accommodate four people at a time and each session lasts for 10-15 minutes. The temperature will be set as per your wish, after which you can take the plunge. "In the first three minutes, your body goes through a shock, this is when the fight and flight mentality comes into the picture. We teach our clients to manage it and its a very healthy thing", said Laura Hsu- Manager, Longevity Sports.
Advertisement

After this initial shock, your body adapts to the temperature. Clients are urged to focus on their breathing and stay put so they can absorb the cold. The ice bath aids in reducing inflammation, improves cardio vascular health, and repairs muscles.
Once done, you'll feel wobbly and also experience some numbness and tingling sensations. However, this is perfectly normal. The body is then allowed to heat up naturally. Well, the whole experience will feel you energised and refreshed, so there's no reason why you must not try it.
You can book a one-hour session for AED 580, four hours for AED 1,720 or hire it for the full day from AED 2,250.
Advertisement