Dubai and entertainment go hand in hand since something fun and thrilling always keeps happening in the emirate. And when we talk about fun, we have eggcellent news for you. Dubai Parks and Resorts is hosting Middle East's biggest Easter egg hunt with over 100,000 colourful eggs on Saturday, April 8th. Read on for all the deets.
Also read: Ayushmann Khurrana To Perform In Dubai On April 23rd
Taking place one day before Easter on April 8th, Dubai Parks and resorts is letting kids and adults celebrate the festive spirit of Easter with over 100,000 colourful eggs holding cracking prizes worth AED 200,000 hidden across the destination. From tickets to any of the parks located in Dubai Parks™ and Resorts to an overnight stay at LAPITA™ hotel and LEGOLAND® Hotel, along with movie tickets to Roxy Cinemas, tickets to JumpX, the world's largest inflatable bouncy castle, meal vouchers and ice creams, it has something for everyone.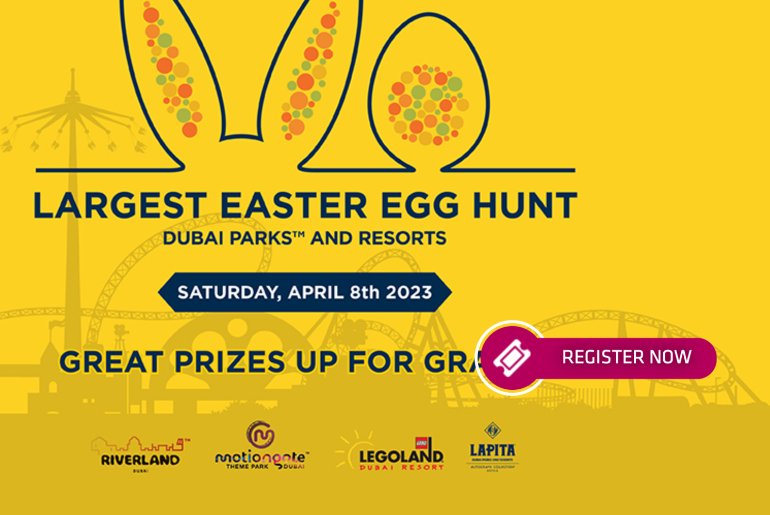 So what are you waiting for? It's time to unleash your inner Sherlock Holmes and register for the event now. You can register online for free and automatically be part of the Grand Prize. Registered guests will win up to four Gold Annual Passes or a weekend getaway for a family of four at the Legoland Hotel.
Also read: This Restaurant In Dubai Offers Miami Vibes With Museum Of The Future Views
Are you all set to make the most of this event? If yes, mark your calendar and be there by 8 AM since the hunt will begin at 8 30 AM, and yes, it is a free event, so everyone can participate and make the most of it. The eggs will be scattered across Riverland Dubai to Factory Street in LEGOLAND Dubai and Studio Central in MOTIONGATE Dubai.