Love is in the air as we celebrate the special day of affection, and even our beloved B-Town stars are not holding back in expressing their heartfelt emotions for their dear ones on social media. From candid confessions to sweet declarations of love, our favorite celebrities are giving us a sneak peek into their real-life romances, proving that their off-screen love stories are just as enchanting. So, let's dive into the glimpse at the messages that are making waves today.
Sidharth Malhotra and Kiara Advani
As the internet continues to swoon over their stunning wedding photos, Sidharth Malhotra and Kiara Advani, the newly-wed couple, took to social media to share a heartwarming picture on Valentine's Day, with the caption "Pyaar ka rang chada hai" (the color of love has spread).
Malaika Arora and Arjun Kapoor
On this special day of love, Arjun Kapoor shared a candid moment of himself embracing Malaika Arora, letting the picture speak for itself and simply adding red hearts as the caption.
Meanwhile, Malaika Arora shared pictures of her "forever Valentine," with a beautifully set table for their Valentine's Day lunch. Could they be any more adorable?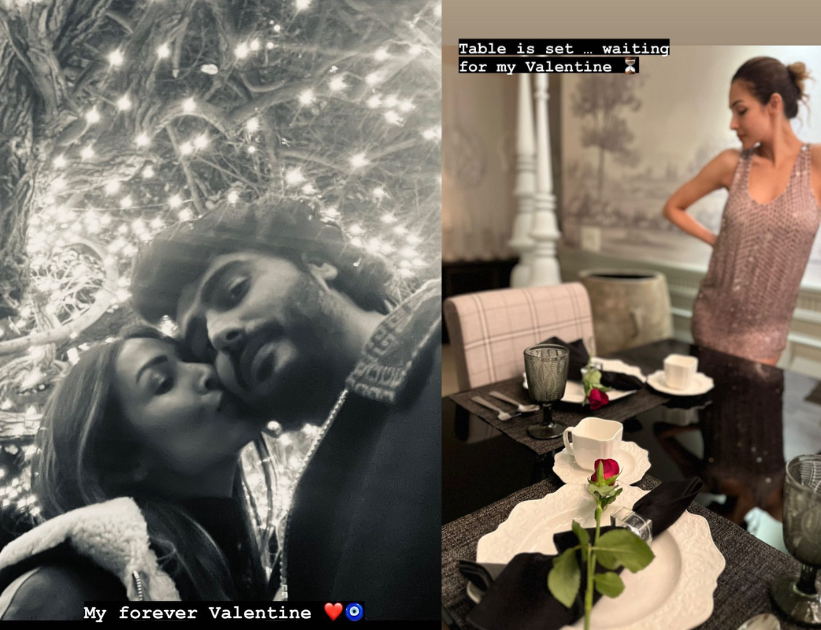 Rajkummar Rao and Patralekhaa
Rajkummar Rao's Valentine's Day tribute to his wife, Patralekhaa, is a heart-melter. In a touching Instagram post, the actor expressed his gratitude to Patralekhaa for being his "strength" throughout their journey together, from boyfriend to husband and beyond. He thanked her for her unwavering love, for pushing him to strive for excellence, and for being his most honest critic. Whether at promotional events or on social media, the couple has been setting relationship goals ever since they tied the knot in a private ceremony in Chandigarh on November 15, 2021.
Richa Chadha and Ali Fazal
Richa Chadha puts a creative spin on Valentine's Day by recreating the iconic song 'Bhala Hai Bura Hai Jaisa Bhi Hai' from the movie Naseeb Apna Apna, with a parody video titled "Valentine Apna Apna." Dressed in a saree and sporting a retro look, Richa hilariously mimics the song's original actor, Radhika Sarathkumar, complete with a bindi, red bangles, and the iconic plait. The parody video received a lot of love, with even her partner Ali Fazal commenting with a huge hahaha.
Advertisement

Preity Zinta and Gene Goodenough
Known for their adorable presence in Bollywood, the lovely couple Preity Zinta and Gene Goodenough continue to steal hearts. On the occasion of Valentine's Day, Preity Zinta shared a beautiful picture with her husband Gene on Instagram, spreading joy and love among her fans.
Arjun Rampal and Gabriella Demetriades
Bollywood's power couple Arjun Rampal and Gabriella Demetriades are known for their adorable chemistry, often sharing glimpses of their lives on social media, including their cute moments with their son Arik. Recently, Arjun Rampal took to social media to express his love for Gabriella with a heartfelt note, showcasing the depth of their relationship.
Aditya Seal and Anushka Ranjan
Aditya Seal and Anushka Ranjan's Valentine's Day post is a perfect portrayal of their love for each other. The couple took to Instagram to express their affection with a witty reference to "The Addams Family," declaring their commitment to each other with the words "Will forever be the Morticia to your Gomez." Their post radiates the love they share and is sure to make hearts flutter.
Advertisement