Meet the one and only OG Dhak Dhak girl of Bollywood – the eternally youthful Madhuri Dixit, who has enthralled us with her mesmerizing dance moves and versatile acting chops. With a career spanning over three decades, this Bollywood diva has graced us with over 70 captivating movies and continues to reign supreme in the Indian film industry. Since her debut in 1984 with 'Abodh', Madhuri has proven time and again that she is an invaluable gem of Indian cinema, leaving us in awe with her talent and grace.
As we celebrate the birthday of this iconic star, it's worth delving into what makes her a timeless figure that still resonates with the current generation. Despite the ever-changing tides of pop culture, she remains a relevant force, staying in tune with the zeitgeist of today.
So, let's take a moment to appreciate how this ageless star has managed to keep up with the times and why she continues to be an inspiration to us all.
1) Madhuri's iconic come-backs
Madhuri Dixit's life has been a beautiful balancing act between her illustrious career and her personal life. Whether it was her nuptials with Dr. Sriram Madhav Nene in 1999, or the arrival of her precious sons Arin born in 2003 and Raayan born in 2005, Madhuri put her film career on hold to prioritize her family. After a spectacular performance in the epic film 'Devdas' (2002), the diva took a hiatus from the silver screen for a period of five years. Her triumphant return in 2007's 'Aaja Nachle' was a testament to her unwavering passion for the craft. Even after taking a seven-year sabbatical from acting, Madhuri's return in the 2014 film 'Gulaab Gang' was a dazzling reminder of her immense talent and her love for the art of cinema.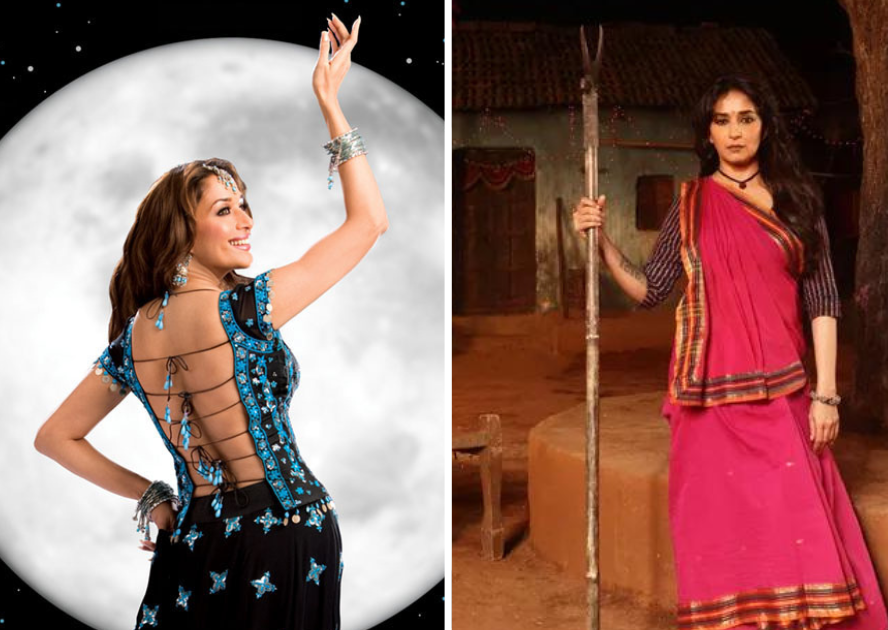 2) Madhuri's OTT Debut
Embracing the ever-expanding world of OTT with open arms, the fearless actress dived into the digital abyss of streaming platforms. Her stunning debut in the Netflix web series 'Fame Game' on the 25th of February 2022 was nothing short of a seismic event. Under the production of Karan Johar, she brought to life the enigmatic character of Anamika Anand, a global sensation who mysteriously disappeared into thin air. The show has garnered a slew of rave reviews from critics, cementing her position as a force to be reckoned with in the world of digital entertainment.
Watch the trailer of 'Fame Game' here!
3) The actress has a huge fan-following on Instagram
The starlet who has enchanted millions with her mesmerizing performances, boasts a colossal following of more than 35 million on her Instagram. She is a pro at tapping into the digital realm to connect with her adoring fans and viewers, something that was unheard of when she stepped foot into the film industry. Madhuri is a true-blue Instagram maven who dabbles in everything that the younger generation does, from collaborating with brands to showcase their products to sharing eye-catching pictures and jaw-dropping reels that leave us spellbound. Her reels are an absolute hit, racking up millions of views, and it is no surprise that her fan base is growing exponentially with each passing day.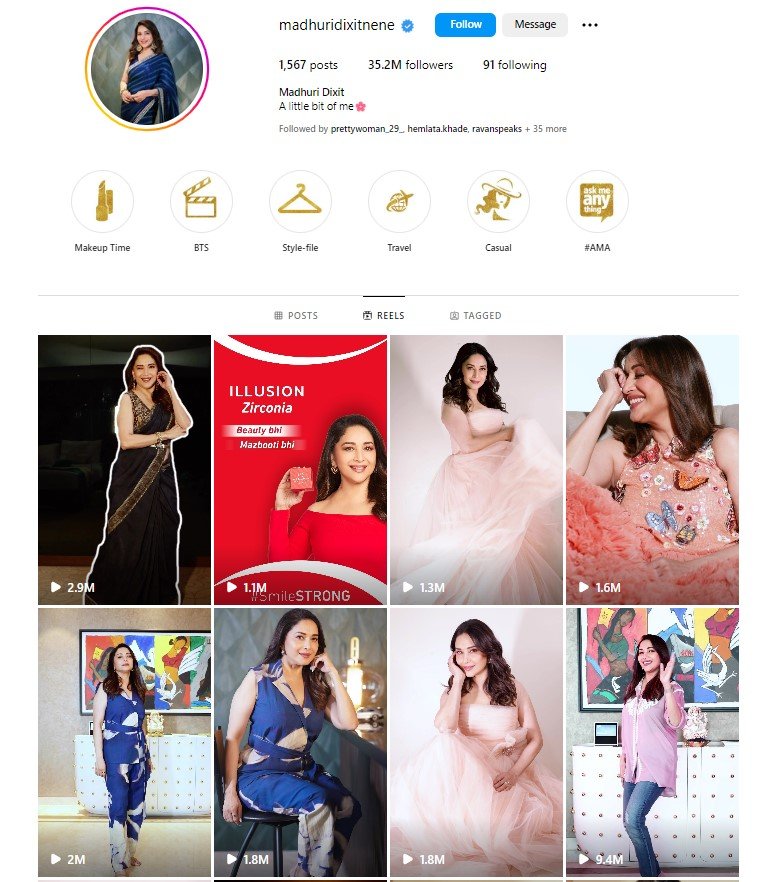 4) Madhuri Has The Best Beauty Evolution
As time has gracefully danced by, the actress has aged like fine wine. Her luscious mane and luminous skin beam with a resplendent glow, making her a true symbol of beauty. With each passing day, she embraces her natural features and becomes more radiant, like a flower blossoming in the morning sun. From her girl-next-door cuteness to her sultry appeal, to fully embracing the essence of her Indian heritage, making her an even more enchanting sight to behold.
5) Madhuri's love for Kathak and performing other dance forms
Madhuri Dixit's graceful dance moves have left an indelible mark on the world of entertainment. Her performances are etched in our memories, and if someone were to ask us to recall a step from one of her songs, we would instantly know the move. Her love for dance began at the tender age of three when she started her Kathak training. By the time she turned eight, Madhuri had already taken the stage by storm with her scintillating performance. It was her mother who recognized her daughter's innate talent and encouraged her to pursue her passion for dance. Thanks to her mother's unwavering support, Madhuri went on to become one of the greatest dancers of all time in the Indian film industry.
As the clock strikes another year of life for the legendary Madhuri Dixit Nene, we, the entire team of Social Kandura, wish her a joyous and happy birthday! May she continue to illuminate the world with her stunning presence and remarkable talents. With each passing year, we hope to see her grow even more radiant and successful, basking in the glory of her achievements. Here's to a long and healthy life, filled with endless blessings and cherished memories. Keep shining, Madhuri Dixit Nene, and let your light inspire us all!