Bollywood lovers, we have some fun news for you. Bollywood's noted actor, singer, writer and performer, Farhan Akhtar, is all set to perform in Dubai. Yep, you read that right! The man behind songs like Senortia, Atrangi Yaari, Socha Hai, Gallan Goodiyan, and more will be performing in Coca-Cola Arena on September 1, and tickets are now on sale. Read on to know more.
Also Read: Terra Solis Announces Closing Date With Huge Deals & Offers
Farhan Akhtar Is Coming Back To Dubai With His Show Farhan Live
Farhan Akhtar will take the stage at Coca-Cola Arena with his crew members for his show, Farhan Live. Tickets for the same can be purchased on Coca-Cola Arena's website. Tickets start from AED120 and go up to AED1,920. They are on sale, and if you are planning to attend the concert, hurry, buy it NOW!
The multi-faceted artist and Bollywood sensation Farhan Akhtar will perform his top hits, blending rock, Bollywood hits and soul-stirring melodies. His concert is brought to you by Blu Blood and supported by Dubai Calendar as part of Dubai Summer Surprises.
Also Read: Terra Solis Announces Closing Date With Huge Deals & Offers
Besides Farhan Akhtar, Bryan Adams is also going to perform in Dubai at Coca-Cola Arena. The Summer Of '69, Please Forgive Me, Heaven, and You Can't Take Me, Hit-maker, The OG heartthrob Bryan Adams is performing in Dubai at Coca-Cola Arena on November 4. Bryan Adams is back in 2023 to promote his new release- "So Happy It Hurts." The album was released on 11th March 2022 via BMG. "So Happy It Hurts" was nominated for Best Rock Performance at the 2023 Grammy Awards.
Advertisement

Tickets For Bryan Adams Are Now On Sale
For Tickets, they are on sale and the Bronze L1 is for AED199, and the tickets go up to AED549.
The 63-year-old singer, who boasts 1 Million followers on Instagram, recently sold out four shows in South Africa and will now perform in the USA at several places. His first concert in the US will take place at Indy 500 Carb Day, Indianapolis, on May 26th, and the last one will be at Climate Pledge Arena, Seattle, WA, USA, on August 3rd. He will be performing in Portland, San Fransico, New York, Palm Springs, Denver and other places in the US.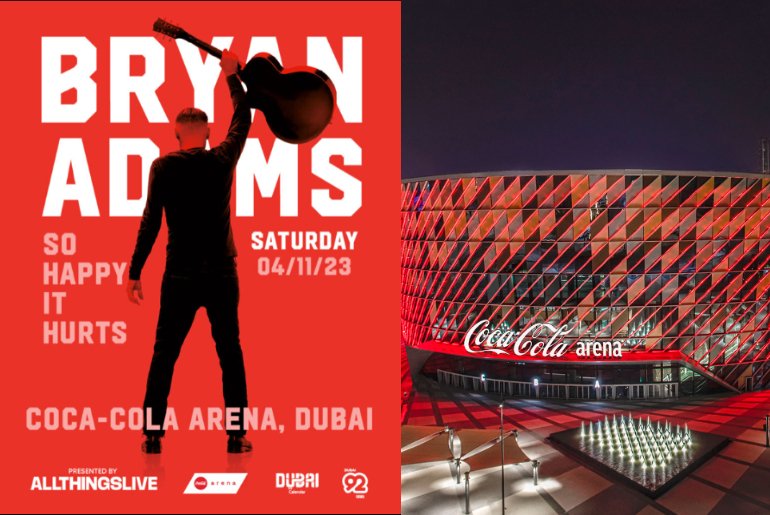 Also Read: Global Village Season 28 To Have More Shows & Experiences For Its Visitors
Throughout the year, he will perform in other countries and places like Serbia, South Africa, Austria, Croatia, Poland and more. And when it comes to his concert in the UAE, we cannot wait for him to perform his new and classic hits in Dubai, so if you are a Bryan Adams fan, set an alarm and make sure to buy the tickets before they sell out like hot cakes.
Advertisement