Sridevi, the legendary actress, will always hold a special place in our hearts. Watching her on the silver screen was like witnessing pure magic unfold before our very eyes. Widely regarded as one of the first female superstars of Indian cinema, Sridevi dominated the Bollywood landscape for years with her exceptional talent and impeccable style. Her untimely demise at the age of 54 on February 24, 2018, left her family, friends, and fans heartbroken. However, her cinematic presence, graceful performances, iconic songs, and timeless fashion continue to keep her memory alive.
Sridevi's journey in the entertainment industry began at the tender age of four when she started acting as a child artist. Over her illustrious career spanning more than five decades, she earned an impressive filmography that continues to inspire generations of aspiring actors. As we mark her death anniversary, we fondly reminisce about some of Sridevi's unforgettable dance numbers and classic movies that continue to captivate audiences even today.
5 Memorable Sridevi Songs That Will Always Be Iconic
1) Hawa Hawai, Mr. India
Sridevi's sensational dance number 'Hawa Hawai' from the iconic film Mr. India has transcended generations and remains a favorite even today. Her captivating expressions and graceful moves in the song have left an indelible mark on Bollywood music. "Bijli giraane main hoon aayi….," her unforgettable line from the song still echoes in the hearts of her fans.
2) Naino Mein Sapna, Himmatwala
Sridevi and Jeetendra's 'Naino Mein Sapna' from Himmatwala had us grooving to its peppy beats and catchy tunes. The vibrant visuals of Sridevi dancing in her colorful lehenga against the matka-filled background, while Jeetendra complemented her moves in his classic white boots and matching outfit, made this Eighties song a chartbuster that remains etched in our memories.
3) Main Teri Dushman, Nagina
'Main Teri Dushman' is an iconic song from the movie Nagina, where Sridevi played an 'ichhadhaari naagin'. The song is still remembered for Sridevi's captivating dance moves and expressions. In the movie, Sridevi's character could transform into a serpent at will, and the way she moved on screen made the audience believe in her magical abilities. Her graceful and fluid movements in a white lehenga with the iconic headgear and the makeup accentuating her eyes are unforgettable. The song was composed by Laxmikant-Pyarelal and sung by Lata Mangeshkar. It was a chartbuster and played a significant role in making the movie a box office success.
4) Kaate Nahin Kat Te, Mr India
Sridevi's on-screen presence in Mr. India (1987) was undeniable, with her portrayal of the cheerful reporter Seema winning the hearts of many. However, it was her blue chiffon sari and sultry dance moves in the song 'Kaate Nahin Kat Te' that set the silver screen ablaze. The song became an instant hit and is still considered one of Sridevi's most bomb performances.
5) Na Jaane Kahan Se Aayi Hai, Chaalbaaz
Sridevi's double role in Chaalbaaz left the audience in awe and her quirky rain dance on the tunes of 'Na Jaane Kahan Se Aayi' Hai is still fresh in our memories. Dressed in a red saree, she brought the screen to life with her dance moves, and the scene continues to remain one of the most iconic moments in Bollywood history.
5 Sridevi's Movies You Can Re-watch
Sridevi was not just a phenomenal dancer but also an exceptionally talented actor, who left an indelible mark on the Indian film industry. Her remarkable performances in classic hits have made her an unforgettable icon, who continues to live on in our hearts. On her death anniversary, let's cherish her memory and take a moment to reflect on some of the timeless movies that showcased her remarkable talent and made her a legend of Indian cinema.
Advertisement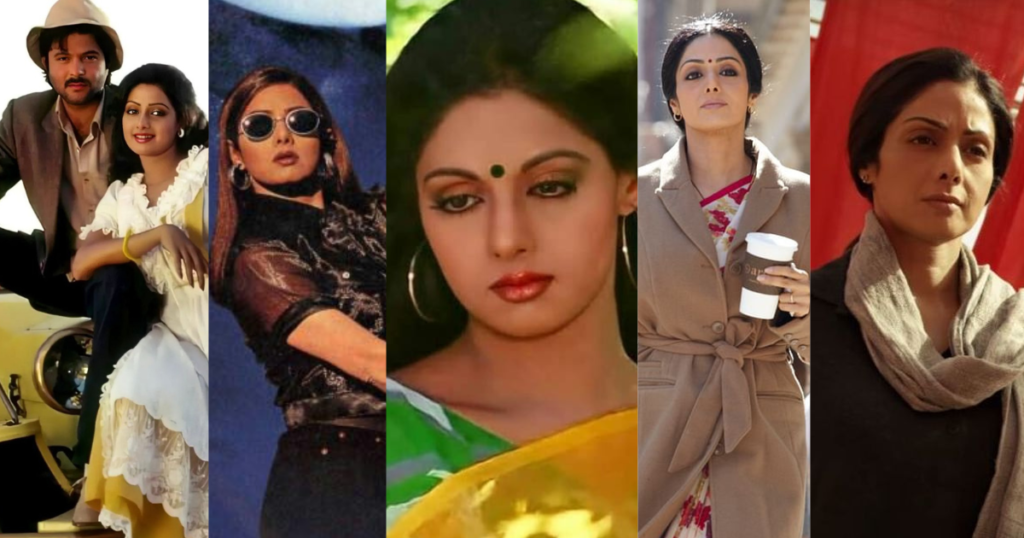 1) Mr. India
The mention of the 1987 classic, Mr. India, immediately takes you back in time, especially for the 80s and 90s kids who grew up watching it. Shekhar Kapur's direction and Sridevi's excellent acting make the movie a must-watch even today. Jointly produced by Boney Kapoor and Surinder Kapoor under the banner of Narsimha Enterprises, Mr. India was one of the first superhero movies of its time, and it set a benchmark for others to follow. Sridevi's portrayal of Seema, a vivacious journalist, was a perfect blend of comedy and romance, making it one of her most memorable performances.
2) Judaai
Judaai, a 1997 film directed by Raj Kanwar, is considered to be one of Sridevi's most memorable performances. In the movie, she starred alongside Anil Kapoor and Urmila Matondkar. Sridevi played the role of a wealthy woman who has an insatiable desire for money and material possessions. The film explores the consequences of her greed when she makes a deal to sell her husband to a wealthy woman for a large sum of money. Sridevi's portrayal of Kajal in the film is still remembered as one of her most powerful and nuanced performances.
3) Chandni
Released in 1989, the romantic drama 'Chandni' is a timeless classic and a significant milestone in Sridevi's career. The film showcased Sridevi's incredible acting abilities and dance skills, and her chemistry with co-star Rishi Kapoor was applauded by audiences and critics alike. The movie was directed and produced by Yash Chopra and featured Vinod Khanna in a pivotal role. The film's soundtrack composed by Shiv-Hari was also a big hit, with songs like 'Mere Haathon Mein Nau Nau Choodiyan' and 'Chandni O Meri Chandni' still being popular among fans. The movie went on to win several awards, including the National Award for Best Popular Film in 1989.
4) English Vinglish
Reborn on the silver screen after a long hiatus of 15 years, Sridevi won hearts with her poignant performance in 'English Vinglish'. Directed by Gauri Shinde, the movie tells the story of a middle-aged homemaker who embarks on a journey to learn English in the USA to regain her lost confidence. The film was critically acclaimed and received widespread appreciation for Sridevi's portrayal of a vulnerable yet determined protagonist. Her performance in the movie was so impactful that it won her several awards, including the Filmfare Award for Best Actress.
5) Mom
Sridevi's final film was Mom, a gritty drama that showcased the late actress's exceptional range and talent. Released in 2017, it was her 300th film and marked a fitting tribute to her remarkable career. Directed by Ravi Udyawar, the film won two awards at the 65th National Film Awards and highlighted Sridevi's versatility as an actress. In the film, Sridevi portrayed the role of a strong-willed mother who sets out to seek revenge after her daughter is sexually assaulted. Her performance in the film was praised by audiences and critics alike and proved that even after several decades in the film industry, Sridevi's star power and acting prowess remained unparalleled.
Her legacy continues to inspire and touch the hearts of millions of her fans worldwide, and she will always be remembered as a true icon of Indian cinema.
Advertisement