Since 2013, Virat Kohli, the star player of the Indian Cricket team, and the breathtakingly beautiful actor and producer, Anushka Sharma, have been the embodiment of relationship goals and after their marriage in 2018, it's just gotten better. Endearingly nicknamed 'Virushka' by their devoted fans, the couple never holds back on social media, delighting us with their unabashed public displays of affection. Their posts featuring each other never fail to make us swoon with delight.
On the occasion of Anushka Sharma's birthday, Virat Kohli melted hearts with the most endearing message for his "everything". Taking to Instagram, the cricket icon shared a series of candid snaps featuring the beloved actress and accompanied them with a heartfelt note. "Love you through thick, thin, and all your cute madness. Happy birthday, my everything @anushkasharma," he gushed in the caption.
See Virat Kohli's birthday wish for his wife anushka Sharma
From Anushka's unforgettable debut opposite Shah Rukh Khan in 'Rab Ne Bana Di Jodi' in 2008, the talented actress has gone from strength to strength, giving life to each of her roles with unwavering conviction. As she celebrates her 35th birthday today May 1st, 2023, it's time to take a look back at the cute moments.
Here are just a few of our favourite relationship highlights from the industry's favourite couple:
1) Anushka Recreated Virat's Fan moments
This viral video is undoubtedly familiar to us all, and let's be real, this couple is far from ordinary! Their chemistry is simply unmatched, with an abundance of goofiness and fun that never fails to entertain. When Anushka took on the challenge of recreating Virat's fan moments, the result was nothing short of hysterical. Laughter ensued, and we couldn't help but join in on the merriment.
2) Anushka & Virat have the same level of goofiness – Indian Sports Honour 2023
Anushka never fails to bring out the fun and playful side of Virat, as we've all witnessed. At the Indian Sports Honour 2023 event, the power couple made an appearance together, and their infectious laughter lit up the room. Anushka expertly explained the reason behind their constant giggling on the red carpet, offering a glimpse into the amusing conversation she shared with her beloved husband. Virat jumped in in, adding to the jovial atmosphere with his witty remarks. It was a delightful sight to see these two lovebirds enjoying each other's company and spreading joy wherever they go.
3) The time when they were spotted riding a scooty together in Mumbai
In a city like Mumbai, it's rare to see celebrities embracing the simple joys of riding a bike. However, Virat and Anushka are not your average stars, and this adventure of theirs proves just that. Despite their busy schedules, the couple found time to indulge in an activity that they both cherish – riding a scooter together. With Virat riding it and Anushka as his pillion rider, they were spotted cruising through Madh Island after wrapping up a project. It's heartwarming to witness how these two lovebirds find joy in the little things and make time to enjoy them together amidst their hectic lives.
Kohli & Anushka on a scooty. Also goes to one of the richest celeb couples have to endure such poor road infrastructure. 3rd world. pic.twitter.com/og3PndwRLy

— Gabbar (@GabbbarSingh) August 20, 2022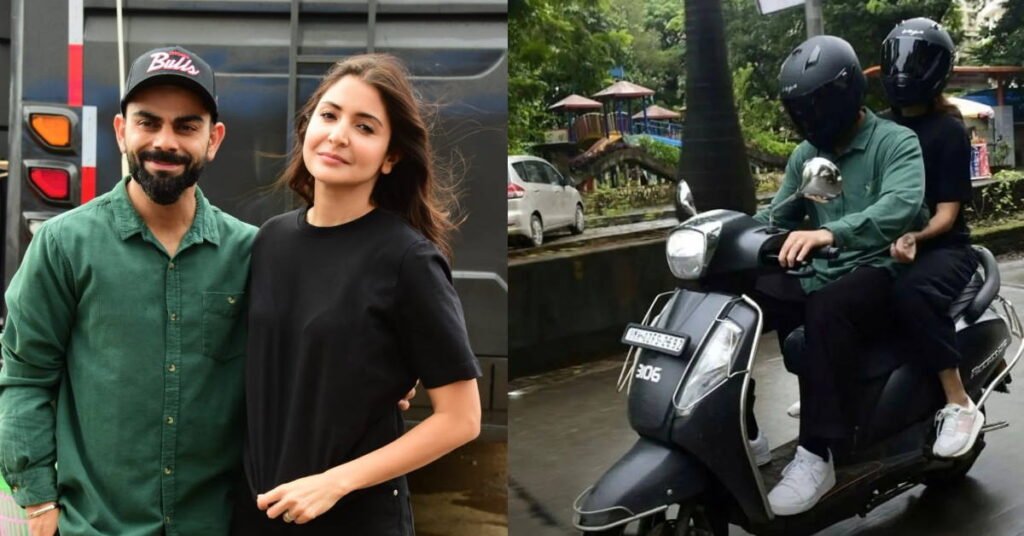 4) When anushka wished Virat on their Anniversay with some memes
The dynamic duo has truly mastered the art of nurturing their friendship, and it's their secret relationship hack. As they celebrated their anniversary, Anushka decided to express their deep bond in a unique and playful manner—through a collection of memes. Those memes were nothing short of hilarious. This endearing gesture beautifully exemplifies how this power couple keeps their friendship alive and thriving, reminding us all of the importance of laughter and shared moments in a lasting relationship. Have a look below!
5) They are each other's favourite dance partner
There's no denying that this couple exudes a level of coolness that's hard to match. They seem to relish in each other's company, making even the most mundane activities an adventure. Anushka's recent Instagram post further proves that they're not just partners in love, but also on the dance floor. In a fun-filled video shared on her Reels, we see the couple grooving to the beats of a Punjabi song at the gym. With their effortless swag and synchronized moves, they quickly take centre stage and dazzle us with their impressive footwork. It's evident that these two are not just soulmates but also dance partners who complement each other's every step with ease and grace.
On the work front, Anushka Sharma recently appeared in a cameo role in the Netflix movie 'Qala' and is set to make her full-fledged acting comeback with 'Chakda Xpress', a Netflix film where she portrays the role of former Indian cricketer Jhulan Goswami in a biopic. Meanwhile, Virat Kohli is actively playing in the IPL 2023 tournament, playing for the Royal Challengers Bangalore team.
We the team at Social Kandura, wish Anushka Sharma a very Happy Birthday Anushka Sharma! May your special day be filled with love, laughter and all the happiness you deserve. Keep shining and inspiring us with your amazing talent!