Every Indian has probably dined at or purchased food from Ponnusamy Hotel at some point. What began as a modest mess in Chennai in 1954 has grown into a global business that satisfies Indians all over the world. The restaurant has come a long way; it now has four locations outside of India and over a dozen in India. The Baahubali Thai has now been introduced by the restaurant! The thali is well-known in Chennai and has traveled to Dubai. This thali, which is said to be the biggest in the UAE, needs an army to clear it away!
the thali weighs 3 kgs & has over 50 dishes
With nearly 25 dishes, the Baahubali thali is so heavy that it takes two people to carry it to the table. Everything is included in the thali, including the soup, starters, main dish, and dessert. Each dish in the thali weighs between 60- 400 grams. A variety of vegetarian and non-vegetarian meals are included in the thali, which is a filling supper.
Start your dinner with soup before moving on to some small plates like fish, prawn, tandoori chicken, mushroom, or chicken fries. Prepare to take on the main course, which comes with a sea of dishes, once your appetite has been whetted. Enjoy South Indian favorites including rice variations, rasam, sambhar, veggies, pickle, chips, and more or indulge in North Indian delights like roti, or parotta, served with a range of gravies. Finally, finish your meal with something sweet and supari.
Advertisement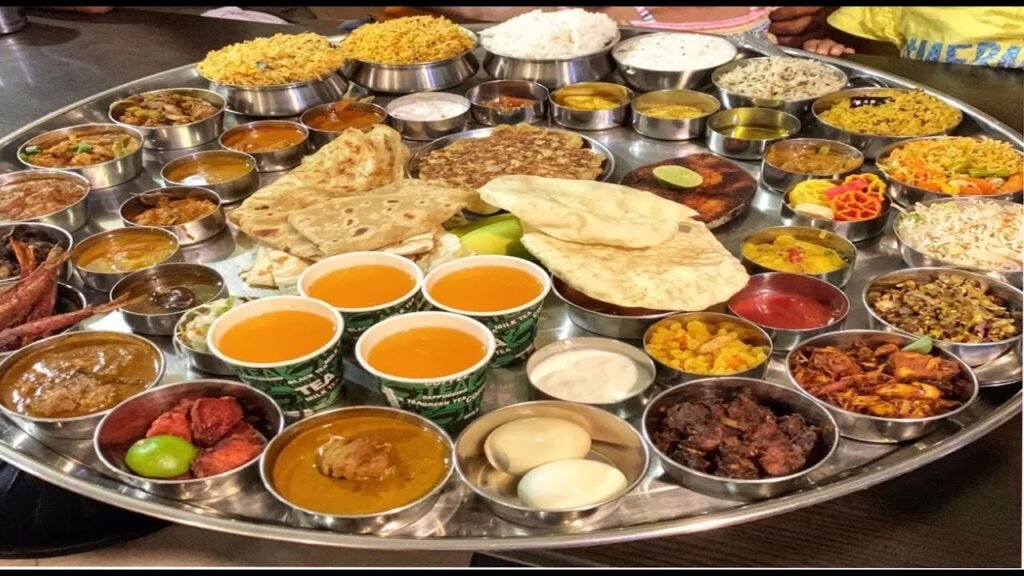 What You MUST Keep in Mind
There will not be a second serving of the Bahubali thali, which serves four people. The thali is offered from Saturday through Thursday at the cost of AED 135. The thali must be reserved in advance and is available for both lunch and dinner.
Well, you'll need your gang to clean this up, but if you think you can do it on your own, we'd say you're already a warrior.
If a thali is not your thing, the restaurant also offers a variety of Chinese, North Indian, and South Indian appetizers. Fried rice, chop suey, pulav, North Indian bread, egg dishes, and other options are available.
Deets
Location: Sangeetha Building – Damascus Street – Al QusaisAl Qusais 3
Timings: Daily- 10 AM onwards
Contact: 04 261 9750
Advertisement