Amidst the hustle and bustle of the media world, Bollywood's beloved Alia Bhatt is relishing her new role as a mother, savouring every precious moment with her darling baby girl, Raha Kapoor. While her life may be constantly in the spotlight, Alia's little bundle of joy remains shielded from the glare of cameras and adoring fans alike. In a heartfelt plea to the paparazzi, the doting mother has made it crystal clear that she will not tolerate any invasion of her little one's privacy. Despite the overwhelming support for Alia's decision to keep Raha's precious face under wraps, her loyal fans can't help but long for a glimpse of the little cherub.
Alia Bhatt has embarked on a new creative venture, delighting her fans with the announcement of her latest collection of adorable babywear. In a captivating display of her entrepreneurial spirit, the Bollywood starlet took to social media on February 16, 2023, to unveil her latest line. An enchanting image of a rosy-cheeked baby girl, adorned in a charming pink onesie and a perfectly matching headband, set the scene for the grand reveal. In an accompanying message, Alia eloquently conveyed the exceptional qualities of her new babywear line, captivating the hearts and minds of her followers.
The internet was set ablaze with excitement and speculation when Alia Bhatt made a recent social media post that had her fans on the edge of their seats. Followers were left wondering if this was the long-awaited reveal of Alia's own precious daughter, Raha Kapoor. The comments section was immediately flooded with reactions from adoring fans who were convinced that the baby in the picture was Raha. Social media users far and wide eagerly shared their thoughts and opinions, causing a frenzy of excitement and anticipation for what could potentially be Alia's most significant announcement yet.
Check Out What The Fans Think!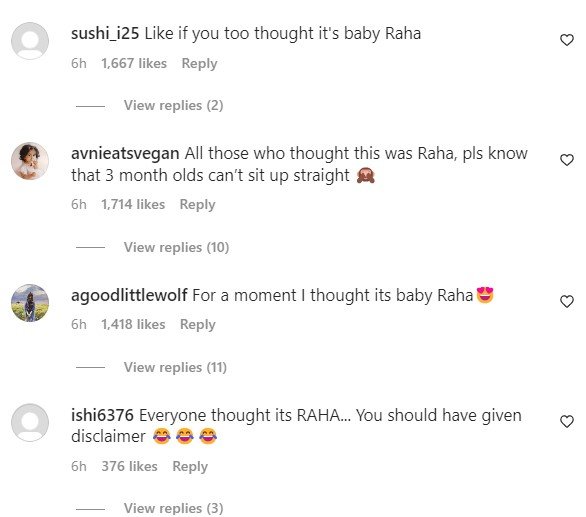 Alia Bhatt continues to make great strides on the professional front. The multi-talented 29-year-old actress is all set to be on screen with her upcoming project, 'Rocky Aur Rani Ki Prem Kahani'. Under the direction of the prolific Karan Johar, the movie features none other than the charming Ranveer Singh and is scheduled for release on April 23, 2023. Alia's packed schedule also includes 'Jee Le Zara', co-starring Priyanka Chopra and Katrina Kaif, and 'Heart of Stone', which marks the actress's highly anticipated Hollywood debut. Alia continues to establish herself as a true force to be reckoned with in the world of cinema.
Advertisement