Global Village is back for yet another season, and if there's one reason every Dubai-site loves to visit this carnival each year, it HAS to be the food. In fact, it would be safe to say a trip to Global Village would be incomplete without a bite into the park's lip-smacking offerings. With more than 200 restaurants, cafes, and street food, Global Village is heaves for foodies.
With no further adieu, here are 10 dishes you must gobble up before this year's fest pulls down the curtains. Read on and BINGE!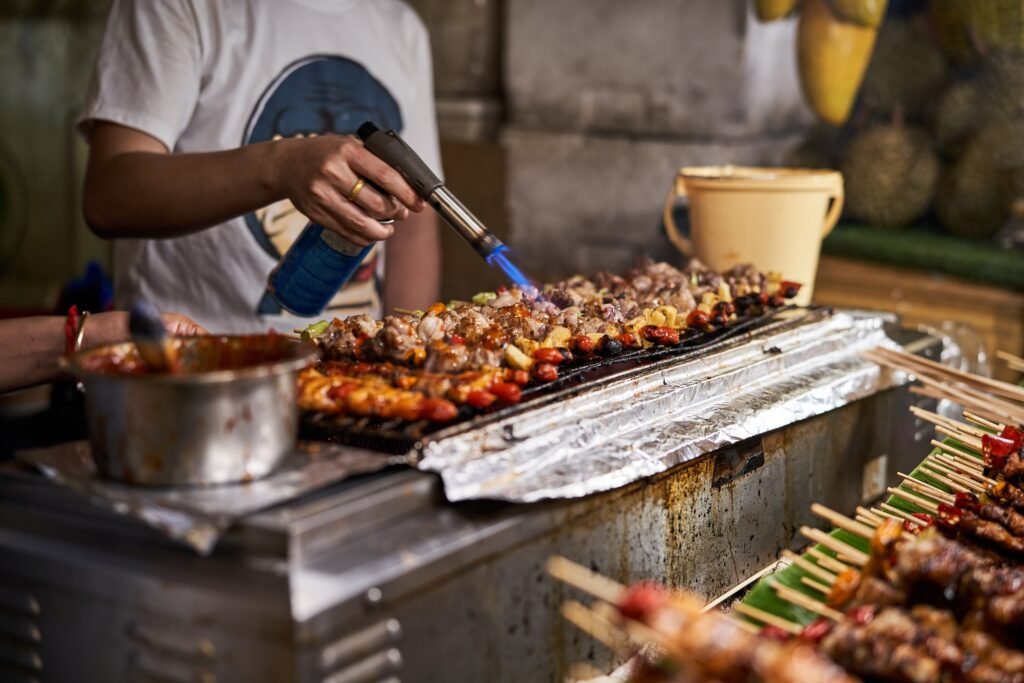 Chicken Barbecue Skewers At The Floating Market
Hearty and light on the pocket, the chicken barbecue skewers at the park's Floating Market is just the thing you need after all the walking. Soaked in sweet marinade, the skewers are served with a portion of Jasmine rice, making this a complete meal. Perfect to seal your day, isn't it?
2. Gabgoob At Crab Kiosk
Every seafood lover's dream-come-true, Gabgoob hits all the right spots. Creamy, cheesy and rich in flavors, this dish has crab that's buried in generous portions of cheese. The crab is heated just right, so the cheese melts completely into the dish. And, the highlight of the dish is that it's served in a crab shell. Did someone just say fanc-eh!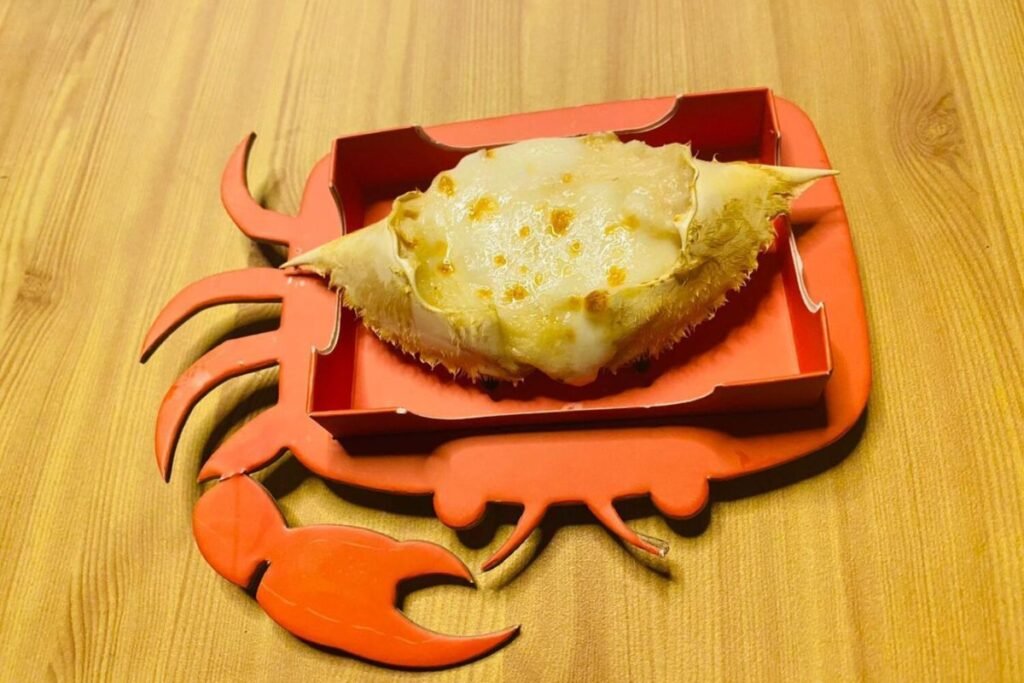 3. Jollof Rice At Jollof Hut Kiosk
This Ghanian dish is sure to give you a taste of Africa in every bite. The dish consists of long-grain rice, flavoured with a savoury tomato and meat stew, made with chicken or beef. This is served with a side of kelewele or fried plantain to go.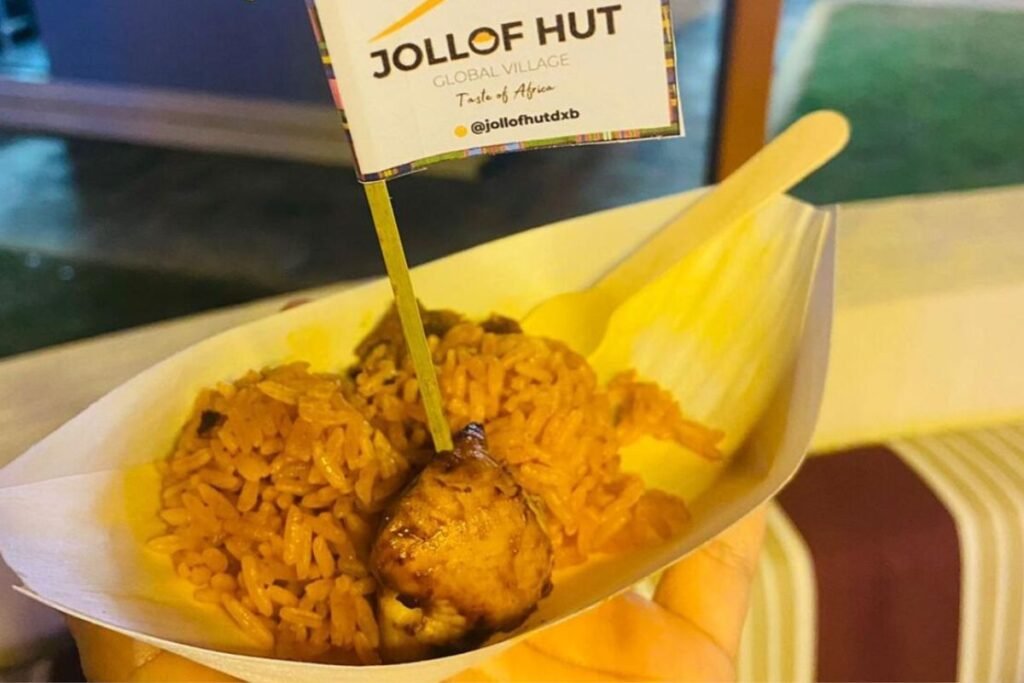 3. Aloo Tikki Chaat At Khaojee
This is the first time Global Village is hosting a Michelin-starred chef's restaurant within its campus and we can't be more excited. Celebrity chef Rohit Ghai brings his culinary magic to town with 'Khaojee'. One look at the menu and you're sure to be wanting literally everything that's out there. From tandoors to starters and desserts, the restaurant whips some truly lip-smacking dishes. While we won't stop you from trying it all, the Aloo Tikki Chaat is a clear winner. Sour, sweet, tangy, and spicy, this dish will literally let you have a party in your mouth. What's not to love!
Advertisement

4. Kaeserchmaren Cake At Mozart Cafe
Who said pancakes are only for breakfast? This dainty cafe in Global Village gives the humble pancakes a whacky makeover, converting it to an irresistible dessert. The Kaeserchmaren cake has shredded pancake coated with oodles of butter, jam and drizzled off with powdered sugar. Need we say anything more?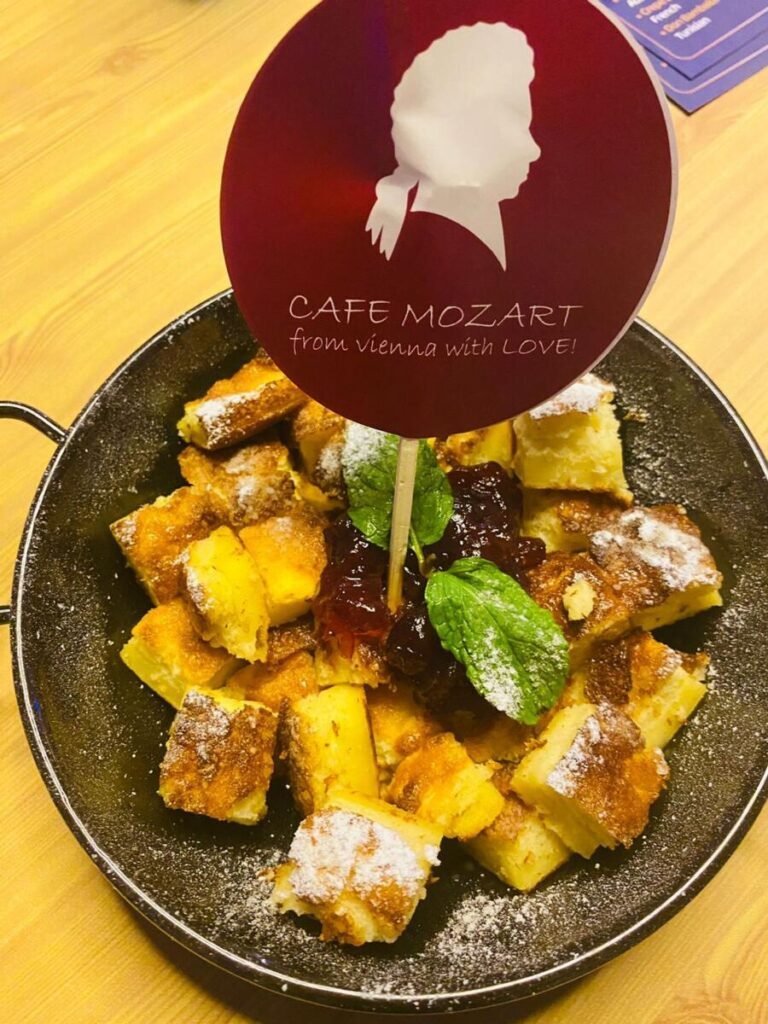 5. Costa Rica At Coterra Cafe
In case you're up for coffee and dessert, this one has to be your pick! This new brew at Coterra Cafe has flavors of apple, chocolate and citrus fruit, coming together to leave a lasting taste. Coffee and dessert never go wrong, after all!
6. Crepe Brulee Cornet At Little Sugar
Crepes are one thing that can be had for breakfast, dessert – literally at any time of the day. Little Sugar takes this flat pancake to a whole new level by adding in oodles of custard and then rolling the whole thing into a cone, which you can hold like a Lolli and dig into. Ain't that the best way to satiate your sugar rush?
Advertisement